Leave it to The CW to disappoint us all as David Ramsey won't be a Green Lantern when he returns for five episodes in Legends of Tomorrow, Batwoman, The Flash, Superman & Lois, and Supergirl.
The last we saw of Ramsey's Diggle was in the Arrow series finale when Diggle received a glowing green box and was headed to Metropolis, home to Superman.
In addition, The CW teased the return of Diggle as a mystery character on DC's Legends of Tomorrow, and Ramsey also seemed to tease Green Lantern, with the end of Crisis On Infinite Earths also teasing Green Lantern, but it's not happening for Ramsey.
Regarding the mystery character on Legends, it's revealed Ramsey is playing a historical Western character known as the "Stressed Western" (seriously); here is the first look: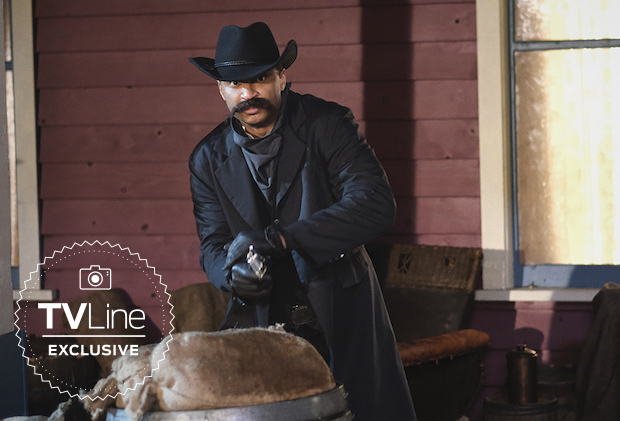 Diggle turns down the green box
TV Line questioned David Ramsey about Green Lantern where Ramsey explains the Green Lantern Corps are not even a factor in his Legends of Tomorrow episode and Ramsey says Diggle turns down the offer of the green box (it seems they aren't even referring to it as a Green Lantern ring), which is what the other episodes explore:
Ramsey: There was some press that was out there that I'm playing a mystery character on Legends, and from that kind of wording there was an assumption that because obviously Legends has a time ship, and they go through time and space, fans connected that to the Green Lantern Corps…. Also, the last time you saw Diggle, he was on his way to Metropolis and was intercepted by a glowing, green box, so it was a logical step in assuming that…. But on Legends, there's a different character all together. It's a historic character, a historical Western character.

To your other point, which is exploring what has happened to Diggle since encountering that green box, that will be explored in the other episodes – on Batwoman, Flash, Superman & Lois, and Supergirl. Whatever was in the box, he refused the invitation of. Let's put it like that. But there are consequences to that.

TV Line: Of all the characters that Diggle runs into on the four shows, does anyone possibly have insight into exactly what he's been dealing with? Has anyone "heard tell of a corps of galactic law enforcers" or anything like that?

Ramsey: No, we don't get into that. This is a very, very, very preliminary [look at] what happens from this refusal, and what it means to his destiny. We simply get into the preliminary physical effects of his refusal of whatever it was in that box.
So if I had to guess, I'm guessing Ramsey wasn't allowed to play a Green Lantern in the Arrowverse due to the upcoming HBO Max series and whatever J.J. Abrams has planned with Hal Jordan and John Stewart (Zack Snyder also wasn't allowed to use Green Lantern).
David Ramsey returns and directs three of the five episodes of his "Earthbound Hero" arc starting with the Tuesday, May 25th episode of Superman & Lois that he directed, and his on-camera return can first be seen on the Sunday, June 13th episode of Batwoman.