Godzilla vs. Kong absolutely stomps out and destroys the Snyder Cut release of the Justice League movie on the HBO Max streaming service.
Not only does Samba TV confirm Godzilla is king, but WarnerMedia has also confirmed the success of Godzilla vs. Kong on HBO Max streaming as well as in theaters.
Samba TV, a company that claims to be able to measure TV audiences, offers Godzilla vs. Kong was watched by 3.6 million households — double that of the Snyder Cut's 1.8 million and greater than Wonder Woman 1984's 2.2 million.
"3.6M U.S. households and 225k U.K. households watched Godzilla vs. Kong between March 31-April 4! The largest amount of viewership was on the opening day for both countries," posted Samba TV on its social networks and included the following infographic: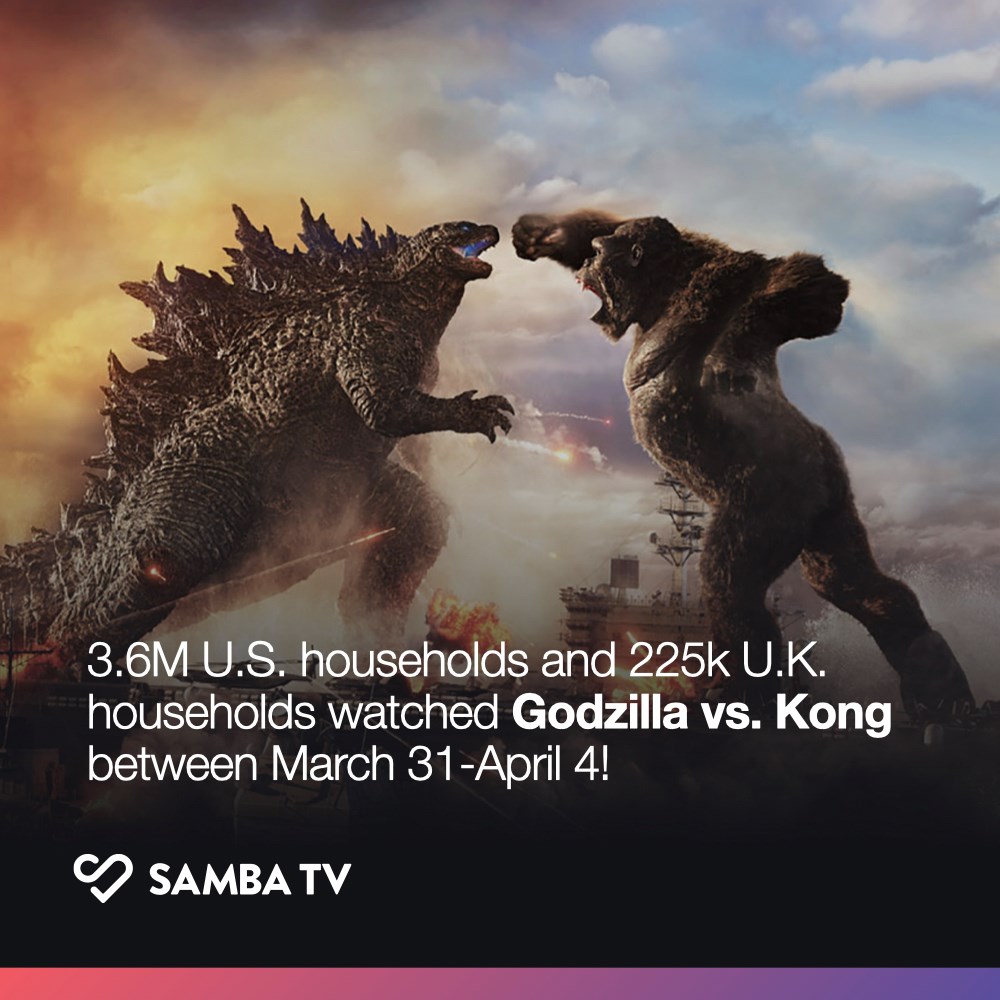 Godzilla vs. Kong biggest movie on HBO Max confirms WB
Regarding what WarnerMedia had to say, on Sunday, WarnerMedia Direct-to-Consumer EVP and General Manager Andy Forssell said Godzilla vs Kong "had a larger viewing audience than any other film or show on HBO Max since launch."
Forssell also added about Godzilla vs. Kong that "the HBO Max audience has spoken very clearly and loudly: they love this film and are watching it more than once."
Checking GVK's box office, it currently sits at a pandemic best of $285.8 million worldwide, with a $48.5 million domestic haul, something Deadline points out is "an undeniable hit, it heralds the comeback of moviegoing following exhibition's closure and impairment from the year-plus-long pandemic." It should also be noted GVK did this well with only 55% of the U.S.-Canada exhibition market in operation.
Deadline also confirms what I have been saying all along in that "…theatrical is far and away more powerful than the number of HBO Max subscribers/viewers out there."
And that's why Warner Bros. changed its 2022 movie releases to getting released exclusively in theaters from how its 2021 slate of 17 movies are released in theaters and on HBO Max at the same time.
As I said, fans want to see these big movies in theaters (again, imagine watching Avengers: Endgame at home by yourself).
I'll also throw a jab at some of the Snyder Cut fans as it was laughable as they took to Twitter in an attempt to "review bomb" Godzilla vs. Kong. Just laughable.
(via Deadline)