Godzilla meets Pacific Rim in a cool new promo poster out of Japan!
To promote the release of Pacific Rim Uprising and the new Godzilla anime movie, a poster was created by illustrator Hidetaka Tenjin.
Godzilla: City on the Edge of Battle is the sequel to last year's anime movie and debuts in Japan May 15.
Pacific Rim Uprising premiered in Japan on April 13.
Legendary, Universal and Toho collaborated on the cool poster which features the Godzilla from the anime movies, and the Jaegers, Gipsy Avenger, Saber Athena, Bracer Phoenix, and Guardian Bravo.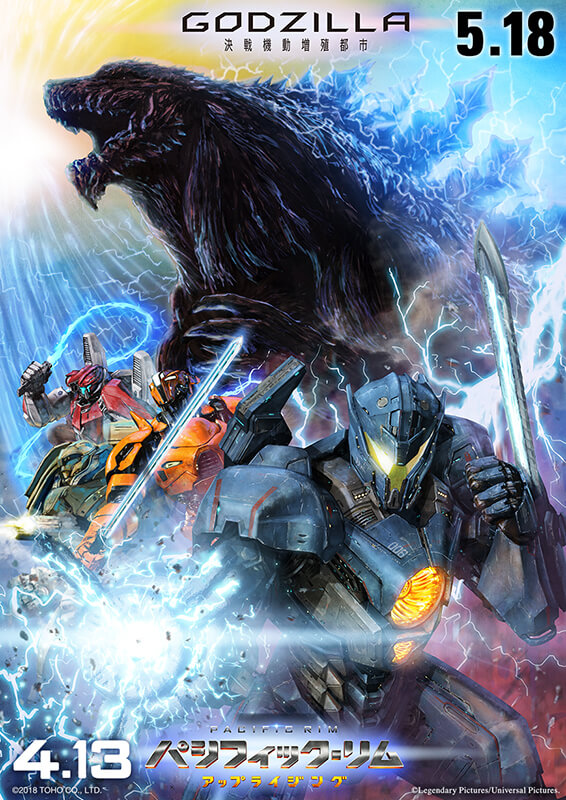 Regarding the Godzilla anime sequel, the movie is confirmed to feature Mecha-Godzilla and Mothra. You can watch the first film, Godzilla: Monster Planet on Netflix.
Check out the poster and info for Godzilla: City on the Edge of Battle:
In the new key visual, there are characters from Hero of the main character, Yuuko of the heroine, Metaphies of the aliens Exil and Galg of the Billside, drawing from the previous work "Monster Planet", as well as <Godzilla Earth> Attention is also paid to the difference in facial expressions of various families as if each thought intersects toward the decisive battle!
In addition, it also turned out that twin sister · mina was in Miana of the new character car appearing from chapter two. Who is the fourth tribe named Futua who rescued the dying Haruo? Why could they coexist with Godzilla for over 20,000 years? It is becoming increasingly mysterious visual.
And behind Godzilla Earth, which is being attacked in the gigantic structure, "Mechagodzilla" which is "the last hope of mankind" is also depicted. A monster / mecha godzilla, which is popular in the series immobilized, newly created by the unique expression of animated movies, is finally awaking. Please continue to expect information that will gradually be released!