Check out the descriptions below from the Warner Bros. presentation at CinemaCon for footage from The Flash, Black Adam, Aquaman 2, and Shazam! 2.
The event also saw the official announcement for The Batman 2.
DC release date schedule:
Black Adam – October 21, 2022
Shazam! Fury of the Gods – December 21, 2022
Aquaman And The Lost Kingdom – March 17, 2023
The Flash – June 23, 2023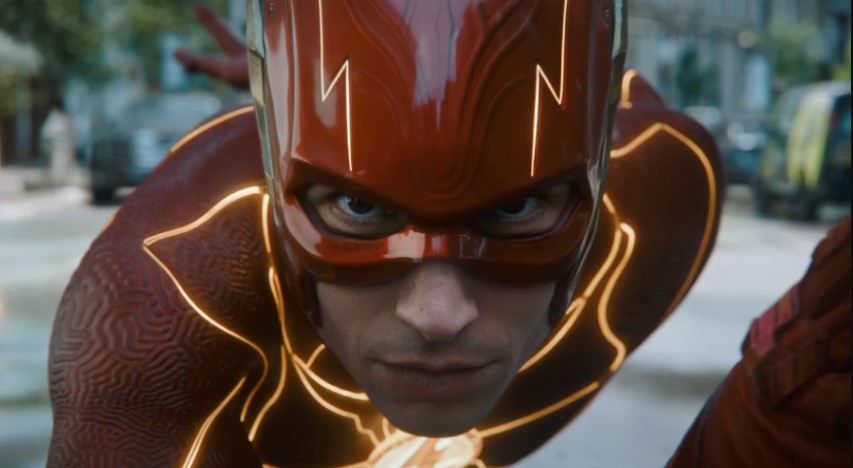 The Flash trailer CinemaCon description:
Deadline has a rundown of The Flash trailer where I'm actually not too sure if the description is right as their report claims the footage includes a younger Superman, which actually could be the Sasha Calle Supergirl, and it's also claimed the Michael Keaton Batman is seen riding the Christopher Nolan/Christian Bale Batpod from The Dark Knight movies, so bear that in mind. A Twitter user also posted the following info. It should also be said it's being pointed out that this trailer is heavy on Batman, which follows the recent arrests of Ezra Miller, so it could be possible The Flash movie actually becomes more of a Michael Keaton Batman movie.
There's more Batman lore in the trailer as we see the Caped Crusader's mansion and his secret library full of his suits. Oh, he's also on his motorcycle, but it's the one from the Christopher Nolan films.

Also spotted, a young Superman.

"Time has a pattern," Barry Allen (Ezra Miller) ponders in the trailer. He is seen crying, looking as though he's embracing his mother.

The trailer climaxes in Flash's recruiting of Keaton's Dark Knight.

"Are you in?" asks Allen.
The trailer finishes with Michael Keaton stating, "You wanna get nuts? Let's get nuts."
THE FLASH MOVIE TEASER BREAKDOWN
Barry goes back in time
childhood home
Barry watching recording of himself?
ticking clock
long-haired Barry
Seven batsuits!
Awesome new Flash costume
Batman on Batcylce
ZoD!
Supergirl!
Keaton's BATMAN RETURNS!
"You want get nuts? Let's get Nuts !"

— Yak (@Fanverse21) April 27, 2022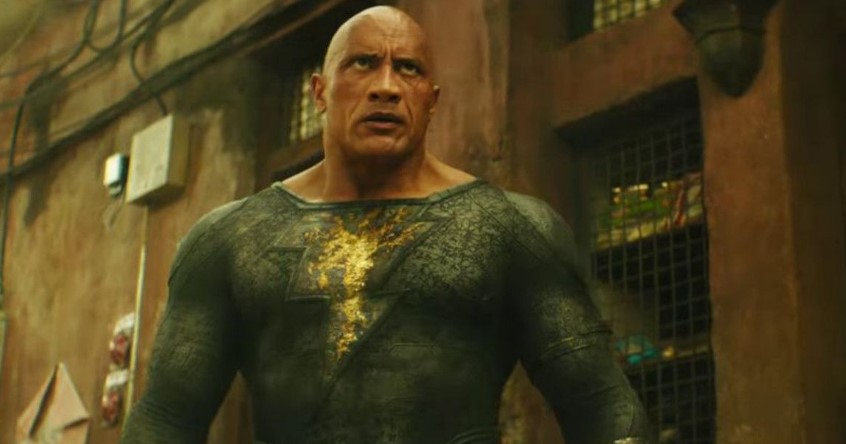 Black Adam trailer CinemaCon description:
The presentation first teased that Dwayne Johnson wasn't at CinemaCon, but then Johnson surprised everyone and came to the stage along with Quintessa Swindell (Maxine) and Noah Centineo (Atom Smasher).
"We are positioned nicely to create something different," Johnson said. "The hierarchy of power in the DC universe is about to change. We will do our job well from a marketing standpoint. The world is going to be ready."
Via Deadline:
The Black Adam's trailer opens on a spaceship flying against a snowy mountain landscape. Pierce Brosnan's Dr. Fate says, "Black Adam, what are the powers that have been given to you? Loving but heartache?"

Black Adam says that he was born a slave, "then I was reborn a God." Black Adam can be the savior of the world, or it's enemy. We see him destroying helicopters and coming in contact with what looks to be mercenaries. They're scared as he catches a rocket. Aldis Hodge's Hawkman shows up to face Black Adam, telling him "There are heroes and villains; heroes don't kill people."

"Well, I do" says Black Adam.
Black Adam footage description:
black Adam is found?
Doctor Fate shows up
Blackk Adam slave origin, rebord a god
kneels before no-one
destroy of this world or its savior
Crazy strong
Sarah Shahi finds him in the desert
Hawkman
Atom Smasher
Cyclone

— Yak (@Fanverse21) April 27, 2022

Aquaman and the Lost Kingdom trailer CinemaCon description:
Jason Momoa appeared in a taped message and introduced director James Wan who appeared on stage and said he was "stoked to have the band back together" and added, "It'll be the best movie of the year."
Via Deadline:
Wan talked about the new technology he was using in the movie, putting 100 cameras on the actors and capturing their performance and then putting a 3D spin on it.

"It frees me up to do other things," said Wan.

"I'm still in the midst of my director's cut," Wan told Tyler before showing off a sizzle reel that showed Black Manta coming to greater power. Lots of swirly, octopus-like underwater machines driven by the Aqua people here.

Wan said the return to Atlantis will continue the story and world that was created in first film and "take it to the next level." That's with "these new different kingdoms and new intense characters."

In a video, Momoa echoed that "the characters coming in are pretty intense. Nothing else I've ever been a part of that's like this."
Worth a mention is that no footage of Amber Heard as Mera was shown, which is probably due to the Johnny Depp trial.
Aquaman footage description:

new kingdoms

new characters

Black Manta is back! has ancient power now

Randall Park returns, Black Manta has an army

Orn is back

Aquaman's new stealth suit!

— Yak (@Fanverse21) April 27, 2022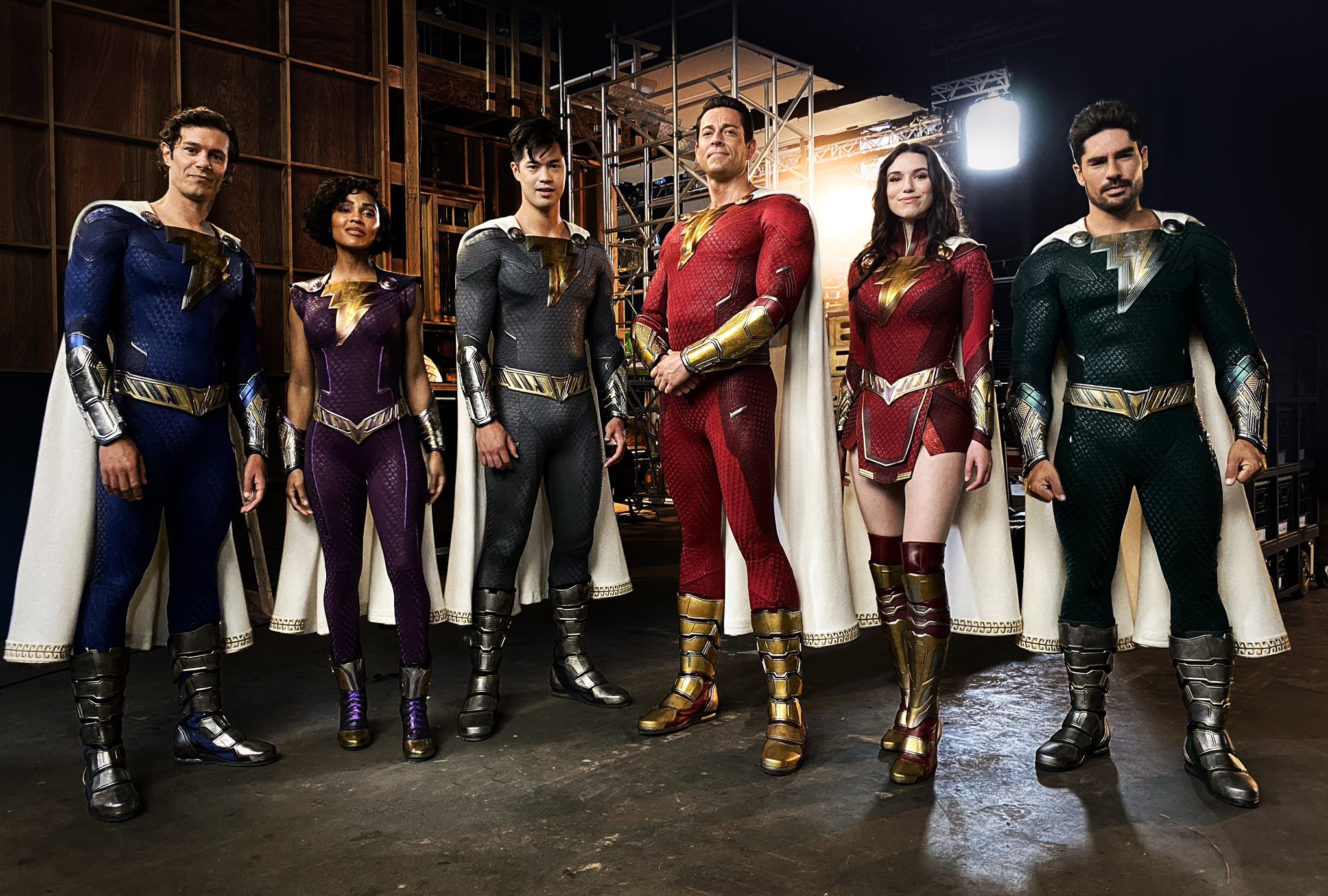 Shazam: Fury of the Gods trailer CinemaCon description:
Update: WB pushes back the release date by a few days to avoid Avatar 2.
Zachary Levi, Jack Dylan Grazer, and Asher Angel along with Helen Mirren who plays the villain Hespera appeared at the presentation.
Levi said it was "super dreamy getting the gang back together" and promised the original's themes would remain in the sequel as he continued, "We don't want to veer from the magic we were able to find in the first movie, balancing action, comedy, drama and heart. That's a massive part of what people connected to in the first movie."
Angel, who plays young Billy Batson, said, "The last time everyone saw Billy he was a kid, and he's grown up and matured. I would say adulthood is on the horizon and it's scary because he doesn't know what's going to happen to him. That weighs pretty heavily on him and he's trying to enjoy the moment and, hey, have these superpowers."
Mirren added, "The most wonderful crazy family that I've had the honor to be a small part of. You just have to hold your nose and jump into the deep end and allow the whirlwind to take you."
Via Deadline:
The footage shown kicked off with Shazam dining in Paris with what appears to be Wonder Woman, whom he's wooing, suggesting they could be known as the "Hottie Goddies" or "Shezam," but it's actually Djimon Hounsou's Wizard who's arrived to tell Shazam he must "fight for your family, fight for the world."
Shazam Fury of the Gods trailer description:

Shazam on a date with Wonder Woman… in his dreams, turns into the Wizard Shazam

Daughters of Atlas are the villains (Mirren; Liu)

Family of crime fighters

Dragon!

Another dragon!

Levi vs Mirren

Shazam is a Fast & Furious fan

— Yak (@Fanverse21) April 27, 2022