Evil Dead Rise made its debut at the SXSW on Thursday night and with that comes not only the first reactions but Bruce Campbell f' bombs a fan.
The new flick moves the action out of the woods and into the city and tells a twisted tale of two estranged sisters whose reunion is cut short by the rise of flesh-possessing demons, thrusting them into a primal battle for survival as they face the most nightmarish version of family imaginable.
Following the screening at the SXSW, a Q&A was held with the audience, with Bruce Campbell on board the film as a producer along with Sam Raimi (I interviewed them years ago for the Starz series and they're great guys!) who were both in attendance.
Well, apparently one fan didn't like Evil Dead Rise as he started shouting, "This moving f-cking sucks!"
The crowd booed the fan and one of the panel members questioned, "What!"
The fan left his seat, flipped the bird, and again yelled something.
This time Bruce Campbell yelled back, "What are you doing here? Get the f-ck out of here!"!"
Watch below, it's pretty funny, and also check out Bruce Campbell answering a question about the current state of horror movies. Find the first reactions below.
An fan at the #EvilDeadRise #SXSW premiere said "This movie fucking sucks!" to which @GroovyBruce responds "What are you doing here? Get the fuck out of here!" pic.twitter.com/mIBI29yr7b

— One Take News (@OneTakeNews) March 16, 2023
Bruce Campbell on the current state of the Horror genre: #EvilDeadRise #SXSW pic.twitter.com/cKEnxt20D5

— Sam Raimi Updates (@SamRaimiUpdates) March 16, 2023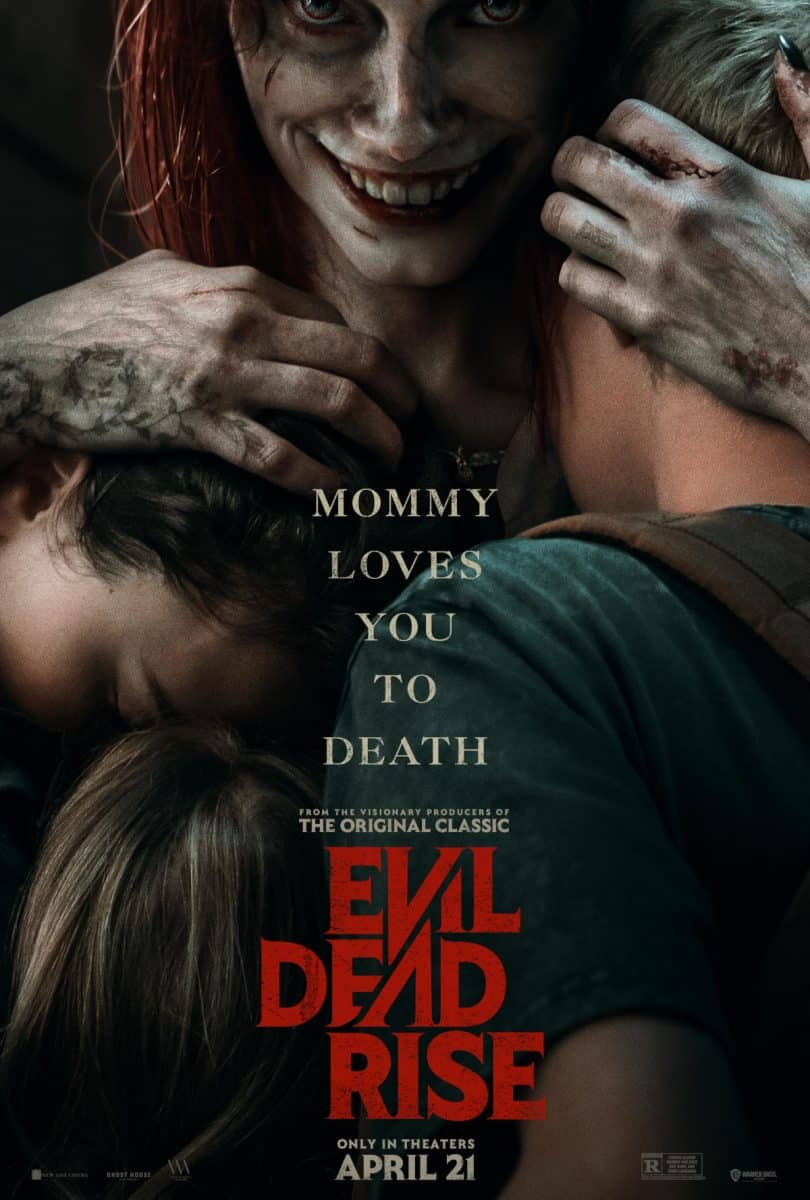 What do the Evil Dead Rise first reactions say?
Regarding the first reactions, yep, once again they offer the movie is the best thing since sliced bread just as they did for recent bombs including Thor: Love and Thunder and Ant-Man and the Wasp: Quantumania and potential big bombs with Shazam: Fury of the Gods and Dungeons and Dragons: Honor Among Thieves.
I get it if you are a fan and you go to a free screening and the cast and creators are involved, but if you are a professional journalist or reviewer, the amount of shilling going on is unbelievable and just reeks of being desperate.
Evil Dead Rise opens April 21, 2023 directed by Lee Cronin and stars Lily Sullivan ("I Met a Girl," "Barkskins"), Alyssa Sutherland ("The Mist," "Vikings"), Morgan Davies ("Storm Boy," "The End"), Gabrielle Echols ("Reminiscence") and introducing Nell Fisher ("Northspur").
Twitter reactions:
EVIL DEAD RISE: It's been a minute since a total gorefest like this was dropped in theaters. Claustrophobic, grimey and mean as hell, this new entry is a crowd-pleaser that gets straight to the violence. Will 100% make you wince at parts. #SXSW2023 pic.twitter.com/ane5CK6N6i

— Paul Lê (@AFinalBoy) March 16, 2023
An fan at the #EvilDeadRise #SXSW premiere said "This movie fucking sucks!" to which @GroovyBruce responds "What are you doing here? Get the fuck out of here!" pic.twitter.com/mIBI29yr7b

— One Take News (@OneTakeNews) March 16, 2023
#EvilDeadRise gives me everything I want as an EVIL DEAD fan and more. It's as vicious as 2013, opens the door to future entries in endlessly exiting ways, and owns its place in the series. I'm still buzzing. A franchise that continues to do no wrong. pic.twitter.com/yif8twyLcw

— Matt Donato (@DoNatoBomb) March 16, 2023
EVIL DEAD RISE carries Sam Raimi's spirit while still bringing fresh ideas to the table. The kills kick ass and it's going to shock even the most dedicated fans.

It's not as comedic as previous films and sticks to a harsher tone, making it stand out in the franchise. #SXSW pic.twitter.com/mWbN3Pm9aX

— Andrew J. Salazar @ SXSW (@AndrewJ626) March 16, 2023
Holy mother of hell. Evil Dead Rise is nasty and gnarly as fuck, it LITERALLY RIPS. Continues the style and tone of the 2013 remake, while offering some neat twists. Lee Cronin is a directing force, but it's Lily Sullivan and Alyssa Sutherland who lead this carnage circus #SXSW pic.twitter.com/nwtMBSr2tM

— kevin l. lee @SXSW (@Klee_FilmReview) March 16, 2023
Evil Dead Rise is rad! The tone falls somewhere between the 2013 remake and Evil Dead 2, there's so much gore, and even more child endangerment. Also, there's a nod to The Shining that had me applauding in my seat. Don't miss it. pic.twitter.com/ZjJktb0Zxt

— Eric Vespe (@EricVespe) March 16, 2023
#EvilDeadRise is the big crowd-pleasing Evil Dead movie we were hoping for. This EVIL DEAD rises to the occasion. Remixing all the best parts of the franchise to date, in a 1930s tower block, it moves from darkly funny to utterly savage. The audience went ballistic. Hurrah! pic.twitter.com/RBpPDhW3X3

— Whitlock And Pope 🎃 (@WhitlockAndPope) March 16, 2023
#EvilDeadRise is gnarly and WILD – as every Evil Dead film (and show 😉) should be. There are no limits when working with deadites, Lee Cronin knows it, and runs with it to great effect – both when it comes to delivering deeply chilling horror and also a blood soaked good time. pic.twitter.com/kGTsLSbgY3

— Perri Nemiroff (@PNemiroff) March 16, 2023
Hahahaha holy smokes EVIL DEAD RISE rips. Gnarly, chaotic & buckets of fun—and blood!

Never heard a #SXSW crowd more nuts, made better with the cast, Sam Raimi & Bruce Campbell in it. pic.twitter.com/dj6nIsPlkd

— Alyssa Vidales @ SXSW (@instalyssa) March 16, 2023
Watch the trailer: