It's learned Evil Dead 4 starring new female protagonists is headed to the HBO Max streaming service.
Details include that original director Sam Raimi, and star Bruce Campbell, are involved as executive producers, but the flick won't feature Campbell as Ash who is retired from the role.
Sam Raimi hand-picked The Hole in the Ground Irish filmmaker Lee Cronin to direct Evil Dead 4, with the reboot starring Alyssa Sutherland (The Mist, Vikings) and Lily Sullivan (Picnic at Hanging Rock, Jungle) as two estranged sisters whose reunion is cut short by the rise of flesh-possessing demons, thrusting them into a primal battle for survival as they face the most nightmarish version of family imaginable.
Campbell previously revealed production would start in 2021 in New Zealand, which sounds like the movie will be released in 2022.
"I'm thrilled to bring Evil Dead back to its original home at New Line 40 years after the release of the first film," said Raimi in a statement. "The company's history as pioneers of horror speaks for itself. I'm equally excited to be working with Lee Cronin, whose gifts as a storyteller make him the ideal filmmaker to continue the enduring legacy of the franchise."
"At its core, Evil Dead is about ordinary people overcoming extraordinarily terrifying situations," added Campbell, "I can't wait for Alyssa and Lily to fill the blood-soaked shoes of those who have come before them and carry on that tradition."
Said Cronin, "The Evil Dead movies filled my brain with terror and awe when I first saw them at nine years old. I am excited and humbled to be resurrecting the most iconic of evil forces for both the fans and a whole new generation."
Richard Brener, President and Chief Creative Officer, New Line Cinema added, "New Line has a proud history of involvement in some of the most influential and enduring horror films of all time, and the original The Evil Dead was a landmark moment for the Studio. The movie transformed the genre and with each new installment, Sam, Rob and Bruce have continued to raise the bar. It's exciting to have them back in the fold for Evil Dead Rise after all these years, especially as they bring with them an immense talent in director Lee Cronin. His inventive spirit and his reverence for the franchise make him the perfect director to unleash Evil Dead once again."
Alyssa Sutherland posted on Instagram, "So so thrilled to be stepping into the world of the #deadites and I can't wait to be filming with Lee, Lily and the rest of the #EvilDeadRise cast! Feeling very honored to join a franchise with such a fun and bloody history."
Lily Sullivan posted, "Bloody excited for this messy, wild and intense ride with the wonderful @therealalyssas and brilliant director Lee Cronin // Cheers Bruce! Ready to step into those blood soaked crusty shoes. Let that primal instinct kick in."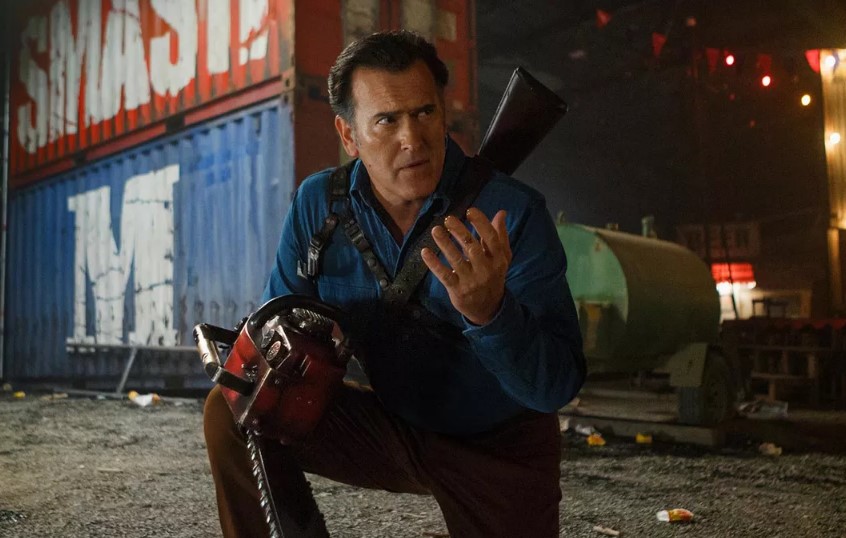 Evil Dead will rise
Bruce Campell previously said the title was going to be "Evil Dead Now" while speaking with Empire Magazine last year (instead as noted above it will be titled Evil Dead Rise — a much better title):
Speaking to Empire in the Heroes Issue, Ash himself – aka the ever-groovy Bruce Campbell – opened up about the latest developments around a new film. "We're just getting off the phone with Lee Cronin, who is writing and directing the next Evil Dead," he confirmed when asked whether there was life in the old cabin in the woods. "It's called Evil Dead Now. Sam handpicked Lee – he did a cool movie called The Hole In The Ground. We're going to get that sucker out as soon as practical."

As in Fede Alvarez's 2013 Evil Dead, this one won't feature Ash, who has hung up the chainsaw and shotgun for perhaps the last time – and will, by the sounds of things, centre on a female protagonist. "From this point forward, they kind of have to stand on their own. Which is fine. And liberating," says Campbell. "You could have different heroes, different heroines in this case. This one's gonna be a little more dynamic." He added: "We jut want to keep the series current. And the mantra, really, is that our heroes and heroines are just regular people. That's what we're going to continue."
Evil Dead Rise has no release date as of yet.
(via Deadline)