Richard Madden flies and Kit Harington is spotted filming as that huge Eternals vs Deviants battle scene continues filming in London.
Set pics reveal that actor Richard Madden is shown suspended in the air as his character Ikaris hovers over a bridge in what is said to be an intense stunt scene.
The Daily Mail, which has the pics posted, notes Madden "looked dapper in a long, tailored coat and smart shoes and sported a serious look on his face as he stared into the distance."
The story surrounding Eternals has been said to involve a love story between Ikaris, a man fueled by cosmic energy, and Sersi (Gemma Chan), who relishes moving amongst humans.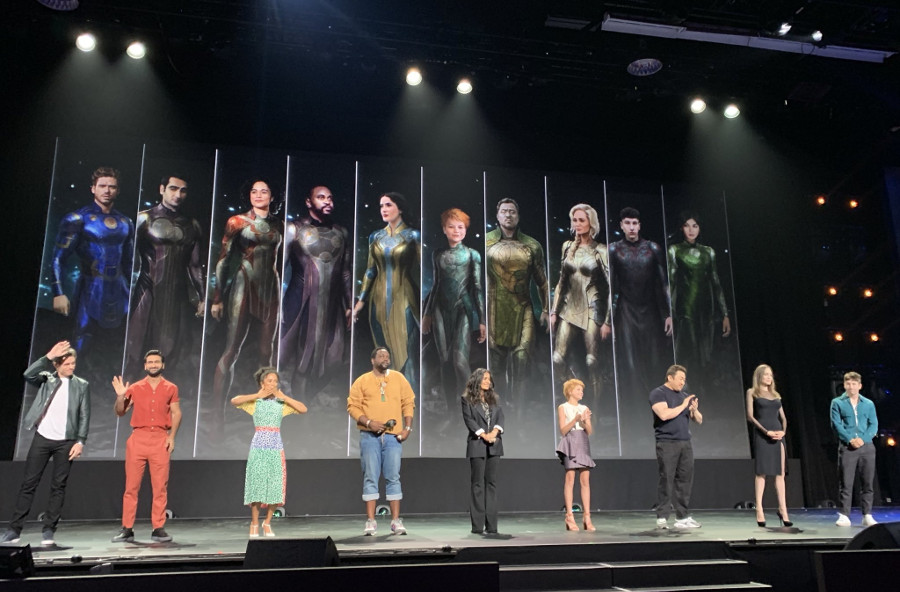 Marvel filming big Eternals scene with Kit Harington, Richard Madden
Regarding Kit Harington, who is playing Dane Whitman, aka Black Knight from the Marvel Comics, the fellow former Game of Thrones actor was also seen walking around Camden wearing jeans and a thin green jacket over a button-up shirt.
Additional set pics have shown Harington and Gemma Chan smooching, so it is unknown if this puts Whitman at odds with Madden's Ikaris or not.
Chan's Sersi has also been shown to be flying in the air.
Regarding the big battle scene being filmed, a production sheet recently notified residents that it involves characters that are being pursued as they try their best to fight off their rival. It's thought that means the Eternals vs Deviants, but who knows, maybe it's really Richard Madden as Ikaris versus Kit Harington as Black Knight, or both?
Eternals gets released Nov. 6, 2020 directed by Chloé Zhao also starring Kumail Nanjiani as the cosmic-powered Kingo, Lauren Ridloff as the super-fast Makkari, Brian Tyree Henry as the intelligent inventor Phastos, Salma Hayak as the wise and spiritual leader Ajak, Lia McHugh as the eternally young, old-soul Sprite, Don Lee as the powerful Gilgamesh, Barry Keoghan as the aloof longer Druig, and Angelina Jolie as the fierce warrior Thena.
Synopsis: Marvel Studios' The Eternals features an exciting new team of Super Heroes in the Marvel Cinematic Universe, ancient aliens who have been living on Earth in secret for thousands of years. Following the events of Avengers: Endgame, an unexpected tragedy forces them out of the shadows to reunite against mankind's most ancient enemy, The Deviants.