It's announced that Marvel Studios is developing an Echo series for Disney Plus which will spinoff from the upcoming Hawkeye series.
Alaqua Cox has been cast as Echo for Hawkeye.
The details for the series include Echo is in early development with Etan Cohen (Holmes & Watson, Men in Black 3) and Emily Cohen set to write and executive produce.
The character is normally associated with Daredevil, but it seems the MCU will be going a different route and will tie Echo to Hawkeye, maybe through Ronin, as both Echo and Clint Barton have used the Ronin guise.
Hawkeye will debut later this year on Disney Plus starring Jeremy Renner back as Marvel's avenging archer; Hailee Steinfeld plays Kate Bishop, with Hawkeye also starring Vera Farmiga as the mother to Steinfeld's Kate Bishop, Eleanor Bishop, with Fra Fee, Tony Dalton, Alaqua Cox, and Zahn McClarnon appearing in the series, and it is said Florence Pugh will reprise as her character from Black Widow, Yelena Belova.
In the comics, Echo is a deaf Native American named Maya Lopez who, while has no superpowers, is described as an Olympic-level athlete possessing "photographic reflexes" or the uncanny ability to perfectly copy other people's movements, similar to that of the Taskmaster. Just by watching other people, she has become a concert-level pianist, a strong martial artist, a highly skilled acrobat, and a gifted ballerina, and she has also gained Daredevil's acrobatic abilities and Bullseye's uncanny aim after watching tapes of their fights.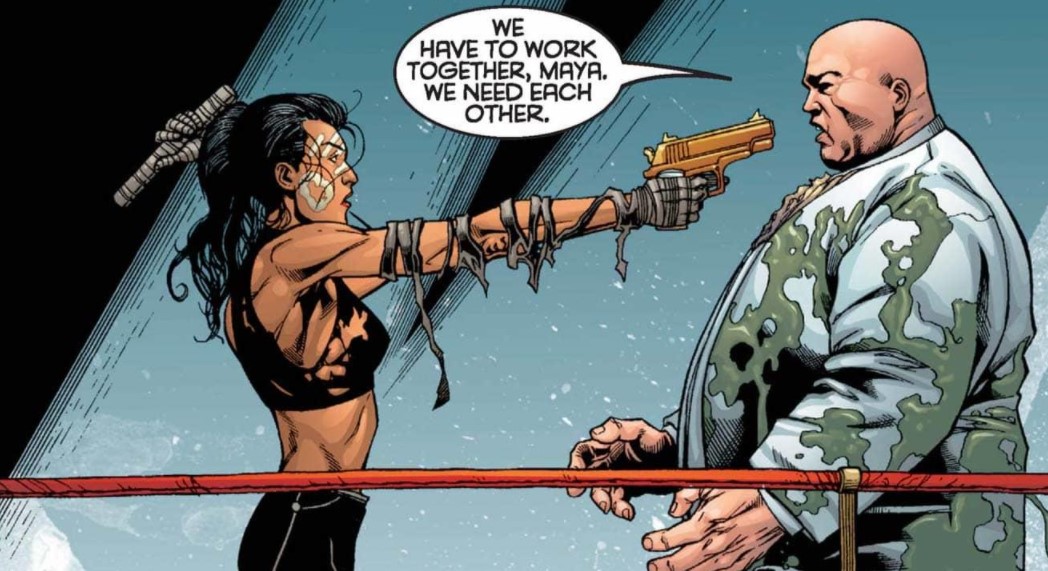 Marvel describes Echo as:
When she was a small girl, Maya Lopez's father, a Cheyenne gangster, was killed by his partner in crime, the Kingpin. The last wish of her father was that Fisk raise the child well, a wish the Kingpin honored, caring for her as if she was his own. Believed to be mentally handicapped, Maya was sent to an expensive school for people with learning disabilities. There, she managed to completely replicate a song on the piano. After that, she was sent to another expensive school for prodigies. She grew into a gifted and talented woman. Upon visiting her father's grave with Fisk, she asked how he died. Fisk told her that Daredevil had killed him.

Maya was sent by the Kingpin to Matt Murdock to prove Matt's weakness. He told her that Matt believed he was a bad person, and that she was the only way to prove him wrong. (As Maya believed him, it would not appear to be a lie when she told Matt.)

Matt Murdock and Maya soon fell in love. She later took on the guise of Echo, hunting Daredevil down. Having watched videos of Bullseye and Daredevil fighting, she proved more than a match for Daredevil. She took him down and nearly killed him, refusing only when she found out Matt and Daredevil were one and the same. Matt managed to correct the Kingpin's lies. In revenge, Echo confronted Fisk and shot him in the face, blinding him and starting the chain of events that would lead to his eventual downfall. (Kingpin would later partially recover his eyesight through reconstructive eye surgery).
(via Deadline)