In addition to the new trailer, a clip has been released for Spider-Man: Far From Home which features an extended look at the Mysterio scene and offers the character's alternate Earth-833 origin.
The new footage that was released on Ellen sees Jake Gyllenhaal's Mysterio state, "There are multiple realities Peter. This is Earth dimension 616. I'm from Earth-833." 
The Spider-Man: Far From Home trailer features Nick Fury confirming that The Snap tore a hole in our dimension, so it appears as if Mysterio came through from Earth-833 looking for help as the footage also teases a team up with Spidey. However, a lot of fans are thinking all is now what it seems with various theories hitting the net (mine is here) including that Mysterio may be lying (but what about?).   
Regarding Earth-833, in the Marvel Comics, it is the home of Spider-UK. Update: A leaked toy offers potential details and spoilers. 
Check out the clip and footage of Jake Gyllenhaal on Ellen: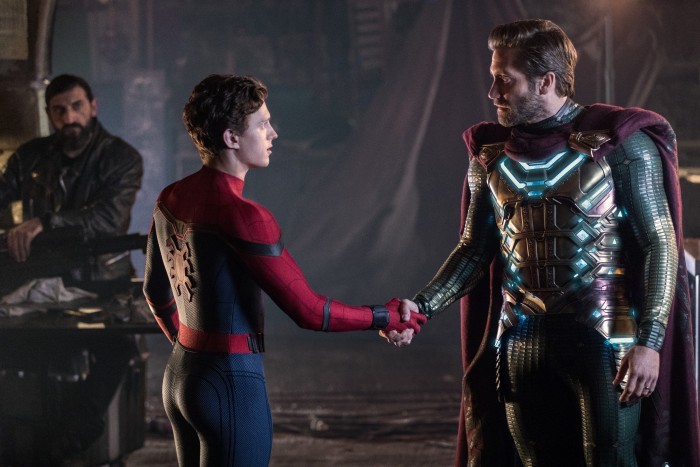 Spider-Man: Far From Home has a July 5, 2019 release directed by Jon Watts and also stars Samuel L. Jackson, Zendaya, Cobie Smulders, Jon Favreau, JB Smoove, Jacob Batalon, Martin Starr, with Marisa Tomei, and Jake Gyllenhaal.
Synopsis: Peter Parker returns in Spider-Man: Far From Home, the next chapter of the Spider-Man: Homecoming series! Our friendly neighborhood Super Hero decides to join his best friends Ned, MJ, and the rest of the gang on a European vacation. However, Peter's plan to leave super heroics behind for a few weeks are quickly scrapped when he begrudgingly agrees to help Nick Fury uncover the mystery of several elemental creature attacks, creating havoc across the continent!