The BBC and Doctor Who show off a first look at Drag Queen champion Jinkx Monsoon.
The Doctor has had many powerful enemies in the past including the Master, the Daleks, the Cybermen, the Weeping Angels, the Silents, but apparently none will compare to Jinkx Monsoon.
With filming now underway, the BBC describes the character as the Doctor's most powerful enemy yet.
Previously released details include Jinkx Monsoon will have a major role in the new series of Doctor Who which is set to star the first black and gay actor playing the 14th Doctor with Ncuti Gatwa.
"When The Doctor summons me, I am compelled to answer," teases Jinkx Monsoon on Twitter.
"I'm Jinkx Monsoon," says the actor in a video." And this is my costume for Doctor Who [cackles]."
Here comes Jinkx… ⛈️@JinkxMonsoon has landed and started filming for #DoctorWho! pic.twitter.com/qhRioQhSHr

— Doctor Who (@bbcdoctorwho) April 19, 2023
*cackles* https://t.co/X8PWArBWpO

— Jinkx Monsoon (@JinkxMonsoon) April 19, 2023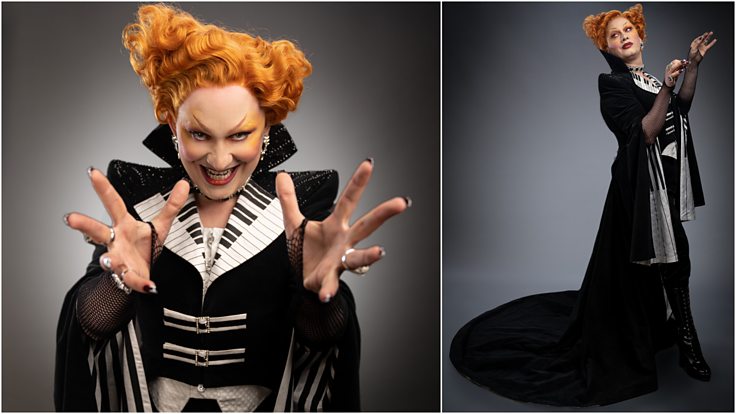 Here comes the biggest star of all
Russell T Davies, Showrunner, said earlier in the month when the casting was first announced: "In a galaxy of comets and supernovas, here comes the biggest star of all. Jinkx Monsoon is on a collision course with the TARDIS, and Doctor Who will never be the same again!"
Jinkx Monsoon added: "I'm honored, thrilled, and utterly excited to join Doctor Who! Russell T Davies is a visionary and a brilliant writer – I can't wait to get into the weeds with him and the crew! I hope there's room in the TARDIS for my luggage."
The BBC also notes Jinkx has cultivated an international fanbase after winning two seasons of RuPaul's Drag Race including an All Stars season where she was crowned Queen of Queens, competing against other winners of the show.
Jinkx joins Doctor Who after completing her sell out run on Broadway, where she made her highly-anticipated debut as Matron 'Mama' Morton in Broadway's longest-running show, Chicago. Her run on Broadway was a historic moment for the LGBTQIA+ community, as she became the first drag queen to play the role of Mama Morton, breaking box office records in her extended 8-week run. 
Also starring in the upcoming Doctor Who Series 14 will be transgender actress Yasmin Finney playing Rose, gay actor Neil Patrick Harris as the villain, and trans comedian Sooz Kempner is playing the "universe's greatest assassin" as part of the "Doom's Day" multiplatform event story.
Fan favorites David Tennant and Catherine Tate are set to appear in the upcoming three Doctor Who specials prior to Ncuti Gatwa taking over that start to air in November as part of the Doctor Who 60th Anniversary.
Doctor Who will premiere exclusively on the BBC for the UK and Ireland. Disney+ will be the exclusive home for new seasons of Doctor Who outside of the UK and Ireland.