Back in 2017, it seems as if everything would have gone according to the plan for the DCEU, a Joe Manganiello Deathstroke movie would have happened, possibly directed by The Raid's Gareth Evans.
Joe Manganiello appeared in the post-credit teaser for Justice League, which teased the Legion of Doom along with Jesse Eisenberg's Lex Luthor.
From there, Joe Manganiello would have gone after Ben Affleck's Bruce Wayne in The Batman, and then the solo Deathstroke movie would have been released.
However, with the failure of Justice League, and with Ben Affleck departing directing The Batman and possibly even the role, the Joe Manganiello Deathstroke movie has been placed on hold.
Regarding director Gareth Evans, it was reported back in 2017 that he was attached to direct Deathstroke, and now while speaking with THR offers some insights.
"I had a phone call a long time ago about it, I had a follow-up call where I spoke to Joe [Manganiello] about it, and really nothing else since," he said, adding with a laugh, "I saw an awful lot of reporting on it! I saw a lot of articles. But I think wherever the articles came from, they know more about it than I do to be perfectly blunt."
Evans notes he hasn't heard anything since, but offers his take on the character and film.
"It was an opportunity for me to do something different from what's out there at the moment," Evans said, adding that his difference take would have been "quite lean, quite mean in that way, and be something that wasn't afraid to go to some pretty dark places, because that character has some pretty dark history about him."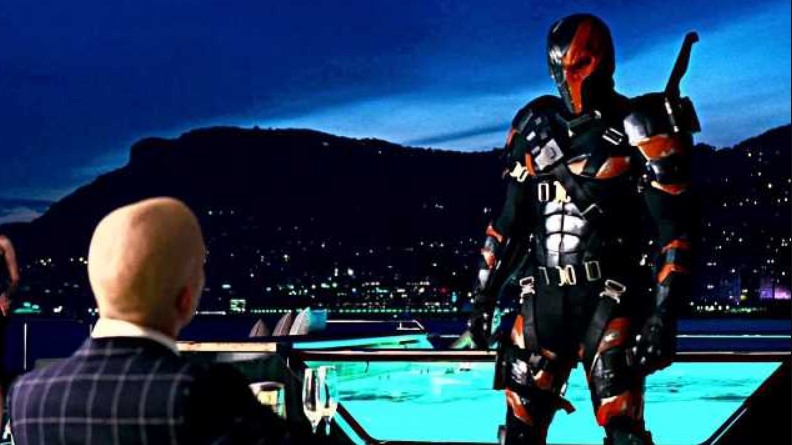 The latest regarding the Deathstroke movie is that Joe Manganiello recently did state it is still in development.
"I say, 'It's in the works,' because it is, and there's nothing further that I can say without speaking out of school," he told MTV, "because I'm part of a team, I'm a part of a locker room — you don't talk outside the locker room. But all I can say is, for the hardcore fans, it's in the works. They want the character to happen, it's just when he happens. Everybody's committed to [getting it done the right way.]"
Whether or not Joe Manganiello also appears in Matt Reeves' The Batman also remains to be seen, but the actor did confirm that Ben Affleck version and script was pretty awesome when he offered a "heavy check mark" on Twitter to DCEU storyboard artist Jay Oliva's comments.
"The original Affleck script was the best Batman script I've ever read. Ben had a kick ass story and I believe that the audience and fans would have loved it," Jay Oliva tweeted.