After all these years, it's confirmed that David Ramsey's John Diggle is actually Green Lantern.
However, it's a different universe as confirmed on the Elseworlds crossover.
The crossover sees the Earth-90 Barry Allen, played by John Wesley Shipp, travel to the Earth-1 universe to warn the heroes about The Monitor.
"My name is Barry Allen," the Earth-90 version of The Flash says. "Hello, John... You are not wearing your ring."
Obviously, the John Wesley Shipp Flash means Diggle's Green Lantern ring, as we can guess Diggle could be John Stewart Green Lantern on Earth-90.
David Ramsey further confirms things on Twitter as he tweeted a reply to Stephen Amell referencing the GL oath, "BEWARE."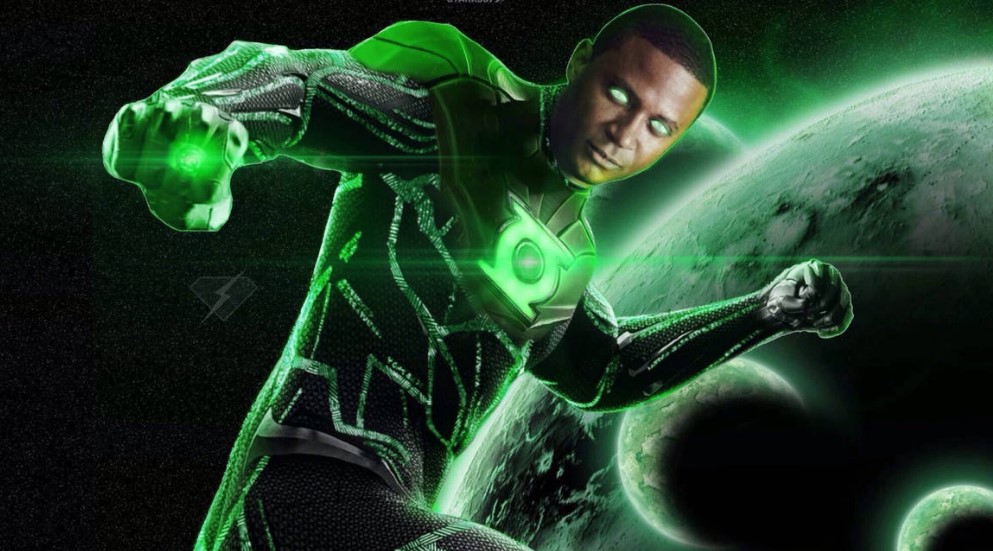 There was actually a theory a few years ago that stated John Diggle changed his name from Stewart to Diggle while in the military, and at the time David Ramsey didn't deny the GL possibility.
"Is John Diggle John Stewart? I cannot say 'yes,' and I cannot say, 'no.' I'm serious!" Ramsey said back in 2015. "I do know that there is serious discussion about whether or not this guy becomes John Stewart. But, I mean, I'll say this: It is top secret. I've asked them and they're like, 'we're working on some stuff.' If that's the case, it's gonna be huge. This is the stuff they want to avoid. I think they don't want anybody to know yet and they haven't even told me. But they have told me that they are thinking about it and that they are considering it. But they're not going to release anything yet. That's exactly what they told me. Greg Berlanti told me that. Andrew [Kreisberg] and Marc [Guggenheim] have told me that. I haven't spoken to Geoff Johns about it. But that's the word from people directly involved in Arrow -- that they're working on something," Ramsey offered. "Here's the truth of it: If I knew, I would tell you I know the answer to that, but I'm not at liberty to tell you that. I would answer like that. I probably wouldn't tell you anyway, but I would at least tell you that I know. I honestly do not know."
Eventually, it did come out that Arrow's John Diggle is not Green Lantern John Stewart in the Arrowverse.
"It's funny, I've spoken to David [Ramsey] quite a bit about this issue, I know it keeps coming up," Arrow EP Marc Guggenheim said. "I spoke to [writer] Geoff Johns at DC after that interview went viral. Basically, John Diggle is now a character in the comics… John Diggle is John Diggle. We're not being coy and saying John Diggle is someone else, i.e. John Stewart. DC has other plans for that character. We love David, and we love the character of John Diggle that he's created. We have really cool plans for him… they involve a wedding ring, but they don't involve a power ring."
So while the regular version of Diggle doesn't happen to be a Green Lantern, it does seem it is safe to say the Earth-90 version does wear the power ring. 
Regarding Guggenheim's comments about having plans for John Stewart, it is known Geoff Johns is currently developing a Green Lantern Corps movie that will feature both Hal Jordan and John Stewart, which is why the Green Lanterns haven't been a part of the Arrowverse. Green Lantern has actually be teased a bunch of times on Arrow and The Flash, but because of the movie plans, nothing really became of it.
Who knows? Maybe during next year's Arrowverse Crisis On Infinite Earths crossover, David Ramsey will suit up as Green Lantern.