Today, Marvel is auctioning off their Daredevil Netflix costumes and props which are fetching big bucks including the red costume worn by Charlie Cox going for a whopping $65k.
Netflix recently canceled the Marvel Netflix shows which also includes Jessica Jones, Luke Cage, Punisher and Iron Fist as well as Defenders.
Obviously, with Marvel auctioning off the Daredevil costumes and props, it won't be returning in its current form.
Here is a screenshot of the auction featuring the DD costume that went for $65K: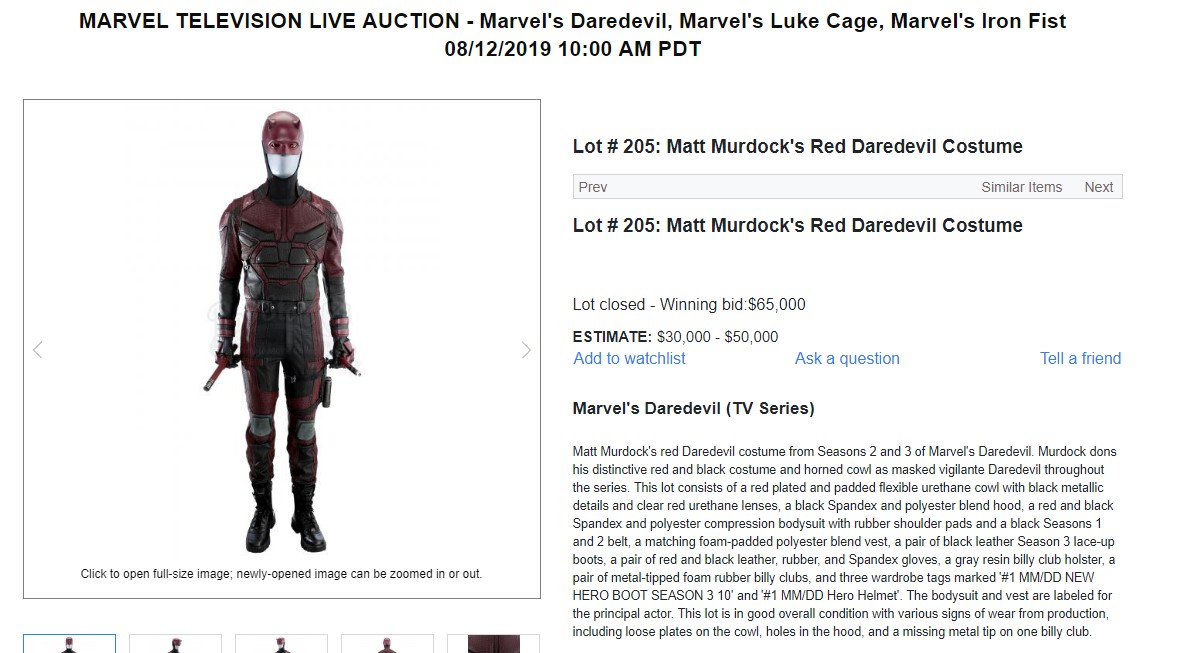 Daredevil costumes and props getting auctioned off by Marvel
I was actually told by sources at Comic-Con that plans are underway for a Daredevil reboot within the MCU, with Heroes For Hire currently in development. Unfortunately, it is doubtful the reboot will feature the Netflix actors, as they are attached to Netflix and Marvel TV.
Regarding when a Daredevil reboot will happen, the best guess is at least a couple of years, as apparently Netflix still retains the rights to the characters for two more years or so.
Some other items that have gone for big bucks from the Daredevil auction include the first iteration of the costume (55K), Matt Murdock's Slashed Combat Costume (10.5K), Matt Murdock's Stunt Repaired Red First Iteration Daredevil Cowl (10.5K), Matt Murdock's Distressed Red Second Iteration DD Costume (19k), and the Benjamin 'Dex' Poindexter's DD Impersonation Costume (40K).
The auction is taking place live with additional items going up for bid including Matt Murdock's Second Iteration DD Costume, Matt Murdock's Second Iteration DD Cowl and more.
Check out the items at marvel.propstoreauction.com.
Here are more pics from the Daredevil auction: