Though the coronavirus scare is currently going around, leave it up to Ryan Reynolds to offer a bit of comic relief that also happens to involve Hugh Jackman.
The Deadpool actor took to social media to call out the Wolverine actor in regards to getting Jackman some help while at the same time promoting charity for coronavirus relief by donating a million dollars along with wife Black Lively:
Covid-19 has brutally impacted older adults and low income families. Blake & I are donating $1 million to be split between FEEDING AMERICA and FOOD BANKS CANADA. If you can give, these orgs need your help.

Take care of your bodies and hearts. Leave room for joy. Call somone who's isolated and might need connection.

Hugh Jackman's # is 1-555-[crying emoji]-HUGH).
Ryan Reynolds also added in the post: "I think we can all agree, Covid019 is an a–hole. If you're able to help, visit @feedingamerica and #foodbankscanaday."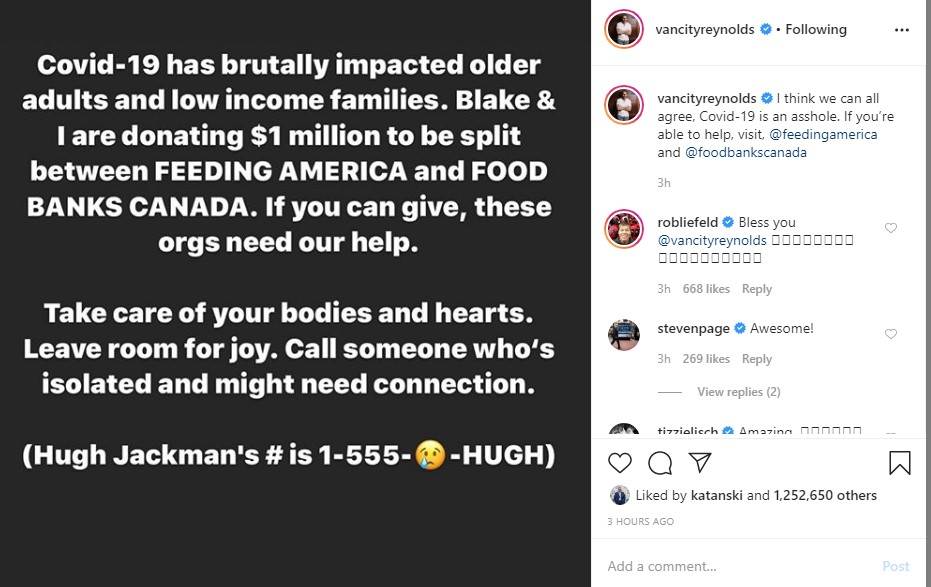 Hugh Jackman reacts to coronavirus:
Hugh Jackman has yet to respond, but the Australia actor known for playing Marvel's Wolverine posted a video of how to correctly wash your hands on Friday, as Jackman came under heat when he "incorrectly" washed his hands by leaving the faucet on:
Ryan Reynolds vs Hugh Jackman continues
Deadpool creator Rob Liefeld also liked what he saw as the comic book artist commented on Reynolds' post: "Bless you, Ryan Reynolds."
Feeding America also offered its thanks: "Thank you, Ryan and Blake, for your incredible support. Your gift means so much to us and the millions of people we serve. And to everyone who you inspire to give during these uncertain times – every dollar and minute makes a difference."
Ryan Reynolds and Hugh Jackman have been having an ongoing "feud" on social media where they continually push each other's buttons, where, at times, Reynolds seemingly wants Jackman to appear in a Deadpool Wolverine movie.
Back in December saw Hugh Jackman post a meme of Wolverine with one claw sticking out – the middle finger – with Deadpool standing on his fist and grabbing the claw.