In addition to the Carol Danvers description, information on the Captain Marvel Skrull villain, Talos, has leaked online from a tie-in book or magazine, which sheds light on the character.
Talos (Ben Mendelsohn) is described as a "Skrull spy" in addition to the following information:
Description
Talos is the ruthless leader of a group of Skrull aliens sent to spy on planet Earth. He is merciless, and feared even by those under his command. The Skrulls have waged a fierce battle against the Kree Empire for centuries, which brings Talos into conflict with Captain Marvel when they meet on Earth.
Pointed ears are an identifying Skrull trait.
Green reptilian skin is the natural Skrull form.
Skrull fabric is water and bulletproof.
Suit changes with body when shapeshifting occurs.
Shapeshifter
Skrulls are an invading alien race, known for their shapeshifting abilities. They can impersonate anyone they choose, which enables them to infiltrate the populations of planets they are planning to conquer.
A New Target
The Skrulls are a strategic, military-minded species. Before a full-on invasion, they send a team of spies to explore the territory and report back on its inhabitants.
Date File
Affiliation: Skrulls
Key Strengths: shapeshifting ability, intelligence, military strategy, ruthlessness
Appearances: Captain Marvel
(via reddit)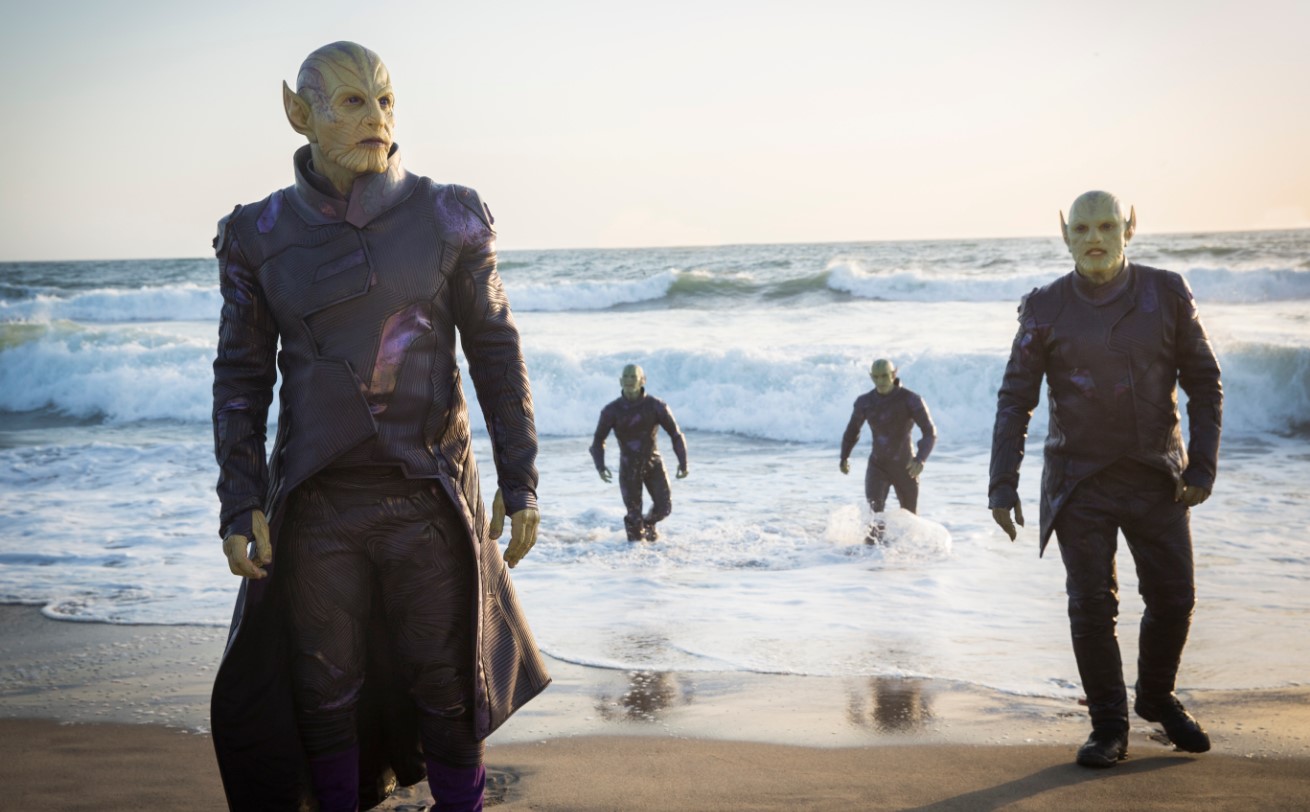 The movie has a March 8, 2019 release directed by the writing/directing team of Anna Boden and Ryan Fleck and stars Academy Award winner Brie Larson, Samuel L. Jackson, Ben Mendelsohn, Djimon Hounsou, Lee Pace, Lashana Lynch, Gemma Chan, Algenis Perez Soto, Rune Temte, McKenna Grace, with Clark Gregg, and Jude Law.
The film follows Carol Danvers as she becomes one of the universe's most powerful heroes when Earth is caught in the middle of a galactic war between two alien races. Set in the 1990s, the film is an all-new adventure from a previously unseen period in the history of the Marvel Cinematic Universe.