A new description for the Captain Marvel movie and character leaks online from what appears to be an official tie-in book or magazine for the film.
The info isn't too much of a spoiler, but further describes the movie and Carol Danvers.
The description for Captain Marvel offers she is a "cosmic powered hero" in addition to the following details.
Description
Kree soldier Captain Marvel finds herself on planet Earth, with no knowledge of how she got there. She is tracked down by S.H.I.E.L.D agent Nick Fury and begins to question whether her dreams and visions might be actual memories of the past. Marvel and Fury join forces, hoping to prevent an invasion of Earth by the dangerous, shapeshifting aliens, the Skrulls.
Captain Marvel might be grappling with an identity crisis, but she remains dedicated to combating evil.
Suit
Starforce emblem
Suit protects against the pressures of space
Body able to absorb energy
Pilot Past
Captain Marvel eventually remembers her past, in which she was a U.S. Air Force Pilot called Carol Danvers. Danvers was a top pilot, with fast reflexes and exceptional courage.
Starforce
Captain Marvel is a member of the elite Kree military unit, Starforce. Marvel's photon powers make her a highly respected member of the team, although she faces a constant struggle to control her dangerous and unpredictable powers.
Data File
Affiliation: U.S. Air Force, Starforce, Kree Empire, Nick Fury, S.H.I.E.L.D.
Key Strengths: Superior piloting abilities, enhanced durability, strength and reflexes, cosmic energy blasts, healing abilities, space flight
Appearances: Captain Marvel
(via reddit)
Update: Info on the Skrull villain, Talos, has also leaked online.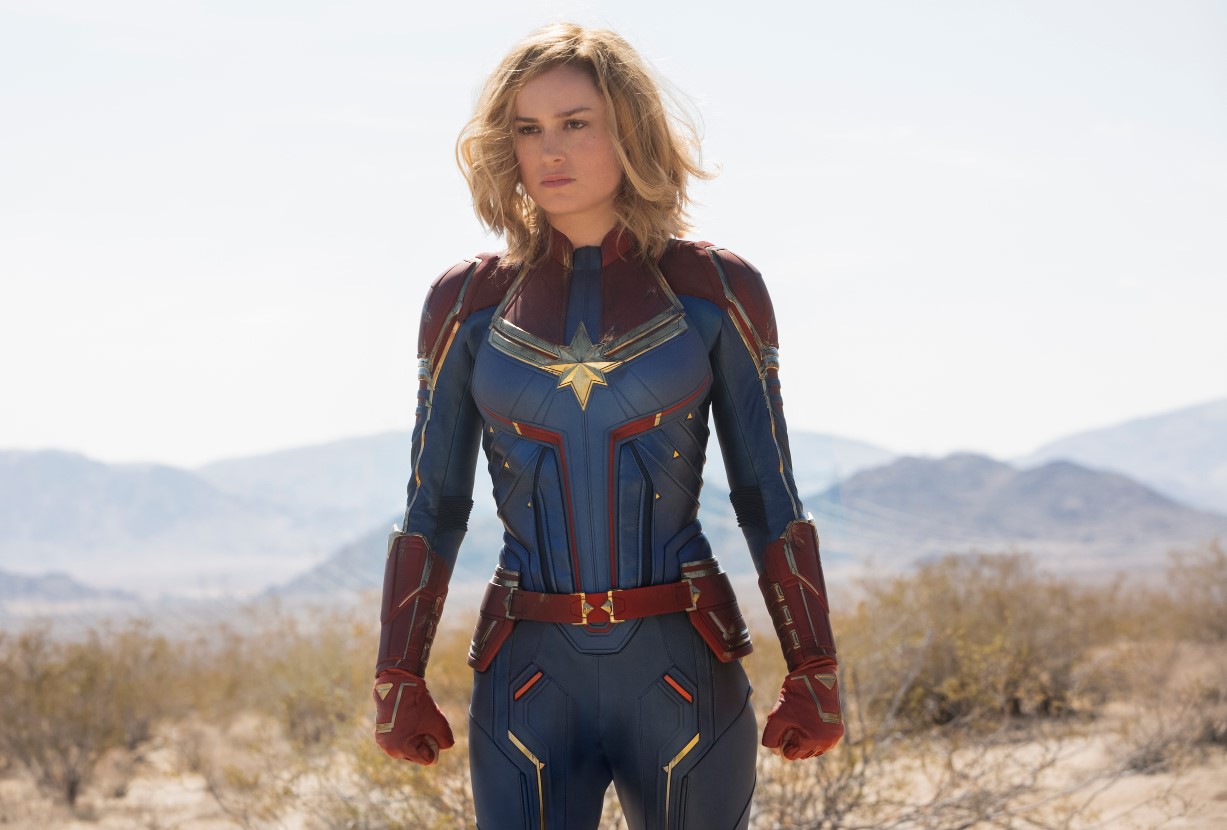 The movie has a March 8, 2019 release directed by the writing/directing team of Anna Boden and Ryan Fleck and stars Academy Award winner Brie Larson, Samuel L. Jackson, Ben Mendelsohn, Djimon Hounsou, Lee Pace, Lashana Lynch, Gemma Chan, Algenis Perez Soto, Rune Temte, McKenna Grace, with Clark Gregg, and Jude Law.
The film follows Carol Danvers as she becomes one of the universe's most powerful heroes when Earth is caught in the middle of a galactic war between two alien races. Set in the 1990s, the film is an all-new adventure from a previously unseen period in the history of the Marvel Cinematic Universe.