With the Captain Marvel "Want to See" score being questioned for Rotten Tomatoes, I decided to run a poll on our Facebook page that has around 700,000 followers.
While it is being claimed the Captain Marvel Rotten Tomatoes "Want to See" score is being manipulated by "morons," interestingly enough our own poll mirrors the score.
Within an hour of putting the poll up asking if fans are going to see the movie during opening weekend, over 1200 votes have been cast with 56% stating yes, and 44% stating no.
The Captain Marvel "Want to See" score at Rotten Tomatoes stands at a 55% of fans that want to see the movie, so we see the numbers are right in line.
The reason I asked if people are going to see the film opening weekend is also because the projections for the movie have been all over the place – from a high of $180 million in January to a low of $80 million following the recent comments from Brie Larson – so I wanted to get some feedback about what the box office numbers could be for the opening.
Obviously, this isn't a scientific poll or anything, and neither is Rotten Tomatoes, but it is rather interesting the numbers are basically the same. I also don't think "trolls" ran to my Facebook page within an hour of me posting it to "review bomb" it. The poll is open until Sunday night, so feel free to add your two cents. For the record, I voted, "Yes."
You can vote here on Facebook.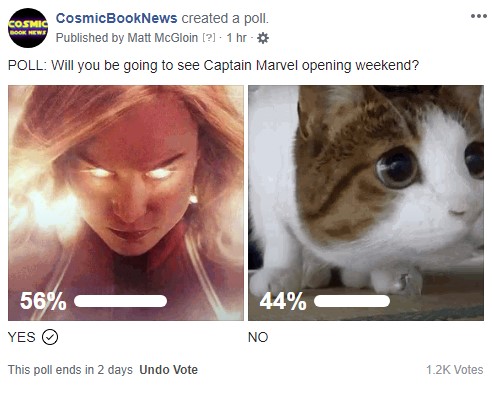 Captain Marvel follows Carol Danvers as she becomes one of the universe's most powerful heroes when Earth is caught in the middle of a galactic war between two alien races. Set in the 1990s, the film is an all-new adventure from a previously unseen period in the history of the Marvel Cinematic Universe.
The film has a March 8, 2019 release directed by the writing/directing team of Anna Boden and Ryan Fleck and stars Academy Award winner Brie Larson, Samuel L. Jackson, Ben Mendelsohn, Djimon Hounsou, Lee Pace, Lashana Lynch, Gemma Chan, Algenis Perez Soto, Rune Temte, McKenna Grace, with Clark Gregg, and Jude Law.