The various Hollywood trade sites with their "sources" have been projecting the Captain Marvel box office, which currently ranges from a high of $180 million to a low of $80 million. Likewise, various polls have been stating the film will either be the best or second best of the year, with ticket chain outlets offering sales were high in the first 24 hours of going on sale. As we see, the numbers are all over the place, so let's take a look.
As I stated in my previous article that blew up the internet, earlier in the year following the NCAA trailer and when tickets initially went on sale, Captain Marvel was projected to open as high as $180 million, leading to speculation of Black Panther numbers ($202 million opening). However, the projections have since fallen – quite dramatically – as recently Deadline offered Captain Marvel could open to a low of $80 million or with a higher number of $120 million. The Hollywood Reporter, in their report about the box office Winter blues, now offers similar numbers, stating tracking suggests Captain Marvel will open to $120 million or more.
So judging by the Hollywood trade sites' "sources," it seems as if the movie business is taking a more conservative approach to Captain Marvel's box office numbers than what many fans were hoping for (or have been trying to promote themselves). What is also interesting about Captain Marvel's box office projections is that it correlates to the controversy surrounding Brie Larson and her feminist comments, and comments about "white dudes." The box office projections were initially really high, but following Larson's comments, they are now lower. No matter what side you are on, if you are on a side at all, there can be no denying there is a Captain Marvel controversy going on. All you have to do is read the 400 or so comments on my previous article. I could even give you screenshots of my Twitter account where I am cursed out and more by the "fanboys" (mostly white fanboys interestingly enough).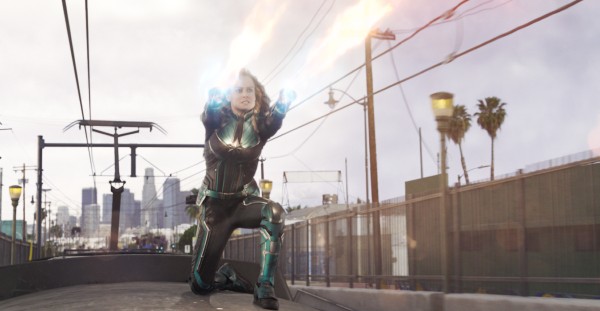 This isn't an article about the Captain Marvel controversy (save that for this Friday?), but more about if Captain Marvel will open similar to Ant-Man and the Wasp ($75 million) or again, something like a Black Panther ($202 million). Or how about in-between? Marvel Studios president Kevin Feige is no dummy when he introduced the character first in the post-credit scene for The Avengers: Infinity War and previous to their huge Endgame finale. If you happen to be a fan that doesn't like Brie Larson's politics, you may still have to go see it just because it somehow ties into The Avengers: Endgame. It would be like if you weren't a fan at all of what Abrams did with The Force Awakens, but went to see The Last Jedi to see what happened to Luke Skywalker (and we know how that turned out). Feige is a genius introducing a controversial character like Captain Marvel this way as he knows his fanboy zombie audience won't be able to pass it up; however, the question remaining to be seen – and something Disney is banking on – is if the fanboy zombie audience is as big as they think.
I'm actually estimating Captain Marvel to open higher than $100 million. Now, will it open to Black Panther numbers? Survey says no, IMO, as I don't think Brie Larson and the flick are getting the same support that Black Panther did, which is what a lot of the aforementioned "fanboys" were hoping for (sorry! hugs?). That said, there are only about two weeks to go until the movie comes out, and if Brie Larson doesn't cause any more controversy and they simply promote the flick as a form of escapism that everyone wants to see, maybe everything will turn out alright.
What are your thoughts on the projections and tracking? Let us know in the comments below. Captain Marvel opens March 8.