A Blue Beetle movie is in the works which will be directed by Angel Manuel Sot.
The director confirmed the news on Twitter along with a statement to The Wrap.
"LETS GO!" Sot tweeted.
"It is an honor to direct Blue Beetle, the first Latino superhero film for DC," said Soto in a statement to TheWrap. "I want to sincerely thank everyone at Warner Bros. and DC for trusting me to bring Jaime Reyes to life. I can't wait to make history together."
Blue Beetle is also being written by Mexican-born writer Gareth Dunnet-Alcocer, who wrote Universal's Scarface remake and Sony's Miss Bala.
The announcement also follows Sasha Calle announced as playing the first Latina Supergirl ever in DC.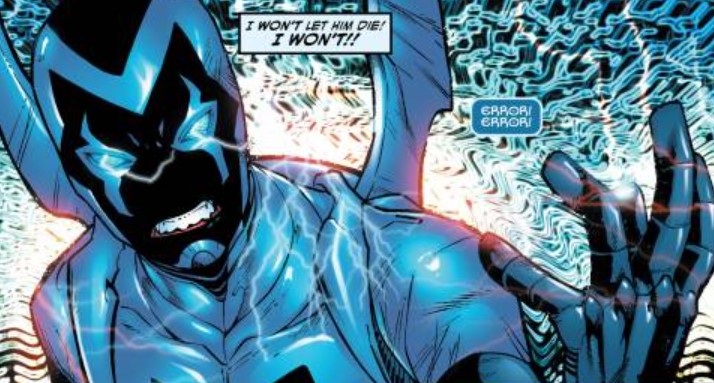 Blue Beetle Jamie Reyes
DC Comics describes Blue Beetle as:
The inheritor of a proud legacy of crimefighting, Jaime Reyes is the third individual to bear the name Blue Beetle.

Over the course of a century, three different men from very different backgrounds have taken on the heroic mantle of the Blue Beetle, each making their mark in different ways. The original Beetle was an archaeologist named Dan Garrett, who discovered an ancient Scarab in an old Egyptian tomb that gave him superpowers which he used to fight crime. He was succeeded by the brilliant Ted Kord, who had no powers to speak of, but carried on the Blue Beetle legacy with just his wits and his fists, along with a whole lot of gadgets and a sharp sense of humor.

The most recent Blue Beetle is Jaime Reyes, a teenager from El Paso, Texas who bonded with Dan Garrett's Scarab. The artifact gave him incredible alien armor which he used to defend his hometown from all manner of metahuman criminals. A Blue Beetle has been a part of the superhero community in the DC Universe in some form since 1939, serving both as a solo adventurer and as a part of teams like the Justice League and the Teen Titans, creating one of the greatest heroic legacies in the DCU.