The Batman is officially filming as director Matt Reeves takes to social media to reveal the movie's logo.
"#DayOne #TheBatman," Reeves tweeted Monday and included in the tweet the director of photography, Greig Fraser, who is also known for working on the new Dune movie, episodes of the Star Wars series The Mandalorian, Rogue One: A Star Wars Story, Zero Dark Thirty, Snow White and the Huntsman and more.
"Let's gooooooooooooo!!!" Catwoman actress Zoe Kravitz responded in the comments to Fraser's post on Instagram.
The image below reveals that Matt Reeves is currently on his first take of scene 17 where the logo for The Batman is in red with faded dots.
The Batman now filming as Matt Reeves reveals logo: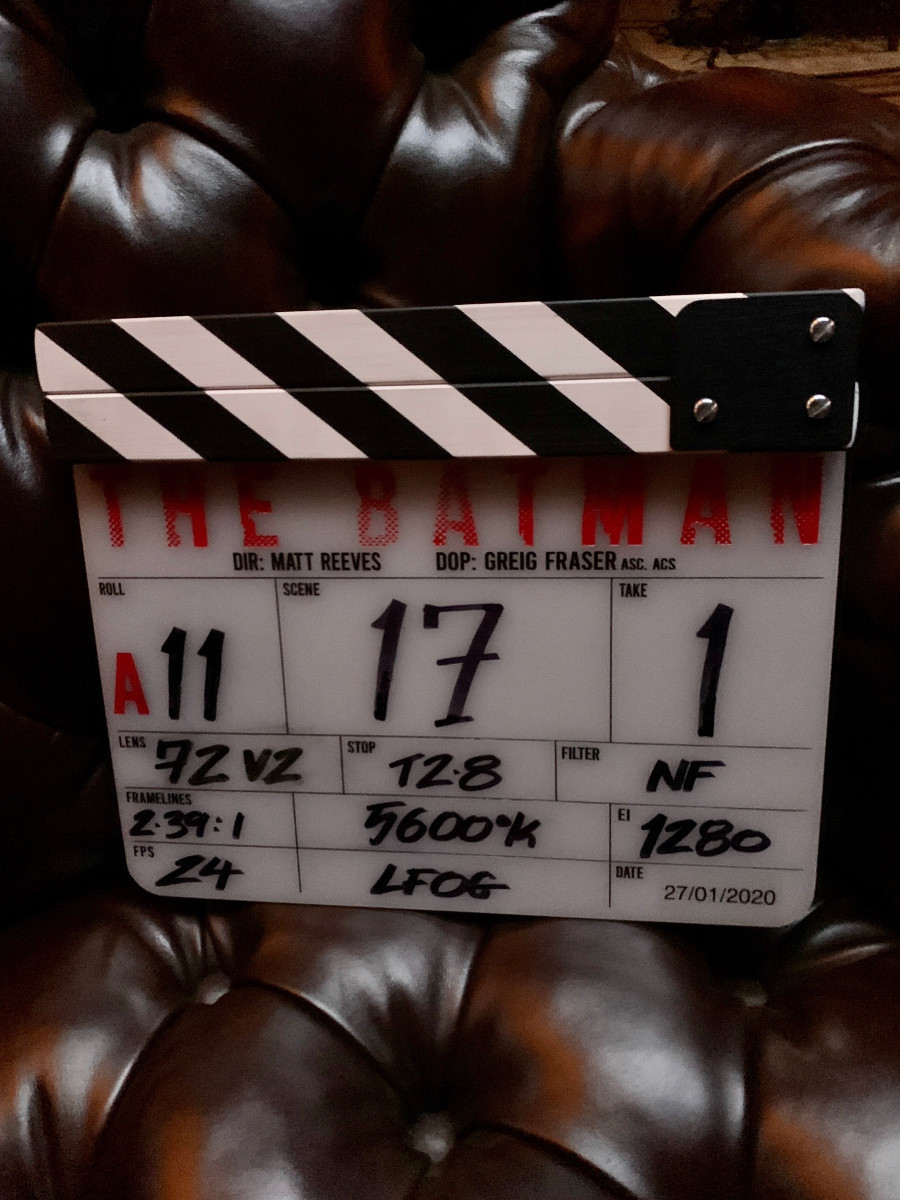 Aside from the cast, details about the film are slim; while at Comic-Con last Summer I was told that the flick would feature multiple villains and that Matt Reeves is in part adapting the popular DC Comics storyline, "Batman: The Long Halloween." It's already known the movie does contain multiple villains as the casting for characters includes Catwoman, Penguin, Riddler, Carmine Falcone and possibly Two-Face, with rumors suggesting the movie will also feature Mad Hatter, Firefly, Poison Ivy and possibly more.
Additional rumors also offer the plot of The Batman explores a detective case where people start dying in strange ways so Batman must go deep into the dark world of Gotham City to find the clues and solve the mystery/conspiracy connected to Gotham City's history and criminals.
Recently also saw a look at Robert Pattinson showing off his muscles, and it is thought the new Batsuit and Batmobile reveal will be coming soon as Reeves is going to film Gotham City scenes in Glasgow, Scotland.
The Batman has a June 25, 2021 release directed by Matt Reeves, co-written by Reeves and Mattson Tomlin, Michael Giacchino is scoring the music, with the film starring Robert Pattinson as the titular character and Bruce Wayne, Jeffrey Wright as Jim Gordon, Zoë Kravitz as Selina Kyle, aka Catwoman, Colin Farrell as Oswald Cobblepot, aka Penguin, Andy Serkis as Alfred Pennyworth, Paul Dano as Riddler, Jayme Lawson as Bella, John Turturro as Carmine Falcone, Peter Sarsgaard in an unknown role thought to be Two-Face, and Con O'Neill is said to be cast as Chief Mackenzie Bock, with Alex Ferns playing Commissioner Pete Savage.