No surprise here, but The Avengers: Endgame tops a list of most anticipated movies to be released in 2019, which beats out Star Wars: Episode IX.
Of course, it should be said that no footage from Episode IX has been released as of yet (and the title hasn't been made known – though it is rumored), which certainly plays a factor in Fandango's results, as Captain Marvel comes in as the #2 overall most anticipated movie of 2019 followed by Star Wars: Episode IX at #3.
Fandango polled 3500 moviegoers and questioned them on their most anticipated movie, anticipated actor and actress, rising male and female movie star, most anticipated new standalone comic book movie, animated movie and horror/thriller.
Disney crushes the most anticipated movie list as it has 8 out of ten flicks listed. Fox's X-Men: Dark Phoenix is not on the list, but is on the most anticipated comic book movie list.
There looks to be some excitement for the Joaquin Phoenix Joker movie as it comes in as #2 for comic book movies.
Tom Hanks, interestingly enough, tops the list of the most anticipated actor, as Hanks has Toy Story 4 and The Mr. Rogers movie coming out. Hanks even beats out the Marvel heavyweights Robert Downey Jr. and Chris Evans.
Topping the most anticipated actress list is Captain Marvel Brie Larson followed by Scarlet Johansson, Daisy Ridely, Karen Gillan and Margot Robbie.
Check out the lists below (via USA Today).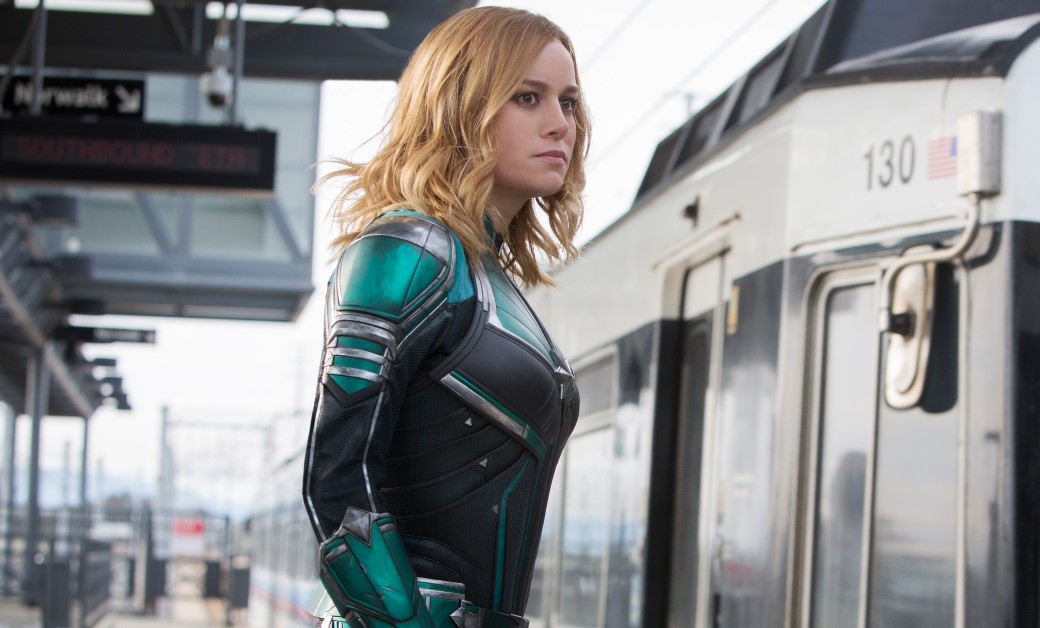 Most anticipated movie
1. "Avengers: Endgame" (April 26)
2. "Captain Marvel" (March 8)
3. "Star Wars: Episode IX" (Dec. 20)
4. "Spider-Man: Far From Home" (July 5)
5. "Toy Story 4" (June 21)
6. "Glass" (Jan. 18)
7. "The Lion King" (July 19)
8. "Aladdin" (May 24)
9. "Dumbo" (March 29)
10. "Joker" (Oct. 4)
Most anticipated actress
1. Brie Larson ("Captain Marvel," "Avengers: Endgame")
2. Scarlett Johansson ("Avengers: Endgame")
3. Daisy Ridley ("Star Wars: Episode IX")
4. Karen Gillan ("Avengers: Endgame")
5. Margot Robbie ("Once Upon a Time in Hollywood," "The Lego Movie 2: The Second Part")
6. Emma Watson ("Little Women")
7. Jessica Chastain ("It: Chapter Two," "Dark Phoenix")
8. Lupita Nyong'o ("Us," "Star Wars: Episode IX")
9. Sophie Turner ("Dark Phoenix")
10. Taraji P. Henson ("What Men Want," "The Best of Enemies")
Most anticipated actor
1. Tom Hanks ("A Beautiful Day in the Neighborhood," "Toy Story 4")
2. Robert Downey Jr. ("Avengers: Endgame")
3. Chris Evans ("Avengers: Endgame")
4. Samuel L. Jackson ("Glass," "Captain Marvel," "Spider-Man: Far From Home")
5. Bruce Willis ("Glass")
6. Will Smith ("Aladdin")
7. Dwayne Johnson ("Hobbs and Shaw," "Jumanji" sequel)
8. Joaquin Phoenix ("Joker")
9. Leonardo DiCaprio ("Once Upon a Time in Hollywood")
10. James McAvoy ("Glass," "Dark Phoenix," "It: Chapter Two")
Rising female movie star
1. Naomi Scott ("Aladdin," "Charlie's Angels")
2. Millie Bobby Brown ("Godzilla: King of the Monsters")
3. Sophia Lillis ("It: Chapter Two")
4. Cynthia Erivo ("Chaos Walking")
5. Rosa Salazar ("Alita: Battle Angel")
Rising male movie star
1. Mena Massoud ("Aladdin")
2. Winston Duke ("Us," "Avengers: Endgame")
3. Noah Centineo ("Charlie's Angels," "The Diary")
4. Finn Wolfhard ("It: Chapter Two")
5. Richard Madden ("Rocketman")
Most anticipated new standalone comic book movie
1. "Captain Marvel"
2. "Joker"
3. "Dark Phoenix"
4. "Shazam!"
5. "Hellboy"
Most anticipated animated movie
1. "Toy Story 4"
2. "How to Train Your Dragon: The Hidden World"
3. "Frozen 2"
4. "The Secret Life of Pets 2"
5. "The Lego Movie 2: The Second Part"
Most anticipated horror/thriller movie
1. "It: Chapter Two"
2. "Us"
3. "Pet Sematary"
4. "Zombieland 2"
5. New "Annabelle" film