Warner Bros. apparently held a screening of the final version of Aquaman as reactions have hit social media.
The good news is that Aquaman looks to be an apparent big hit judging by the reactions, with one Redditor comparing it to Marvel's Ant-Man and the Wasp and Thor: Ragnarok:
I cannot confirm or deny that I've seen this movie but if I had I would probably say that it's certainly going to be their most well received movie yet. It's tone closely parallels Ant-man & The Wasp and Thor: Ragnarok and this movie will be liked by the biggest audience, although it will probably suffer from some criticism that it deviates heavily from the original tone of the DCEU to more closely resemble The MCU. But again I reiterate, this would only be my opinion if I had somehow already seen the movie in an advanced screening, which I am not saying I have done.
Likewise, the Twitter reactions to the Aquaman first screening are overall positive:
I can say I have seen #Aquaman I can't talk about details but I can tell you it's a major achievement in film making and storytelling it's a display that Walter hamada is doing a great job it's evidence that James should direct more DC movies

— mick minas (@MOVIESTVMAD) November 8, 2018
Aquaman is my top DC movie now. You heard it here first. First to watch it on the west coast!

— Carl Abellana (@carlcarlsonnnn) November 8, 2018
Aquaman was sooo gooood!!! ttps://t.co/kKpGCe3rjJ

—  (@aleJOHNdra_) November 8, 2018
So... about #Aquaman. A reaction from final film:
- It's pretty good! Not groundbreaking, but solid
- Action is good, story is alright
- CGI is decent
- Score is meh
- Mera/Arthur are hit and miss
- Overall, a good film pic.twitter.com/vK678zRptE

— baji (@AemonBarz) November 8, 2018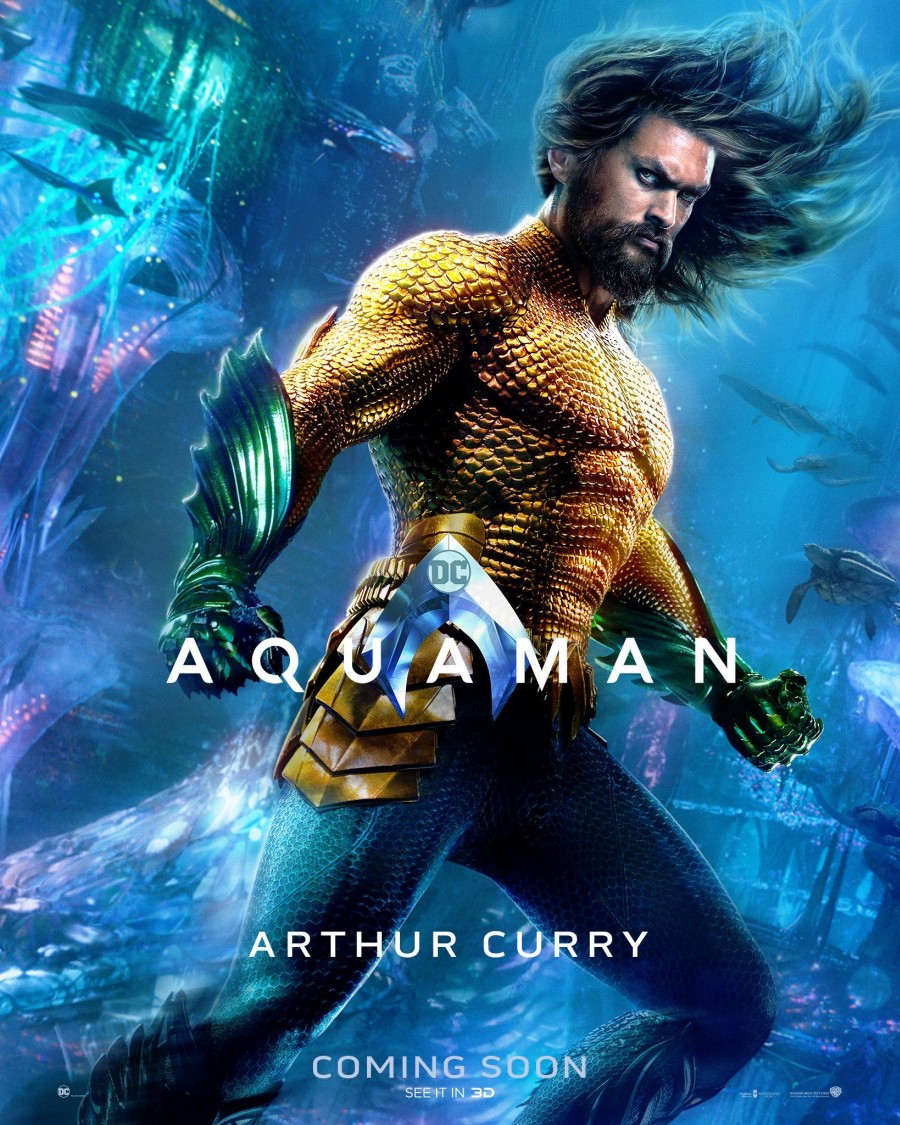 Aquaman
"Aquaman" opens nationwide on Friday, December 21, 2018.
From Warner Bros. Pictures and director James Wan comes an action-packed adventure that spans the vast, visually breathtaking underwater world of the seven seas, "Aquaman," starring Jason Momoa in the title role. The film reveals the origin story of half-human, half-Atlantean Arthur Curry and takes him on the journey of his lifetime—one that will not only force him to face who he really is, but to discover if he is worthy of who he was born to be…a king
The film also stars Amber Heard ("Justice League," "Magic Mike XXL") as Mera, a fierce warrior and Aquaman's ally throughout his journey; Oscar nominee Willem Dafoe ("Platoon," "Spider-Man 2") as Vulko, council to the Atlantean throne; Patrick Wilson ("The Conjuring" films, "Watchmen") as Orm/Ocean Master, the present King of Atlantis; Dolph Lundgren ("The Expendables" films) as Nereus, King of the Atlantean tribe Xebel; Yahya Abdul-Mateen II (Netflix's "The Get Down") as the vengeful Black Manta; and Oscar winner Nicole Kidman ("The Hours," "Lion") as Arthur's mom, Atlanna; as well as Ludi Lin ("Power Rangers") as Captain Murk, Atlantean Commando; and Temuera Morrison ("Star Wars: Episode II – Attack of the Clones," "Green Lantern") as Arthur's dad, Tom Curry.
Wan directs from a screenplay by David Leslie Johnson-McGoldrick ("The Conjuring 2") and Will Beall ("Gangster Squad," TV's "Training Day"), story by Geoff Johns & James Wan and Will Beall, based on characters from DC, Aquaman created by Paul Norris and Mort Weisinger. The film is produced by Peter Safran and Rob Cowan, with Deborah Snyder, Zack Snyder, Jon Berg, Geoff Johns and Walter Hamada serving as executive producers.
Wan's team behind the scenes includes such frequent collaborators as Oscar-nominated director of photography Don Burgess ("The Conjuring 2," "Forrest Gump"), his five-time editor Kirk Morri ("The Conjuring" films, "Furious 7," the "Insidious" films), and production designer Bill Brzeski ("Furious 7"). They are joined by costume designer Kym Barrett ("The Matrix" trilogy, "The Amazing Spider-Man") and composer Rupert Gregson-Williams ("Wonder Woman").
Warner Bros. Pictures Presents a Peter Safran Production, a James Wan Film, "Aquaman." The film is set to hit theaters December 21, 2018, in 3D and 2D and IMAX, and will be distributed by Warner Bros. Pictures. "Aquaman" is rated PG-13 for sequences of sci-fi violence and action, and for some language.