Sorry, Johnny Depp fans, those rumors Amber Heard has been cut from Aquaman 2 may be totally off.
It's claimed that Warner Bros. recently held a test screening for Aquaman 2 where Amber Heard's role as Mera was actually increased, not decreased or deleted, which some rumors have claimed.
Users on Twitter are reporting about the Aquaman 2 test screening where one user, in particular, tweeted they just got a confirmation the latest test screening features Amber Heard from start to finish with Mera's screentime in the flick around 20 to 25 minutes in length:
Just got a confirmation that the latest #Aquaman2 test screening that was held today still had Amber Heard from start to finish. Probably WB is testing the waters with the public now that the trial is over. Screentime approximately around 20-25 mins. #AquamanAndTheLostKingdom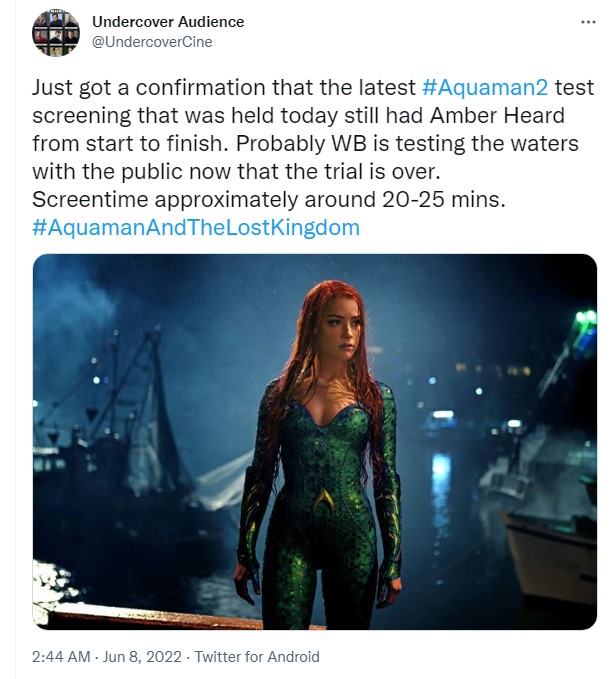 Amber Heard tested well with audiences on first Aquaman movie
It was previously said that Amber Heard only had around 10 minutes of screentime in the sequel, but assuming this new info is correct, the most recent version of Aquaman 2 has potentially more than double the amount of footage of Mera.
The head of DC films, Walter Hamada, did testify at the Johnn Depp trial that Amber Heard tested well with audiences for the first Aquaman movie, so it could indeed be possible that Warner Bros. is testing the waters to see if including Heard will make the movie all the better as certainly, some fans are expecting to see the actress and the character. The sequel isn't due out for another nine months, so perhaps WB thinks enough time may pass where all the controversy will die down, which includes over 4.5 million signatures demanding the removal of Amber Heard from Aquaman 2.
The trial also saw Aquaman 2 spoilers revealed surrounding Mera where it was said Mera appears at the beginning of the film and returns at the end to wrap things up, with something about being in a hospital as the reason Mera is essentially written out of the movie. Testimony also saw it revealed that Amber Heard was a big part of the first drafts of Aquaman 2 where she was to have a big romantic interest with Jason Momoa and be a part of a major battle at the end of the flick. However, Hamada testified that following the first Aquaman movie, it was deemed that Heard had no chemistry with Momoa and that they had to do a lot of editing to make their parts work on screen for the movie, so Heard having no chemistry with Momoa is said to be the reason for her diminished role in Aquaman 2, even though, again, Heard tested very well with audiences for the first movie. Hamada also testified Aquaman 2 is more a buddy film between Momoa and Patrick Wilson's Orm.
Aquaman and the Lost Kingdom is directed by James Wan and gets released on March 17, 2023.