The first reactions to Wonder Woman 1984 are in, with Gal Gadot also reacting to the opinions and thoughts that hit Twitter.
Per the norm, the reactions are all positive, and Gal Gadot is really happy about it, especially considering the flick now has a simultaneous release in theaters and on the HBO Max streaming service.
I'm actually curious to see how close the upcoming release of Wonder Woman 1984 sticks with the test screenings, as when the test screening spoilers hit the net a while ago, I didn't like what I read (mostly in regards to how it ends).
So far all the footage looks good, so hopefully, things got smoothed out.
The film opens Christmas Day directed by Patty Jenkins and also stars Chris Pine, Kristen Wiig and Pedro Pascal.
See below.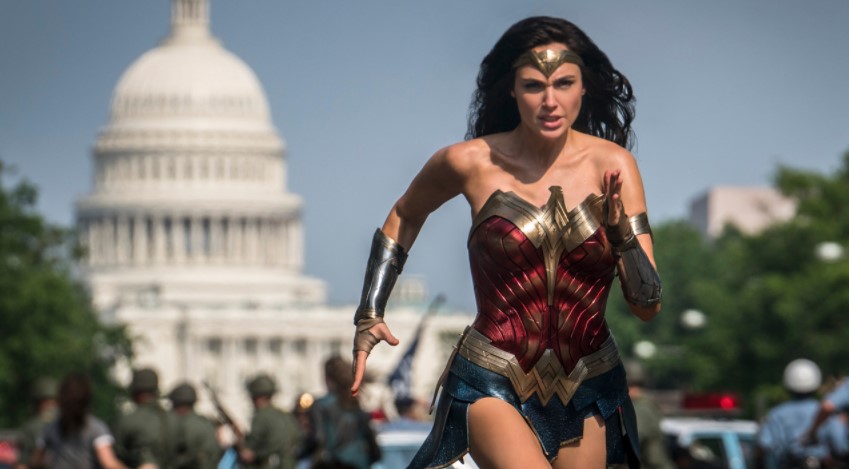 Wonder Woman 1984, Gal Gadot reactions:
So so happy you enjoyed the movie. Thank you for the kind words! —-‍♀️ https://t.co/gZpESVVRg7

— Gal Gadot (@GalGadot) December 5, 2020
We are so happy you enjoyed the film. Had a great time speaking with you yesterday! —-‍♀️ https://t.co/gAiryW41PD

— Gal Gadot (@GalGadot) December 5, 2020
Wow!! — Such kind words! Thank you so much, means the world to me! https://t.co/yJsa1jj9sz

— Gal Gadot (@GalGadot) December 5, 2020
Thank you so much Mark! It was our pleasure. So happy you enjoyed the film! —-‍♀️ https://t.co/SAuPhVjwhj

— Gal Gadot (@GalGadot) December 5, 2020
Thank you so much! Wish we could have all been in person. https://t.co/wF9UMxAO5G

— Gal Gadot (@GalGadot) December 5, 2020
Thank you ! —-‍♀️ https://t.co/UC7R1IurTw

— Gal Gadot (@GalGadot) December 5, 2020
WONDER WOMAN 1984 is — forgive the term — wonderful. It doubles down on the compassion and cheese that made the first so great, as well as its tenacious belief in the best of humanity. A magical, sorely needed beacon of hope in this year

— Hoai-Tran Bui (@htranbui) December 5, 2020
It's definitely on the long side, and sometimes slathers on so much cheese that it might be a health hazard, but it's the kind of aspirational superhero blockbuster that we need more of

— Hoai-Tran Bui (@htranbui) December 5, 2020
I prefer Wonder Woman to Wonder Woman 1984. But I also much prefer seeing filmmakers take new, big swings with sequels and that's definitely what Patty Jenkins and co. do here. Not everything adds up, but the value of selflessness, love and compassion do shine through. #WW84 pic.twitter.com/xG4JS0NVbv

— Perri Nemiroff (@PNemiroff) December 5, 2020
I can't say much about plot because spoilers, but it's super clever. The opening sequence alone is stunning & every action scene is different & unique. I also think this is among Hans Zimmer's best scores… and, for those wondering, that Gadot/Pine chemistry is, once again, — pic.twitter.com/VfgtXTDHJF

— Erik Davis (@ErikDavis) December 5, 2020
Also had a chance to Zoom it up with Patty and Gal yesterday, but more on that later…#WW84 pic.twitter.com/JLIyQ5rxt5

— Erik Davis (@ErikDavis) December 5, 2020
I'd say more but the embargo specifically asks not for any specifics. Not everyone followed that direction, but I'm going to. Review embargo is on December 15. More then for sure.

— Germain Lussier (@GermainLussier) December 5, 2020
Pedro Pascal and Kristen Wiig are the highlights of #WonderWoman1984 for me.

Pascal goes ALL IN on a wild portrayal of Max Lord, a conflicted but vile villain.

Wiig's Cheetah evolution throughout the movie is heartbreaking yet epic. We need more! #WW84 pic.twitter.com/hBIUDkXCFN

— BD (@BrandonDavisBD) December 5, 2020
I think what surprised me most was that the message #WW84 leaves you with feels even more important to hear at the end of this year in a way @PattyJenks couldn't have predicted when she made it. Also, it just is so exciting to have big, joyful, blockbuster movies coming out again

— Terri Schwartz (@Terri_Schwartz) December 5, 2020
I think what surprised me most was that the message #WW84 leaves you with feels even more important to hear at the end of this year in a way @PattyJenks couldn't have predicted when she made it. Also, it just is so exciting to have big, joyful, blockbuster movies coming out again

— Terri Schwartz (@Terri_Schwartz) December 5, 2020