The Wonder Twins powers are activating on the HBO Max streaming service as an original movie is in development with Black Adam scribe Adam Sztykiel writing the script and directing the live-action flick.
No plot details are known, but the Wonder Twins were first introduced in the Super Friends cartoon where they are an alien twin shape-shifting brother and sister pair named Zan and Jayna who activate their powers by a fist bump (Zan can turn into any shape of water; Jayna the shape of an animal), and they are accompanied by their pet monkey, Gleek, who assists in their crime-fighting activities.
The recent Arrowverse Crisis On Infinite Earths event crossover also featured an Easter Egg of Gleek.
In addition to writing Black Adam, Adam Sztykiel is known for Due Date, Rampage, Scoob!, and the upcoming We're the Millers 2.
Black Adam stars Dwayne Johnson and gets released on July 9; watch the DC promo "The World Needs Heroes" trailer here.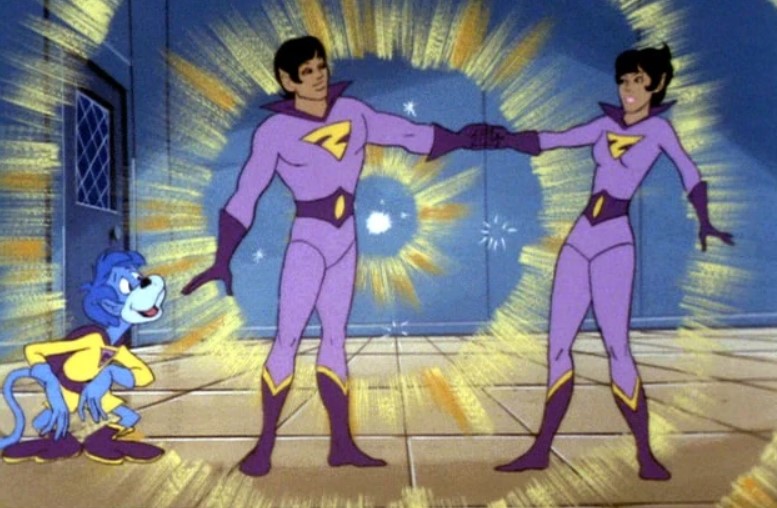 Wonder Twins in development for HBO Max
Wonder Twins marks the second DC film in development for HBO Max as Batgirl has also been announced for the streaming network; Blue Beetle was at one time in development for HBO Max as well but is now getting a theatrical release.
Two years ago year saw DC Comics release a Wonder Twins comic book that lasted for a dozen issues described as:
Exiled from their home planet, alien heroes Zan and Jayna must navigate life as teens on Earth at South Metropolis High School, where they're even bigger outsiders than the typical awkward young adults. Under the watchful eye of Superman, the brother and sister pull monitor duty at the Hall of Justice as interns, while also trying to overcome the pitfalls of Zan's brash confidence and Jayna's shy but streetwise persona. If you think you know the Wonder Twins, think again—this book takes the form of the unexpected.
(via Deadline)