Willow isn't a big hit with fans and it isn't a hit on Disney Plus as its ratings are the worst for a show on the streaming service.
Samba TV took a bit of a sabbatical for some reason following the release of Amazon Prime Video's Lord of the Rings series, but now they are back and providing numbers for Willow.
According to Samba TV, only 481k households watched Willow in its first five days of release — and that is with TWO episodes released.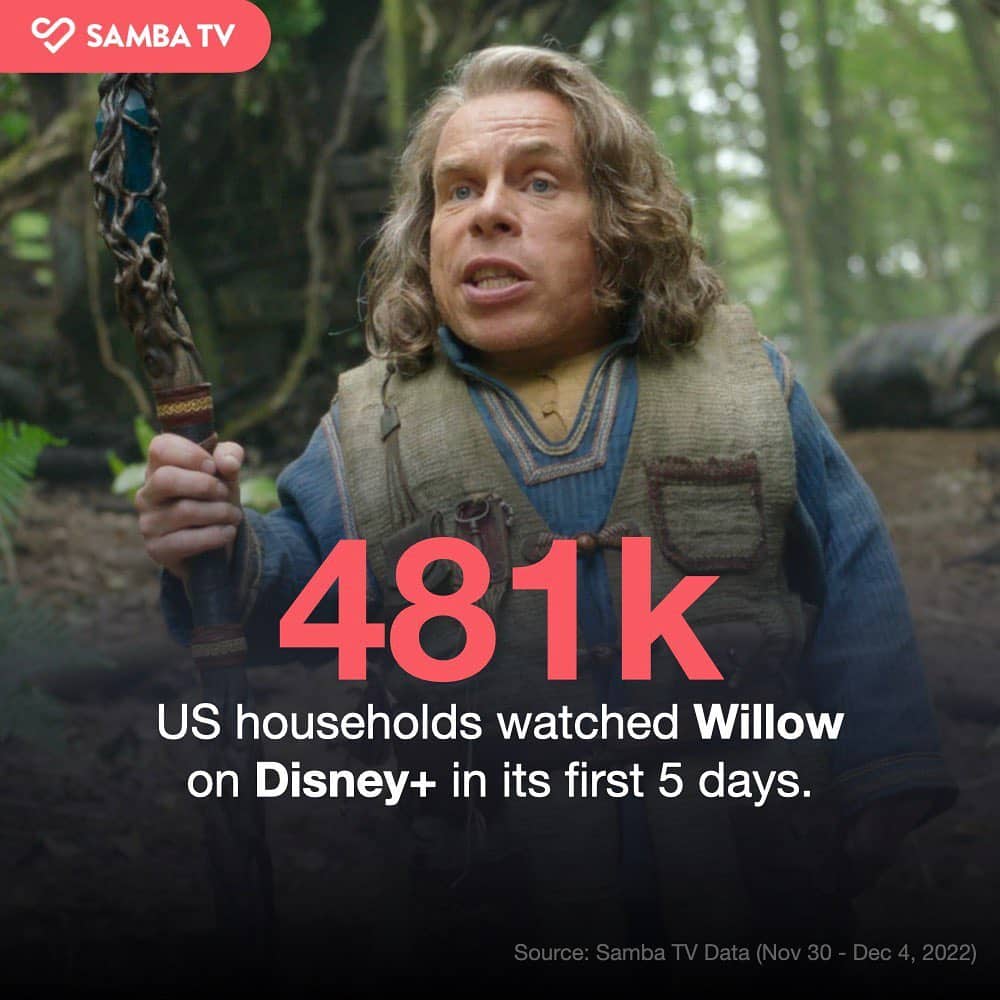 Fans despise the Willow Disney Plus series
Since Samba TV has been releasing numbers, Willow marks the lowest ratings for a show on Disney Plus, much lower than Marvel's Ms. Marvel series which saw only 775k households tune in during the first five days and lower than She-Hulk's 1.5 million households in the first four days.
Willow is from Disney's Lucasfilm where it can't even compare to The Mandalorian, Obi-Wan, or even The Book of Boba Fett. We don't know the Andor numbers because, again for some reason, Samba TV went on a hiatus and never released the numbers.
Nobody tuning in to watch Willow isn't surprising as the fans that did tune in, don't like it at all. The Rotten Tomatoes Audience Score has now dropped to 27%, which I believe might also be a Disney Plus low, as it is lower than the 33% for She-Hulk.
Willow is dead
The fans are right, too, as I watched the first episode and couldn't believe how bad it is.
Willow is barely in it, the story follows the LGBTQ princess who is set to get married to a loser prince, where her twin brother, the best swordsman in the realm, gets kidnapped, and a band of weak misfits who aren't capable of much of anything – let alone battle – is off to save him (the best fighter, the most seasoned veteran of the bunch, the male Knight gets killed off right away). Yeah, that sounds like a success.
The show is put together by Jonathan Kasdan who wrote Solo and who said they came up with the idea for Willow during the release of Star Wars: The Force Awakens when he spoke with Kathleen Kennedy. Okay. That explains everything.
Star Warwick Davis also revealed he was inspired by Star Wars: The Last Jedi, which makes perfect sense.
"The one thing I took note of in particular was Mark Hamill returning to Luke Skywalker [in Star Wars: The Last Jedi] and how he went about the approach for that," Davis told THR. "I thought he was really interesting, and it wasn't the expected approach, certainly. He came at it from quite a different angle, and I also did the same. I noticed that Mark didn't try to play the character younger. He just leaned into his more mature years, and that's really what I did as Willow."
Willow is another example of content put out by Disney that no one likes as it's another spit in the fanbase just like Disney did to Star Wars and is now doing with Marvel. Is it any wonder Wall Street has skeptical for months if not years and why things are such a mess at the company? Disney needs to get rid of these creatives who only care about promoting agendas and who could care less about the fans and putting out quality content.
#RIPWillow.