A new image from the DC Vertigo movie The Kitchen has been released featuring Elizabeth Moss, Tiffany Haddish and Melissa McCarthy.
"It's about these individuals instead of the Mafia as an entity," Melissa McCarthy previously told EW.com, who plays Kathy, a devoted mother of two whose initial reluctance to enter the criminal domain is eventually diminished by her deft abilities. "It was more about three people who are put down and held back finally breaking out. There was much more humanity to it, which also made it scarier."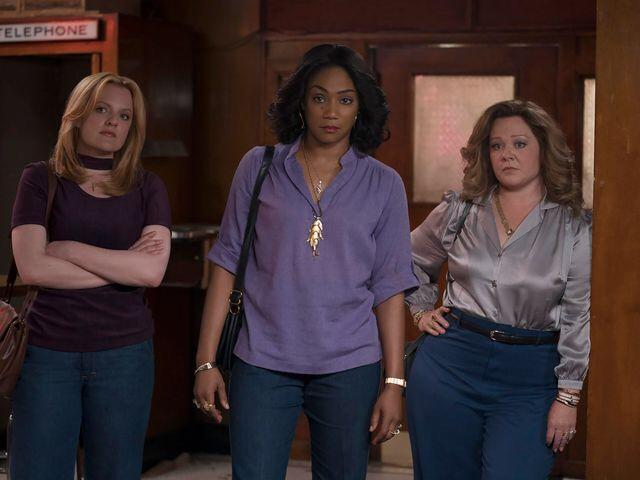 Details for the characters in the movie include:
Melissa McCarthy is playing an adoring mother who leads the women's charge to take over the business.
Tiffany Haddish plays a woman willing to kill anyone in the way of her plan.
Elizabeth Moss plays a timid wife of an abusive husband who falls in love with the violence of her new life.
Margo Martindale is playing a woman who runs the Irish mob behind the scenes.
Bill Camp plays the boss of a Brooklyn Italian crime family.
Brian D'Arcy James plays McCarthy's husband.
Domhnall Gleeson is playing Gabriel O'Malley, an intense Vietnam vet who works for the neighborhood gangsters as a hitman before skipping town to avoid the police. He returns to settle scores when the wives take over.
Andrea Berloff is writing and directing The Kitchen which has a September 20, 2019 release date. Here are more images: