Both Tom Hardy and the director of the first Venom movie tease what looks to be an eventual crossover with the Tom Holland Spider-Man.
It has been previously said that a Tom Holland cameo was cut from Venom, so it could be possible that something is in the works for Venom 2, which is being directed by Andy Serkis who has close ties to Disney and Marvel.
Regarding Tom Hardy teasing some sort of Spider-Man crossover, the actor posted an image of himself in costume as Spider-Man on Instagram and then deleted the pic. The last time Hardy did something similar was of Andy Serkis prior to Serkis getting officially confirmed for Venom 2; so it could be possible that Tom Hardy is confirming Spider-Man for Venom 2.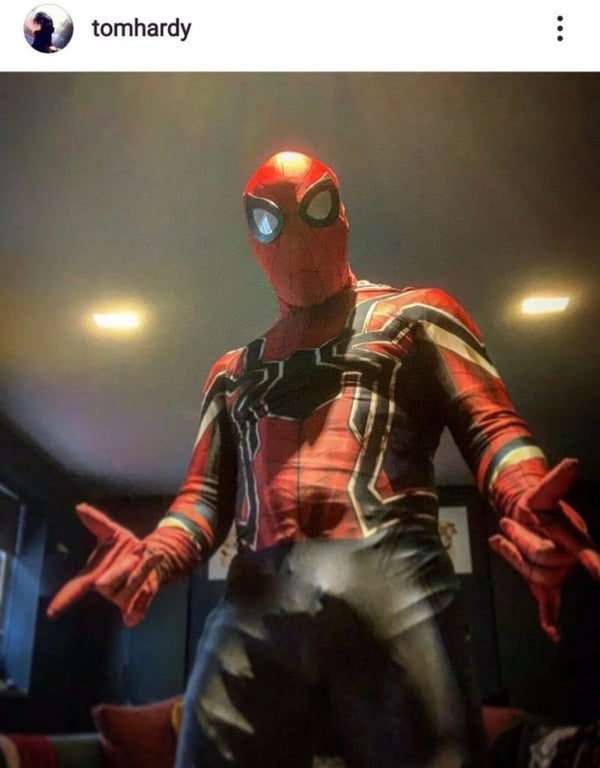 Tom Hardy Venom will eventually meet Tom Holland Spider-Man
Ruben Fleischer, who directed the first Venom, actually stated that things are leading to the Tom Hardy Venom connecting to the Tom Holland Spider-Man (via Fandom):
"That's where it's all going to lead," he reveals. "And that's the exciting thing, because we changed the origin of Venom … in the comics, he evolved from Spider-Man but because of the Marvel-Sony thing we weren't able to that. And so the thing I think it's building towards, and will be exciting to see, is when they actually do confront each other."
Disney Marvel and Sony did just come to new terms regarding keeping Tom Holland and Spider-Man in the MCU, so maybe part of the deal is using Tom Holland in Venom.
Rumors also offer that a Venom 3 will be a part of the MCU and will be incorporating the Maximum Carnage storyline from the comics.
Venom 2 has an October 2, 2020 release date; Spider-Man 3 swings into theaters July 16, 2021.