It's reported that Tom Cruise becoming Iron Man in Doctor Strange 2 is closer to happening as Kevin Feige is taking steps to make it happen.
Doctor Strange 2 is titled "In The Multiverse Of Madness," so Tom Cruise will be a different Iron Man from a different universe than Robert Downey Jr.'s Tony Stark who recently died in The Avengers: Endgame. What's interesting is that Tom Cruise was actually up to play the MCU's Iron Man at one time as well.
According to YouTuber Grace Randolph, the rumors surrounding Tom Cruise playing Iron Man are true and Feige is trying to make it happen.
"He is working on getting you Tom Cruise, which I've now heard from a second source," says Randolph. "When I reported it to you I was like, 'Oh! Kevin Feige wants to do it.' And now I am hearing he is taking steps to make it happen. So that's really exciting."
In a previous video, Grace also added: "Kevin Feige, per usual, wants to blow DC's Multiverse film [The Flash] out of the water. His [Doctor Strange 2] hits first… I can confirm that through my sources that Feige does want other actors to play different versions of The Avengers."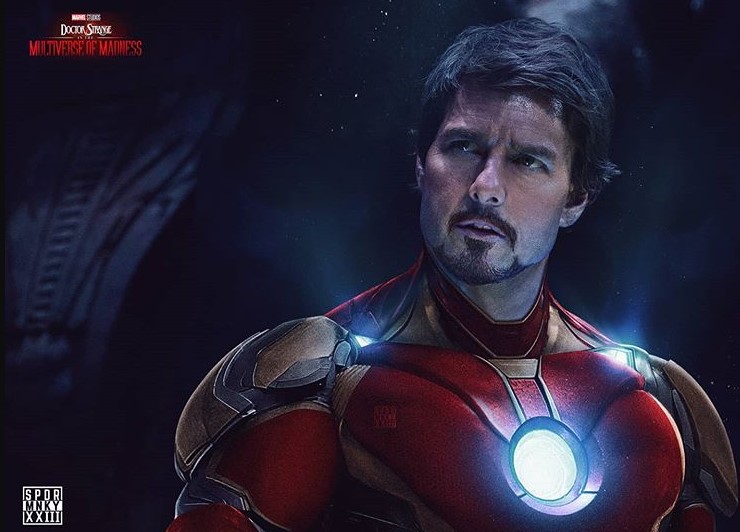 Tom Cruise is Iron Man in Doctor Strange 2 (fan art)
As revealed in The Avengers: Endgame by The Ancient One, the plucking of the Infinity Stones from the different timelines could create alternative universes that branch off from the regular universe, so it appears as if The Avengers messing with the timeline may have altered things. The upcoming Disney Plus shows, WandaVision and Loki, also seem to be adding to the plot of the Multiverse being used in the MCU films as Scarlet Witch apparently creates her own pocket universe and brings back Vision, and Loki sees the god of mischief become a member of the Time Variance Authority where it's said the series will feature different versions of Loki ranging from Kid Loki to Female Loki to Old Loki.
Recently also saw the news that Jamie Foxx will be back as Electro in the untitled Spider-Man 3, and with J.K. Simmons back as J. Jonah Jameson as well, it appears as if the Multiverse is being used in Spider-Man 3. Rumors also offer Tobey Maguire may be back as well as Andrew Garfield.
With Doctor Strange 2 being the last movie in Marvel's Phase 4 plans, it seems as if the Multiverse storyline may culminate in Doctor Strange 2 as well.
Doctor Strange in the Multiverse of Madness has a March 25, 2022 release date directed by Sam Raimi.