Feel the magic! Hear the roar! ThunderCats are loose! And they are coming to Dynamite Comics!
Dynamite Entertainment and Warner Bros. have announced a new ThunderCats comic book series is on the way in February from writer Declan Shalvey, with art by Drew Moss (Gargoyles: Dark Ages, Vampirella/Red Sonja, Copperhead), and letterer Jeff Eckleberry. Cover art includes Shalvey and artists Lucio Parillo, David Nakayama, Jae Lee, and Ivan Tao.
Per the announcement, art, and covers below we see it's pretty much exactly like the original animated 1985 series which ran for four seasons.
ThunderCats was then rebooted in 2011 on Cartoon Network, which started off pretty awesome; however, the ratings quickly fell as I think the show couldn't decide if it wanted to be an adult animated series or something for the kiddies.
Cartoon Network would also release the cringe and goofy ThunderCats Roar but it was canceled after one season.
ThunderCats is actually launching a new line of WB IP comics from Dynamite (where's DC???) that also includes The Flintstones, The Powerpuff Girls, Space Ghost, Jonny Quest, The Wizard of Oz, We Bare Bears, with more to come.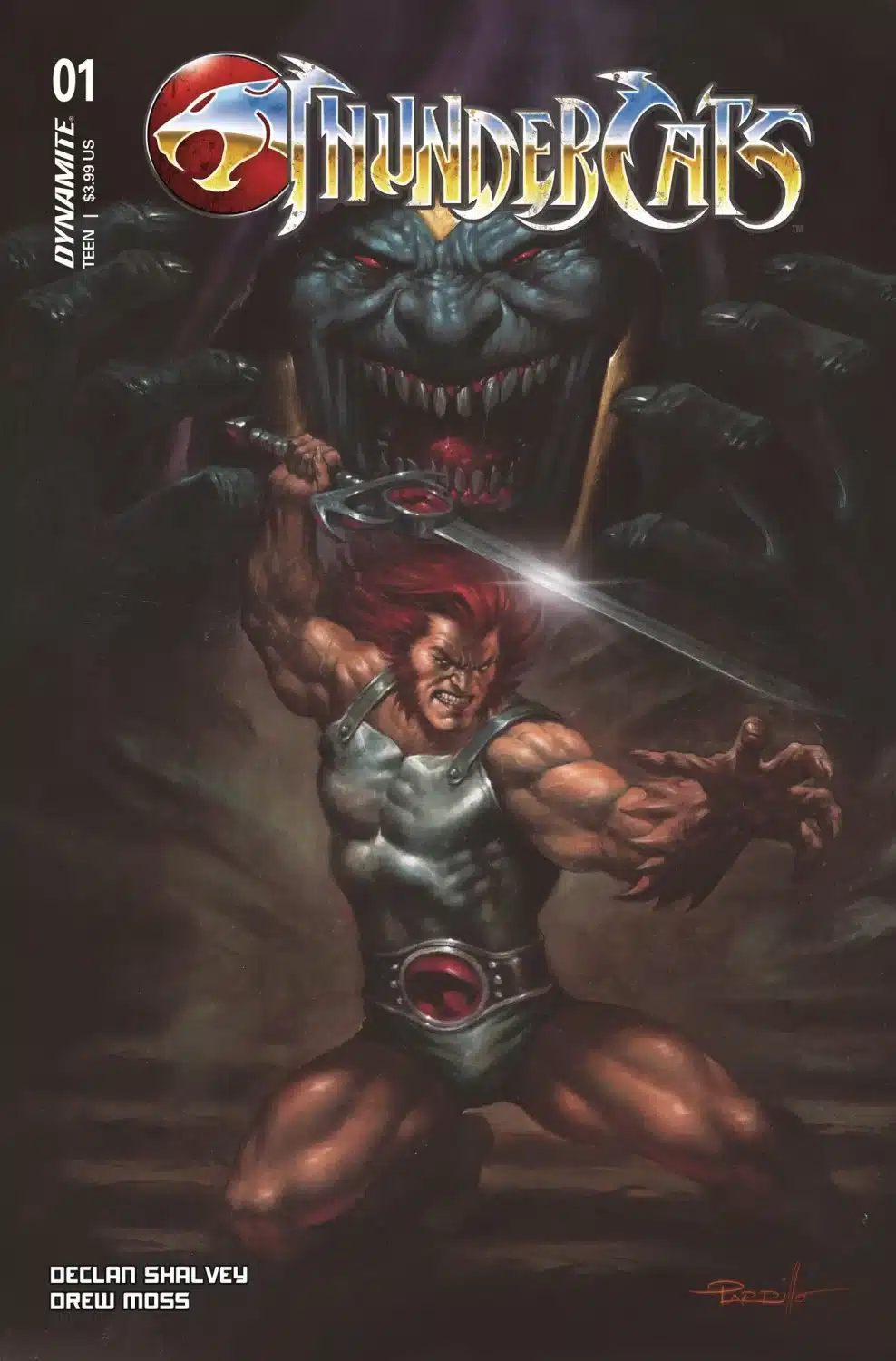 Press Release
October 19, Mt. Laurel, NJ: Following the announcement of the broader partnership with Warner Bros. Discovery Global Consumer Products and early details on the exciting new era of ThunderCats comics at New York Comic Con, even more details are ready to be revealed for fans!
ThunderCats is set to feature a range of incredible cover art from industry legends. In addition to the two previously revealed by Shalvey himself and Lucio Parrillo, they will be joined by David Nakayama, Jae Lee, and Ivan Tao. Nakayama's stunning rendition will also be featured as the cover for Diamond Comic Distributors' November catalog for titles releasing in February.
"Getting to work on these characters is a dream come true based on a dream I never dared have," said writer Declan Shalvey. "ThunderCats is one of those shows that blew my tiny mind when I first saw it. The scope, the imagination, the action. Looking back at it now, it has so many creative concepts woven through it, there's so much room to explore this world that I'm excited to dig into. Especially, to see it all reimagined through Drew's eyes. This February, the ThunderCats are loose!"
Artist Drew Moss said, "When I first received the offer to draw ThunderCats, the eight-year-old inside of me did a backflip. I immediately started doing sketches and it brought me back to my youth. It is a dream come true to have the opportunity to add to the mythos with Declan, who I've admired for a long time. I still smile when I say it, 'Thunder, thunder, ThunderCats, ho!'"
Editor Nate Cosby added, "These are the ThunderCats you know, but the story's not going where you expect. It's a mystery wrapped in sci-fi and magic, starring a stubborn group of survivors from a destroyed planet, desperate to survive. But survival is only the beginning."
"ThunderCats is such a juggernaut, beloved franchise for multiple generations," said Nick Barrucci. "We're putting our full force behind this to provide readers with a thrilling narrative, both injecting a new approach for a new era as well as appealing to fans who have been with these characters for nearly 40 years."
The ThunderCats mythos of fierce feline warriors from the planet Thundera was created by Ted Wolf. With their beloved homeworld in its death throes, they must flee and find a new home, but are attacked by the Mutants of Plun-Darr, diverting them to Third Earth and starting a long conflict between these two groups. With other foes like the ancient Mumm-Ra, the likes of Lion-O, Cheetara, Tygra, Panthro, WilyKit and WilyKat, and others will hone their skills and survive. Readers can expect to see these elements and characters in the new comics.
Fans can see character design work from artist Drew Moss, and stay tuned for a look at his interior art.