Not a major spoiler by any means, but with Disney releasing the script for Thor: Ragnarok comes a confirmation related to The Avengers: Infinity War.
The Thor: Ragnarok post-credit scene features the citizens of Asgard on a spaceship with Thor and Loki discussing their return to Earth.
Thor and Loki then look up as a dark shadow covers them revealing a huge spaceship.
The Thor: Ragnarok script confirms it's the ship of Thanos and names it as the Sanctuary-2, the warship of Thanos.
Without going into further details, we can speculate how this leads into and involves The Avengers: Infinity War.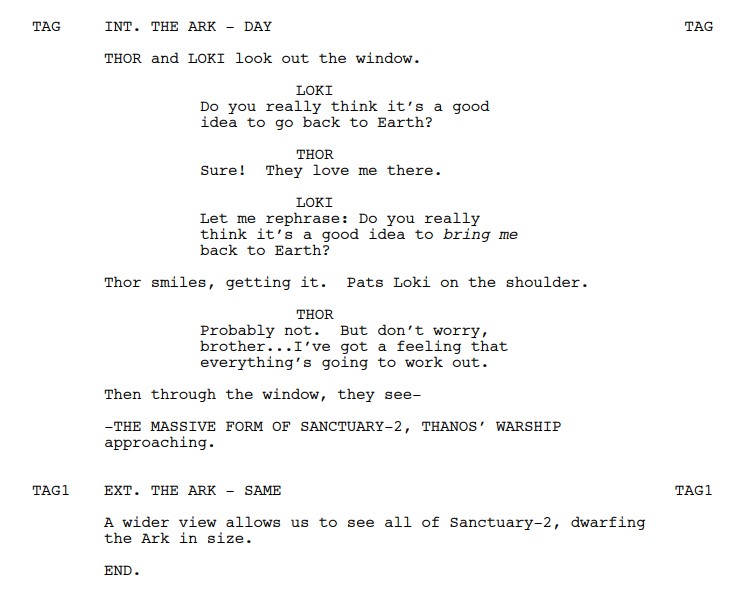 Watch the Thor: Ragnarok post-credit scene featuring Thanos' Sanctuary-2 war ship for yourself:
An unprecedented cinematic journey ten years in the making and spanning the entire Marvel Cinematic Universe, Marvel Studios' "Avengers: Infinity War" brings to the screen the ultimate, deadliest showdown of all time. The Avengers and their Super Hero allies must be willing to sacrifice all in an attempt to defeat the powerful Thanos before his blitz of devastation and ruin puts an end to the universe.
Anthony and Joe Russo direct the film, which is produced by Kevin Feige. Louis D'Esposito, Victoria Alonso, Michael Grillo and Stan Lee are the executive producers. Christopher Markus & Stephen McFeely wrote the screenplay. "Avengers: Infinity War" releases in U.S. theaters on May 4, 2018.