The Thor: Love and Thunder runtime is said to be 115 minutes in length or 1 hour and 55 minutes long, according to a movie theater website located in Australia.
The runtime fits with the first two Thor movies, which worth a note aren't all that good, while Thor: Ragnarok has a much longer runtime and admittedly, while on the goofier side is much better.
If I had to guess, I would guess the short runtime for Love and Thunder is due to the movie being more of a comedy, so it seems as if Love and Thunder will go by pretty quick (assuming the info is legit).
The last two Marvel movies have runtimes of 2h 6m for Doctor Strange 2 and 2h 28m for Spider-Man: No Way Home.
I really don't think the runtime makes that big of a difference as long as the story is done right and the pacing is good. For example, No Way Home, Infinity War, and Avengers: Endgame are pretty long movies, but they didn't feel as such, but Sonic the Hedgehog 2 felt like it was never going to end, much the same for the Michael Bay Transformers movies.
Regarding Love and Thunder being a comedy, as I previously mentioned, I hope all the comical stuff is used to offset Christian Bale's Gorr the God Butcher who in the comics is really badass, so hopefully, the funny stuff gets evened out by some cool action.
Update: A UK theater has it listed as 140 minutes (2hr 20m), so it seems the runtime might not be known.
Thor: Love and Thunder is directed by Taika Waititi and gets released on July 8, 2022, also starring Chris Hemsworth.
Thor movie runtimes:
Thor: 1h 54m / 114 m
The Dark World: 1h 52m / 112 m
Ragnarok: 2h 10m / 130m
Love and Thunder: 1h 55m / 115m or 140 minutes / 2hr 20m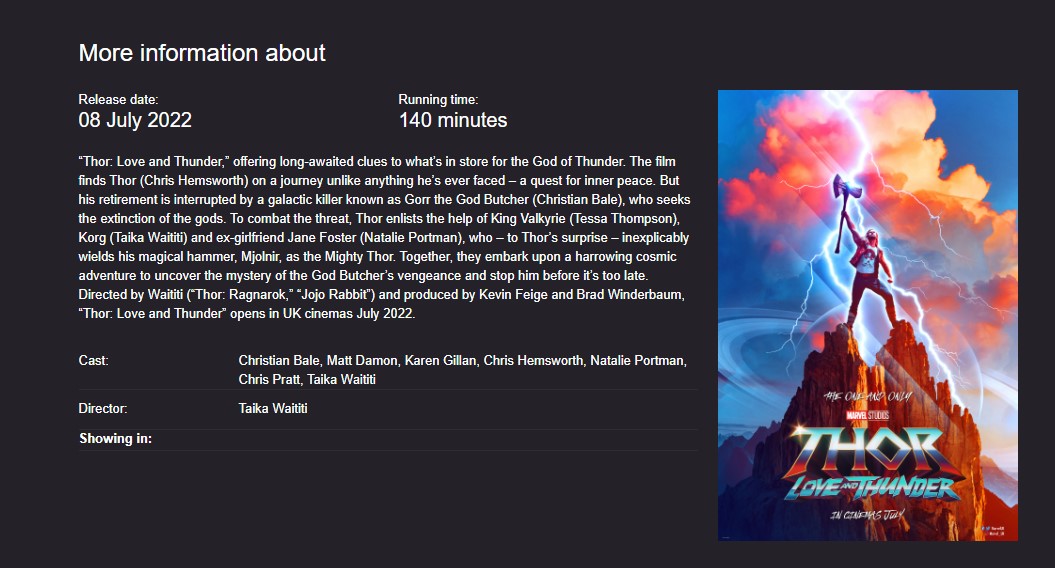 Thor: Love and Thunder synopsis and trailer:
The film finds Thor (Chris Hemsworth) on a journey unlike anything he's ever faced – a quest for inner peace. But his retirement is interrupted by a galactic killer known as Gorr the God Butcher (Christian Bale), who seeks the extinction of the gods. To combat the threat, Thor enlists the help of King Valkyrie (Tessa Thompson), Korg (Taika Waititi) and ex-girlfriend Jane Foster (Natalie Portman), who – to Thor's surprise – inexplicably wields his magical hammer, Mjolnir, as the Mighty Thor. Together, they embark upon a harrowing cosmic adventure to uncover the mystery of the God Butcher's vengeance and stop him before it's too late.
(via Reddit)