Thor: Love and Thunder might be the next big failure to come from Kevin Feige's Phase 4 as the flick is being compared to Batman & Robin, the worst Batman movie of all time starring George Clooney.
Twitter user Christian Toto who runs a blog that is described as the "Right Take on Entertainment" and also writes for the Daily Wire tweeted out his reaction to Thor: Love and Thunder offering the film is a "tonal disaster" and more.
"Saw Thor: Love And Thunder — full review next week… Can share it's way more Batman and Robin than any superhero film should be. Tonal disaster," states the tweet.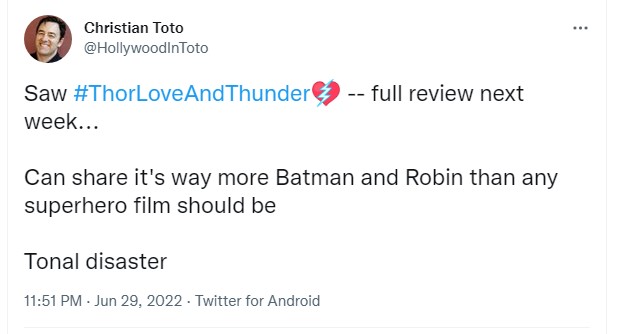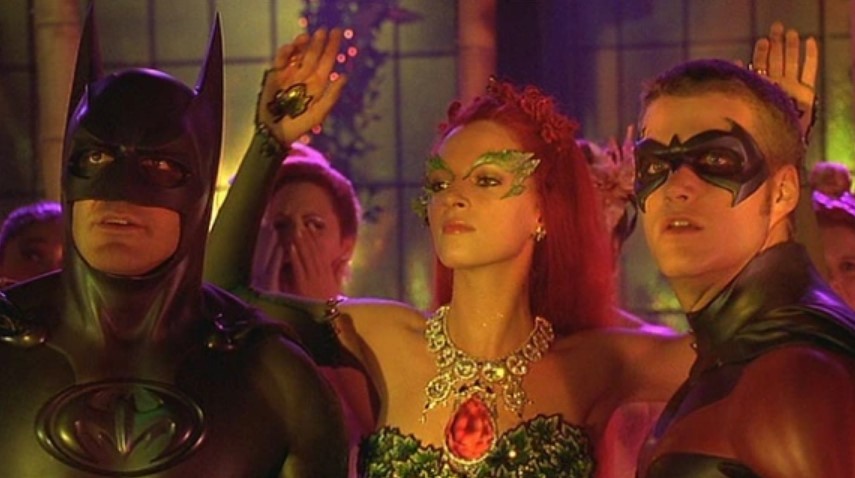 Comparing Thor: Love and Thunder to Batman & Robin isn't a good sign
Comparing ​Thor: Love and Thunder to Batman & Robin isn't a good sign as the 1997 movie by director Joel Schumacher is a 12% on Rotten Tomatoes with a 16% Audience Score, the lowest of any Batman movie. The film is really goofy, Schumacher gave the George Clooney Batsuit nipples for some reason, and also starring in the flick includes Chris O'Donnell as Robin, Alicia Silverstone as Batgirl, Arnold Schwarzenegger as Mr. Freeze, and Uma Thurman as Poison Ivy. It was simply awful and led to Batman being shut down at WB for years until Christopher Nolan rebooted things almost ten years later with Batman Begins in 2005.
If we compare that to Thor: Love and Thunder, yeah it seems similar, as Love and Thunder is a lot goofier than Ragnarok, Thor's new costume looks ridiculous, and the cast also looks goofy as heck – just like Batman & Robin.
It will be interesting to see how well Thor: Love and Thunder does at the box office as, similar to Doctor Strange 2, I expect it to have a big opening, but it could very well be possible that fans are disappointed like they are with Doctor Strange 2, and the box office peters out. Both Doctor Strange 2 and Thor: Love and Thunder should be easy billion-dollar movies (Ragnarok made over $850 million) but Doctor Strange 2 won't hit a billion, so I'll be surprised if Thor: Love and Thunder does as Kevin Feige's approach to Phase 4 has been all about diversity at the cost of quality.
Thor: Love and Thunder gets released on July 8, 2022 directed by Taika Waititi and stars Chris Hemsworth, Natalie Portman, Tessa Thompson, and Christian Bale, with Chris Pratt, Karen Gillan, Dave Bautista, Sean Gunn, Pom Klementieff, Bradley Cooper, Vin Diesel, and Russell Crowe.