It's learned that Lena Headey, Peter Dinklage, and Jeff Goldblum have been cut from Marvel's Thor: Love and Thunder.
In a report from Variety about how the Game of Thrones actress is feuding with her former U.K. agency, it's reported that director Taika Waititi asked Lena Headey to be in Thor: Love and Thunder but that she didn't make it into the final cut of the movie that gets released next week.
Rumors offer Lena Headey was supposed to play a Valkyrie, with Christian Bale confirming scenes involving Peter Dinklage and Jeff Goldblum – where Gorr is rumored to have killed Eitri and the Grandmaster – have also been cut from Thor: Love and Thunder.
"I got to work with Peter Dinklage. That's not in the final film but I got to work with him, he's fantastic," Bale told the Prensaescenario Youtube channel. "I got to work with Jeff Goldblum. He's not in the final film, either. As you see lots of stuff ends up on the cutting room floor even though it is beautiful brilliant stuff."
The reasons the scenes have been cut are not known, but Thor: Love and Thunder happens to be the shortest MCU movie coming in at only 2 hours, so we can assume that Marvel and Taika Waititi probably had to cut a lot of scenes as there are a lot of characters involved in what Chris Hemsworth has said to be a "wacky romantic comedy."
It's "a wacky romantic comedy set in space that you've never seen before," Hemsworth told Vanity Fair. "It's been 11 years now, and I have loved playing this character every time. It's completely changed my life and helped establish my professional career. Every time, I've done something completely different. With this new one, it's a wild adventure, and we are rebuilding Thor. He's on a journey of self-discovery, and as mentioned in the title, love is a big part of that. Love really embodies this film; it's about self-love, love for friends, love for family, and romantic love."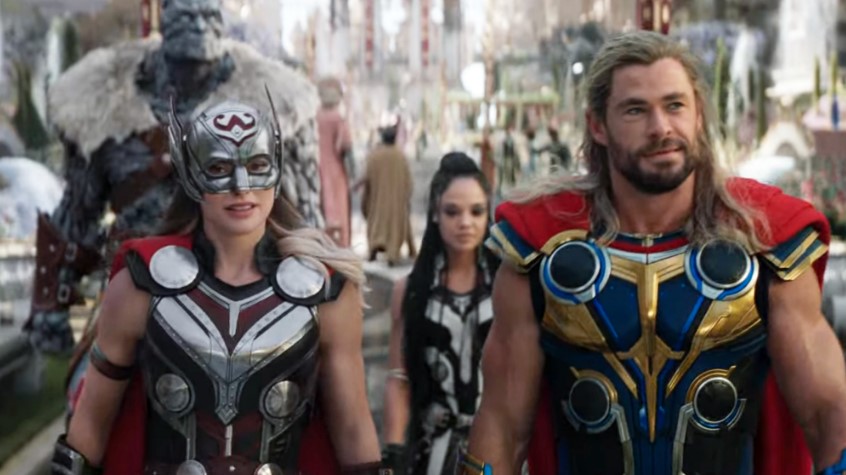 Thor: Love and Thunder features lots of actors
In addition to Hemsworth and Bale, the flick also features a plethora of actors including Natalie Portman, Tessa Thompson, Chris Pratt, Karen Gillan, Dave Bautista, Sean Gunn, Pom Klementieff, Bradley Cooper, Vin Diesel, Russell Crowe, Jaimie Alexander, Melissa McCarthy, Luke Hemsworth, and Matt Damon.
Since it sounds like the scenes would have been really cool, maybe they will be released as part of a bonus feature or even an extended cut of Thor: Love and Thunder?
In addition to what could have been with Lena Headey, the MCU also sports Game of Thrones actors Kit Harington and Richard Madden in Eternals, and Dinklage was featured in The Avengers: Infinity War.
Thor: Love and Thunder opens July 8.