In addition to the low Rotten Tomatoes score, ticket sales are looking mediocre for Thor: Love and Thunder which are trailing Doctor Strange 2 by a whopping 40%.
While Thor: Love and Thunder is expected to open big this weekend with estimates offering anywhere from a $140 million to $160 million box office, Deadline reports that as of Friday, Thor: Love and Thunder presales were trailing behind Doctor Strange 2's by 40%.
Doctor Strange 2 opened with a $187 million weekend, so if word-of-mouth isn't any good for Thor: Love and Thunder, things could be really bad this weekend for Kevin Feige and director Taika Waititi as that could mean Love and Thunder would only open to only $112.2 million which would be a complete disaster at the box office and is something not expected to happen.
The good news for Feige is that ticket sales are said to be ahead of Top Gun: Maverick (opened with $126 million), The Batman ($134M) and Jurassic World Dominion ($145M) at the same point in time before their Friday openings, but those three movies have legs, something Doctor Strange 2 didn't have, so it will be interesting to see how well Love and Thunder performs at the box office, which again, looks to be all about word-of-mouth and how well the movie is received by fans.
Update: The Thor: Love and Thunder box office is underperforming.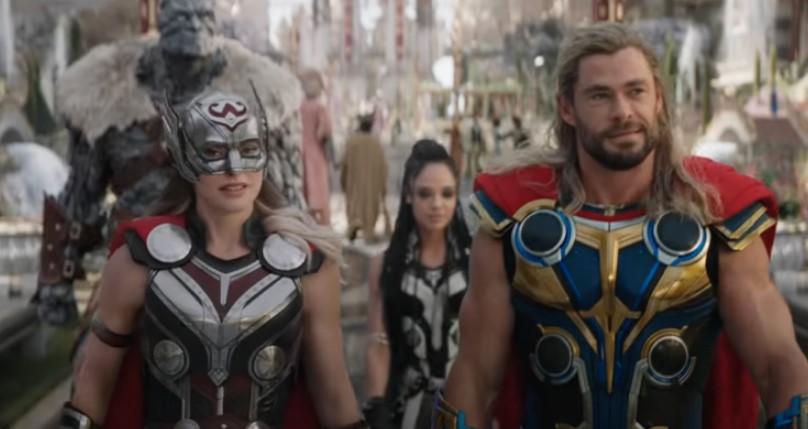 Thor: Love and Thunder comparable to Guardians of the Galaxy Vol. 2
Ticket sales for Thor: Love and Thunder are said to be comparable to Guardians of the Galaxy Vol. 2, which opened to $146.5 million in 2017 and made over $863 million worldwide, so if Love and Thunder performs similar it could potentially finish below Ragnarok's $854 million which wouldn't be a good thing.
As noted, the Doctor Strange 2 box office had the benefit of following Spider-Man: No Way Home as the two films sort of connected but Taika Waititi has confirmed Thor: Love and Thunder isn't a Multiverse movie; so it appears to be its own thing amid Feige's disjoined Phase 4 that really has no cohesiveness compared to the previous MCU Phases, something fans have come to expect.
Regarding the Rotten Tomatoes Score, it's currently at only a 71% compared to Ragnarok's much better 93% so we see that apparently Feige and Waititi have misfired with Love and Thunder, at least among the critics for some reason.
Thor: Love and Thunder opens July 8 starring Chris Hemsworth, Natalie Portman, Tessa Thompson, and Christian Bale.