The CW is canceling Riverdale as of Season 7, which will air as part of the network's 2022-23 mid-season schedule.
"Pop Culture Sensation Riverdale to Conclude with Seventh and Final Season This Midseason," revealed the network in its Fall schedule announcement.
The CW further added, "We will also be saying goodbye to an iconic CW series that shaped and defined popular culture, RIVERDALE."
The press release also states, "The CW will also bid farewell to the cultural sensation RIVERDALE when it returns for its seventh and final season this midseason."
Update: At the Upfronts, head of The CW Mark Pedowitz also said (via Deadline):
Boss Mark Pedowitz, speaking on the network's Pre-Upfronts call, said that "we are going to treat the show in the manner it deserves."

"I am a big believer of giving series that have had a long run an appropriate send-off. We had a long conversation with Roberto [Aguirre-Sacasa] yesterday and he is thrilled with the decision. We are going to treat the show in the manner it deserves. It's been an iconic pop culture star and we want to make sure that it goes out the right way."

He added that he thinks "seven years is the right amount".
Riverdale kicked off in 2017, but much like The CW's recent cancellations, the ratings have been pretty poor as episodes of Season 6 have averaged less than 300k viewers.
The CW has also canceled Batwoman, DC's Legends of Tomorrow, Naomi, Legacies, Dynasty, Charmed, Roswell, New Mexico, In The Dark, and 4400.
It's been assumed all the cancellations are a result of the Warner Bros. Discovery merger and the fact that the shows are no longer being sold to other streaming services such as Netflix, which is where they made their money, as it has been reported The CW as a network has never made any money, so now that Discovery has taken over, it has set its goal to actually make money.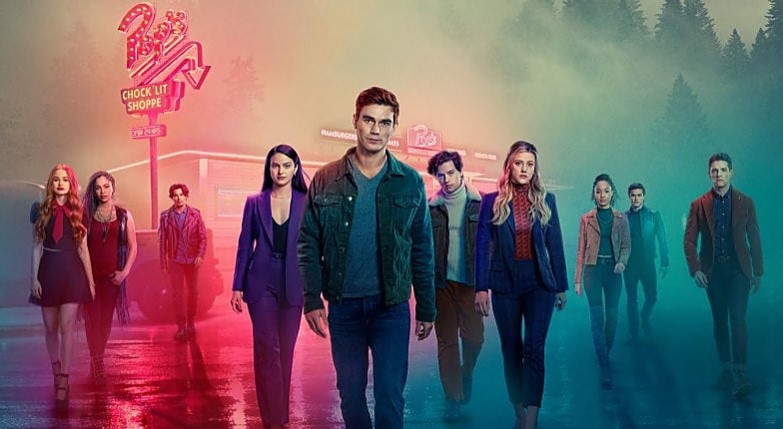 About Riverdale Season 6:
The sixth season of Riverdale begins with a special five-episode event arc entitled "RIVERVALE." Picking up where season five ended, with Archie (KJ Apa) and Betty (Lili Reinhart) deciding to give their romantic relationship another shot, just as a bomb planted by Hiram Lodge (Mark Consuelos) under Archie's bed was about to go off. Strangely, that bomb seemingly doesn't explode, and when Archie and Betty wake up the next morning, they're living in the town of Rivervale, their lives in Riverdale but a distant dream. It's hard to believe, but things in Rivervale are much darker and creepier than in Riverdale. There are ghosts, curses, witches, demons, human sacrifices, and special guest stars galore — including a visit from everybody's favorite twenty-something witch, Sabrina Spellman (guest star Kiernan Shipka)! How did our characters come to be in Rivervale? And what, exactly, is Rivervale? An alternate universe? A dream dimension? Limbo? Archie's coma fantasy? The mystery will be revealed in Riverdale's hundredth episode, "The Jughead Paradox."
Based on the characters from Archie Comics, Riverdale is from Berlanti Productions in association with Warner Bros. Television and CBS Television Studios, with executive producers Roberto Aguirre-Sacasa ("Supergirl," "Glee"), Greg Berlanti ("Arrow," "The Flash," "Supergirl"), Sarah Schechter ("Arrow," "The Flash," "Supergirl") and Jon Goldwater (Archie Comics Publisher & CEO).