Superman & Lois Season 4 is in doubt which follows all the recent cancellations by The CW network.
The CW recently canceled The Winchesters, Walker: Independence, and Kung Fu, and in Variety's report it's mentioned that Superman & Lois, Gotham Knights, and All American: Homecoming are "awaiting word on their fates" where it is pointed out "though none are expected to continue at this time."
Deadline also adds that Superman & Lois is an expensive show to make, which doesn't fit with The CW's owner's new approach, Nexstar, which is now focusing on unscripted and lower-cost scripted programming. The CW has never been profitable, so Nexstar obviously wants things to change.
Only two shows at The CW have been renewed with All American and Walker. Presently, Jensen Ackles is also backing a campaign to save the Supernatural prequel, The Winchesters.
If Superman & Lois does get canceled, at least I hope they can end the show on a high note and that it doesn't just end or ends with a cliffhanger. Tyler Hoechlin is a really good Superman and again, the show is excellent.
The new head of DC, James Gunn, has said Superman & Lois can continue for one or two more seasons, as fans like it, so if it does get canceled at The CW, hopefully Gunn can shop it around.
Gunn does have his Superman: Legacy movie coming out on July 11, 2025 and it starts filming early 2024, so the writing is on the wall that the Tyler Hoechlin version will be placed on the backburner.
Update: Season 4 could air on HBO Max.
Superman & Lois airs Tuesdays at 8pm EST and you can watch episodes on The CW app. The next episode airs May 23. Here is the description:
"The Dress"
LOIS CONFIDES IN LANA – Superman (Tyler Hoechlin) and John Henry (Wole Parks) clash over how to handle Bruno Mannheim (Chad Coleman), while Lois (Elizabeth Tulloch) worries over upcoming treatments and confides in Lana (Emmanuelle Chriqui) about her early courtship with Clark (Tyler Hoechlin). Meanwhile, Jonathan (Alex Garfin), Jordan (Michael Bishop), and Sarah (Inde Navarrette) work together to help Natalie (Tayler Buck) deal with the aftermath of meeting Matteo's (guest star Spence Moore II) family. Stephen Maier directed the episode written by Kristi Korzec (#309). Original airdate 5/23/2023.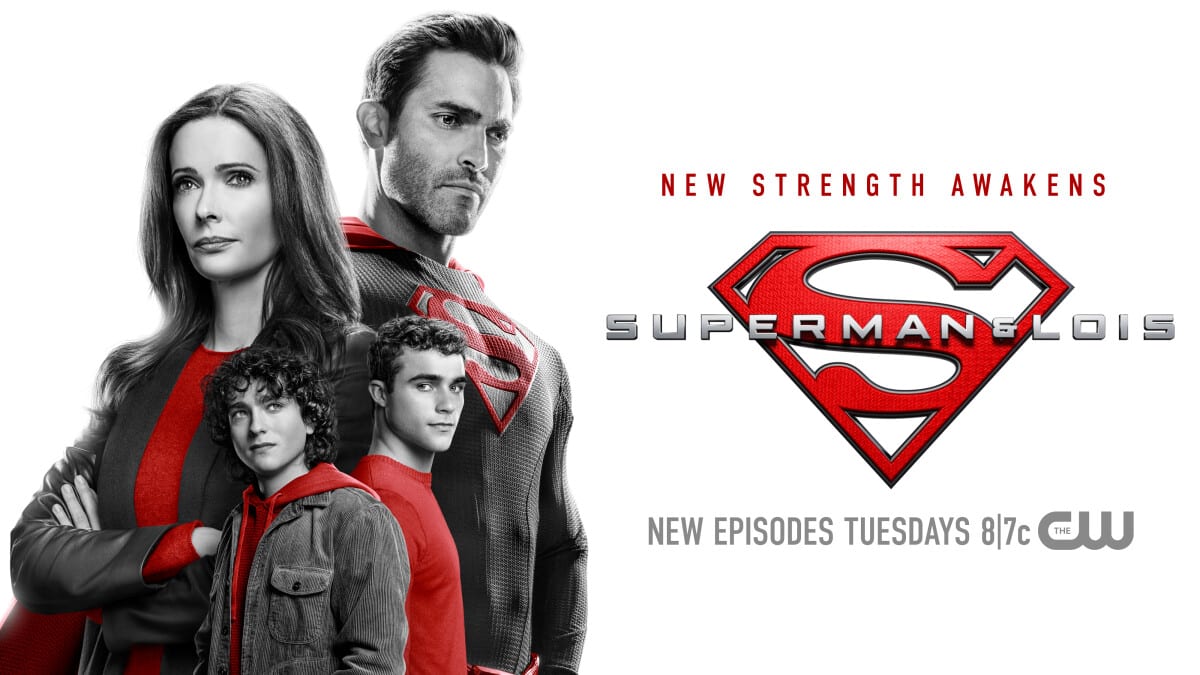 What is Superman & Lois about?
Season three of Superman & Lois opens weeks after Superman's blowout defeat of Ally Allston. Clark (Tyler Hoechlin) and Lois (Elizabeth Tulloch) are now working at the Smallville Gazette together and enjoying small town life. But the Kents' romantic bliss only shines a light on how isolating "the secret" can be, as Chrissy (Sofia Hasmik) struggles to balance a new love interest and her friendship with Lois. However, Lois' own work-life balance is put to the test when an undercover assignment reveals a deadly foe that promises to change the Kent family forever. Superman would move heaven and earth for his family, but with a villain this merciless, even that might not be enough. Meanwhile, the Kent boys find themselves being pulled in opposite directions as Jordan (Alex Garfin) discovers what a superhero-identity really means and Jonathan (Michael Bishop) searches for purpose beyond the football field. Amid all this upheaval, John Henry (Wolé Parks) is haunted by his doppelgänger's past, leading to dangerous consequences for him and Natalie (Tayler Buck). Lana Lang (Emmanuelle Chriqui) and Kyle (Erik Valdez) redefine their family post-separation, while Sarah (Inde Navarrette) explores what the future holds for her and Jordan now that she knows the truth about his powers. Having learned the hard way that no one else can be trusted to work with Superman, General Samuel Lane (Dylan Walsh) reclaims his post at the Department of Defense, only to face his own conflict in working with his grandson, Jordan.
Superman & Lois stars Tyler Hoechlin as Clark Kent/Superman, Elizabeth Tulloch as Lois Lane, Garfin as Jordan Kent, Michael Bishop as Jonathan Kent, Alexander Erik Valdez as Kyle Cushing, Inde Navarrette as Sarah Cushing, Wolé Parks as Henry Irons, Tayler Buck as Natalie Irons Sofia Hasmik as Chrissy Beppo, Chad L. Coleman as Bruno Mannheim, with Dylan Walsh as General Samuel Lane and Emmanuelle Chriqui as Lana Lang Cushing.
Based on the characters from DC Comics created by Jerry Siegel and Joe Shuster, Superman & Lois is from Berlanti Productions in association with Warner Bros. Television, with executive producers Geoff Johns, Sarah Schechter, Brent Fletcher, Todd Helbing, Sarah Schechter and Greg Berlanti.