It's learned a new original unscripted documentary series is coming to Disney Plus from Marvel Studios that is focusing on the Super Power Women of the MCU and its Super Fans.
Marvel.com made the announcement where a casting call has also gone out to encourage those Super Fans to apply:
Marvel Studios is excited to bring an original unscripted documentary series to Disney+, showcasing the strong and inspiring women who bring the Marvel Cinematic Universe to life both behind and in front of the camera. This upcoming series will feature the Super Heroes you know onscreen, the brilliant minds who work tirelessly offscreen, and a few incredible fans of the powerful women of the Marvel Cinematic Universe. If you or someone you know is that "super power" fan of Marvel's strong women and would love to participate in this groundbreaking documentary series, we invite you to apply!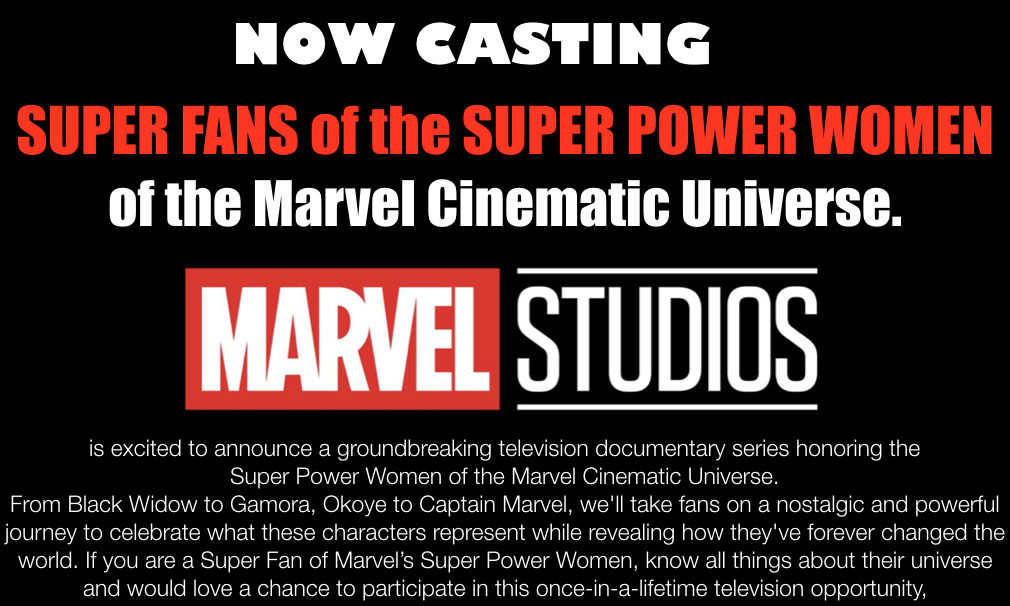 Super Power Women of the MCU casting call
The casting call offers:
Now casting SUPER FANS of the SUPER POWER WQMEN of the Marvel Cinematic Universe.

Marvel Studios is excited to announce a groundbreaking television documentary series honoring the Super Power Women of the Marvel Cinematic Universe.

From Black Widow to Gamora, Okoye to Captain Marvel, we'll tak fans on a nostalgic and powerful journey to celebrate what these characters represent while revealing how they've forever changed the world. If you are a Super Fan of Marvel's Super Power Women, know all things about their universe and would love a chance to participate in this once-in-a-lifetime-television oppurtunity,

INSTRUCTIONS:

Applications will be considered only if they are complete. Completed applications consist of the following:

Completed and fully executed participant application ("Application").

Two photos of you.

Two photos or a link to a video highlighting of your memorabilia or fan art.

A photocopy of your State Driver's License or Photo ID

NOTE: You MUST BE at least 18 years of age as of May 20, 2021.

PARENTS/GUARDIANS/OTHERS CANNOT APPLY FOR THIER CHILDREN UNDER 18 FOR THIS PROJECT.

For more information email chelsea@pitmancasting.com or call 818-666-3606