Wow! The Super Mario Bros. Movie takes a hit as while sure to be this week's number one movie at the box office and expected to just crush it, the critics at Rotten Tomatoes so far are not liking what they are seeing!
With the first batch of reviews released, The Super Mario Bros. Movie Rotten Tomatoes Score stands at only 46%. Check out the negative reviews below.
Update: With 128 reviews, the Score is now at 55%, and with the movie now released in theaters, the Audience Score is at 95%.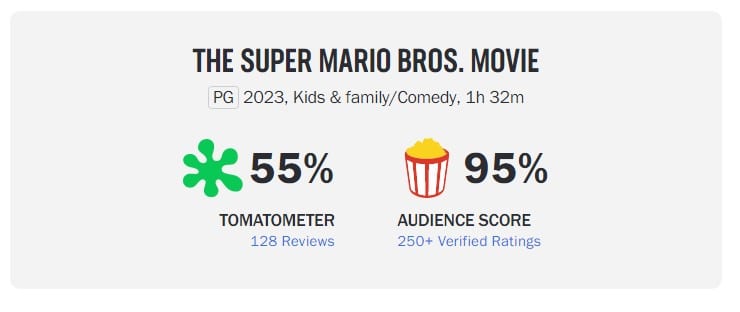 Checking similar type movies reveals more of the same as the critics don't seem to favor video game adaptations as the two Sonic movies have scores of 64% and 69%, respectively, and Pokémon Detective Pikachu has a score of 68%.
The reviews probably won't matter as the movie looks like a lot of fun, with its box office expected to open between $70 and $100 million.
The Super Mario Bros. Movie gets released on Wednesday, April 5, and stars Chris Pratt, Charlie Day as Luigi; Anya Taylor-Joy as Princess Peach; Jack Black as Bowser; Keegan-Michael Key as Toad; Seth Rogen as Donkey Kong; Fred Armisen as Cranky Kong; Kevin Michael Richardson as Kamek, and Sebastian Maniscalco voices Spike.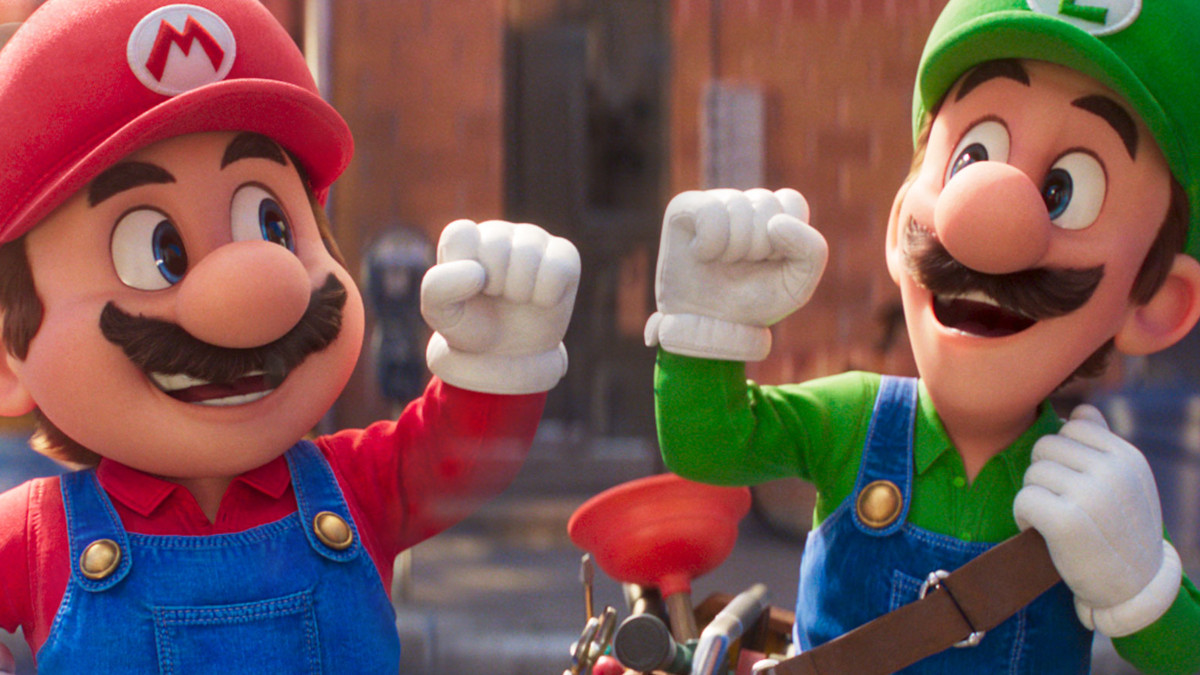 What do the negative reviews say?
In the end, it feels like one long commercial. Sure, I walked away wanting to revisit my old Mario games. But I also walked away with no wish to ever again hit play on The Super Mario Bros. Movie. – Mashable
It's hard to demand all that much from a Mario Bros film when its source material has been historically devoid of plot, but shouldn't we be allowed to demand a little more than mere competency? – Independent UK
Any adults accompanying those children may wish they were watching the Hoskins and Leguizamo film instead. – BBC
[The Super Mario Bros. Movie] is as shallow, sterile and eyeball-drillingly inane a feature-length brand-extension exercise as Hollywood has yet produced. -Daily Telegraph
Only a few moments build on top of the Super Mario mythology rather than simply regurgitating it. -Screen Crush
This much-trailed, much-hyped new animated feature is tedious and flat in all senses, a disappointment to match the live-action version in 1993. – Guardian
The film feels like it's content to check off to-do notes and scratch the viewer's nostalgia itch. – Slant Magazine
Occasionally amusing but rarely engaging, it leaves one feeling like they're standing to the side and watching someone else play a video game. – San Francisco Chronicle
Beautifully animated, and about as faithful and affectionate as a corporate cash-in is possible to get — but it still doesn't come close to the experience of actually playing the games. – Empire Magazine
A movie that's as hollow as a trailer, something that willfully avoids anything creative or ambitious. Mario and Luigi deserve so much better. – RogerEbert.com
The internet was right. Chris Pratt is all wrong as the title character in The Super Mario Bros. Movie. – Globe and Mail
All that pristine computer animation is akin to polishing… well, what Mario finds in pipes during his day job. – Chron
With a pixel-thin premise and a plot propelled by a candy-induced sugar rush, The Super Mario Bros. Movie is an overstuffed 90 minutes of colorful, inoffensive fun. – Inverse