Disney XD released a new Star Wars Rebels Season 4 poster and titles and descriptions for the first six episodes.
Watch the trailer below as well.
Star Wars Rebels Season 4 premiers Monday, October 16th.
Episode Titles and Descriptions
"Heroes of Mandalore: Part One"
Sabine leads Ezra, Kanan and an army of her fellow Mandalorians back to her home world to rescue her father from the clutches of the Empire.
"Heroes of Mandalore: Part Two"
When Sabine discovers the Empire has resurrected a devastating weapon she created and plans to use it against her people, she must decide whether to destroy it or use it herself.
"In the Name of the Rebellion: Part One"
As members of the Rebel Alliance, Ezra and the Ghost crew must accept a mission to spy on an Imperial outpost they would rather destroy.
"In the Name of the Rebellion: Part Two"
After being separated from Hera and Kana, Ezra and Sabine join the desperate quest of Saw Gerrera to hunt down the Empire's elusive secret super weapon.
"The Occupation"
Ezra and the Ghost crew are called back to Lothal when a new Imperial threat rises.
"Flight of the Defender"
Ezra and Sabine steal an Imperial prototype TIE fighter but must rely on some unexpected help to escape from Thrawn.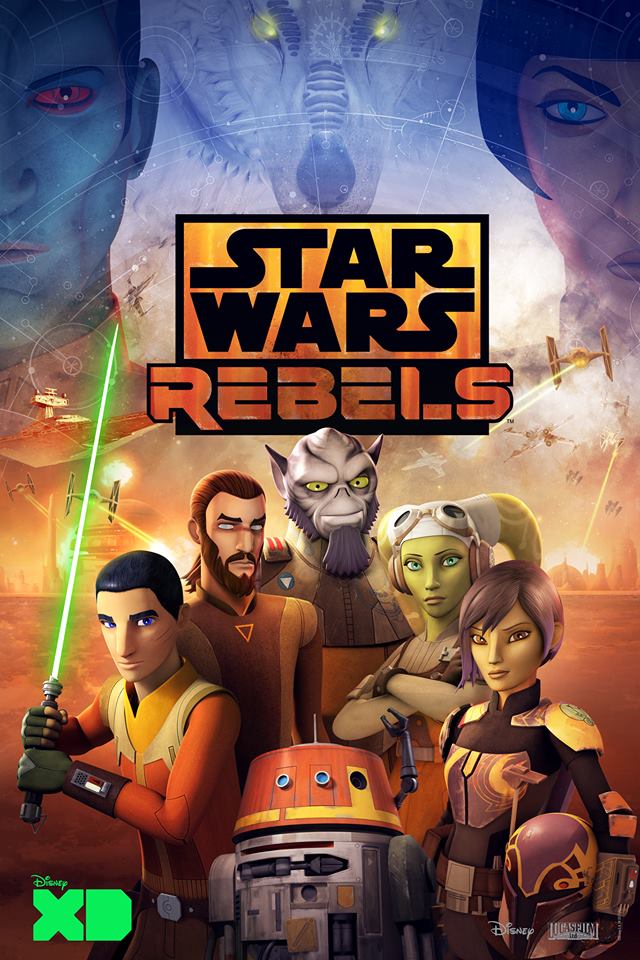 Star Wars Rebels, set between the events of Star Wars: Revenge of the Sith and Star Wars: A New Hope, features a cast of new heroes and has included Star Wars icons like Darth Vader, Yoda, and Princess Leia, along with fan favorites such as Ahsoka Tano and Captain Rex from the Star Wars: The Clone Wars animated series.
The third season has seen the introduction of the threatening villain Grand Admiral Thrawn, a direct connection to Rogue One: A Star Wars Story with an appearance by Saw Gerrera, and the legendary Maul on a journey for his ultimate revenge.
The gifted cast includes Freddie Prinze Jr. as Kanan, Vanessa Marshall as Hera, Steve Blum as Zeb, Tiya Sircar as Sabine, Taylor Gray as Ezra, Dee Bradley Baker as Captain Rex, David Oyelowo as Agent Kallus, Forest Whitaker as Saw Gerrera, Sam Witwer as Maul, Tom Baker as Bendu, and Lars Mikkelsen as Grand Admiral Thrawn.