She-Hulk and Jameela Jamil may have been caught in a slight fib in regard to claims the show was #1 on streaming for a time.
Recall how at the end of September, Jameela Jamil, who plays Titania, took to her 1.1 million followers on Twitter to proclaim that She-Hulk was the #1 streaming show ahead of the likes of Netflix's Cobra Kai, Amazon's Rings of Power, and even the Netflix Dhamer series.
Get this, it's even claimed Andor was at #2 (see below).
"As a huge Marvel fan. I have loved making this show. It's for the people this genre forgot all these years, and those people love it and thank us every day. We didn't stick to any old formula, and we still made it to number 1 in the ratings and we had a BLAST making it. MADNESS," she tweeted with a big red heart emoji.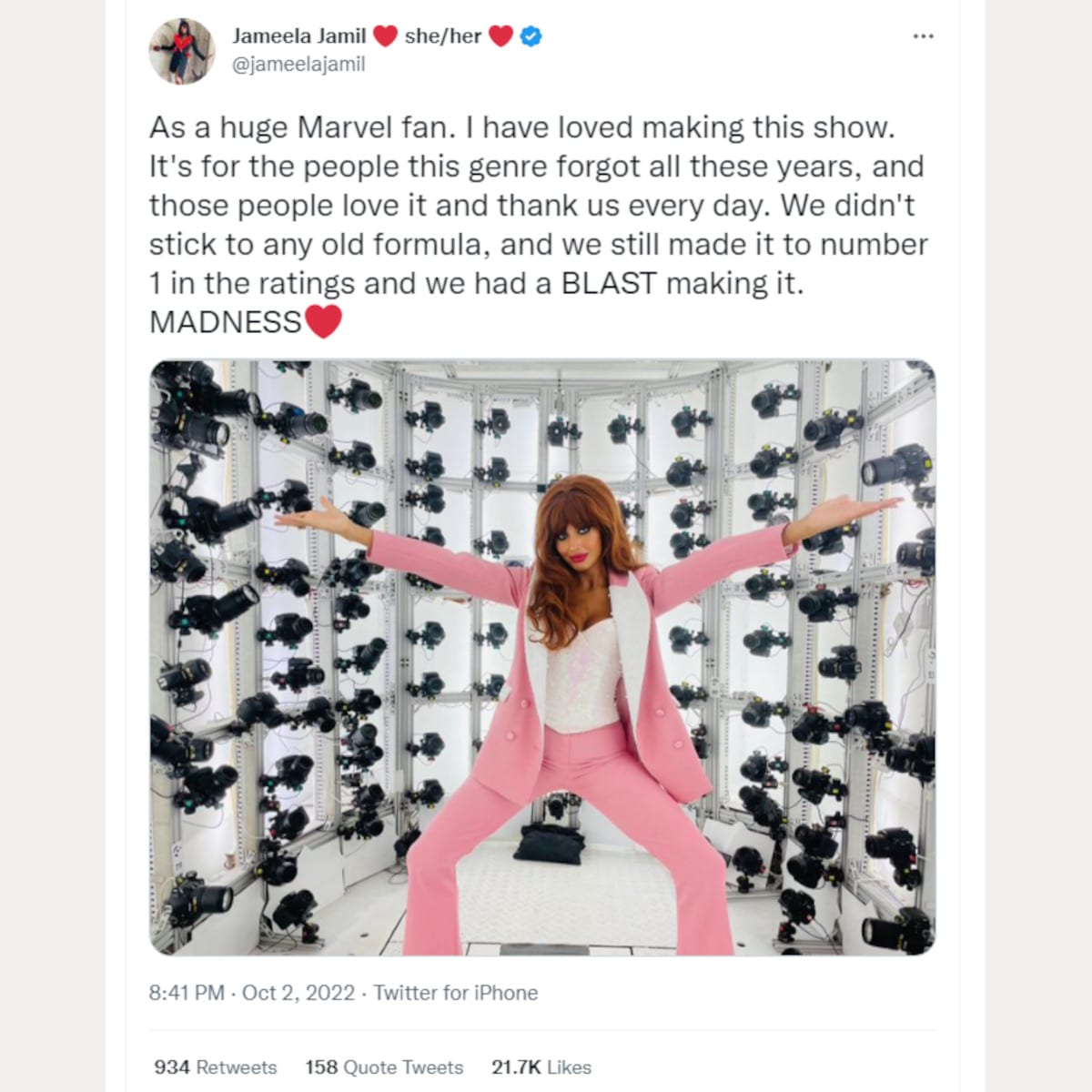 Whip Media and TV Time claim She-Hulk was #1
The source Jameela Jamil and many websites referenced that reported on She-Hulk being #1 in the ratings happens to be Whip Media and its TV Time app.
According to the App store, the TV Time app, which claims to have over 21 million users, doesn't keep track of ratings at all but is simply a tool that people can use "to help organize ALL the shows and movies you love."
Whip Media also claims the TV Time app "captures 40 million reactions across 450 thousand unique film and TV titles."
So again, it doesn't sound as if Whip Media or the TV Time app actually keeps track of ratings as they don't have a platform that enables people to watch anything — so they don't actually keep track of or have access to people watching shows.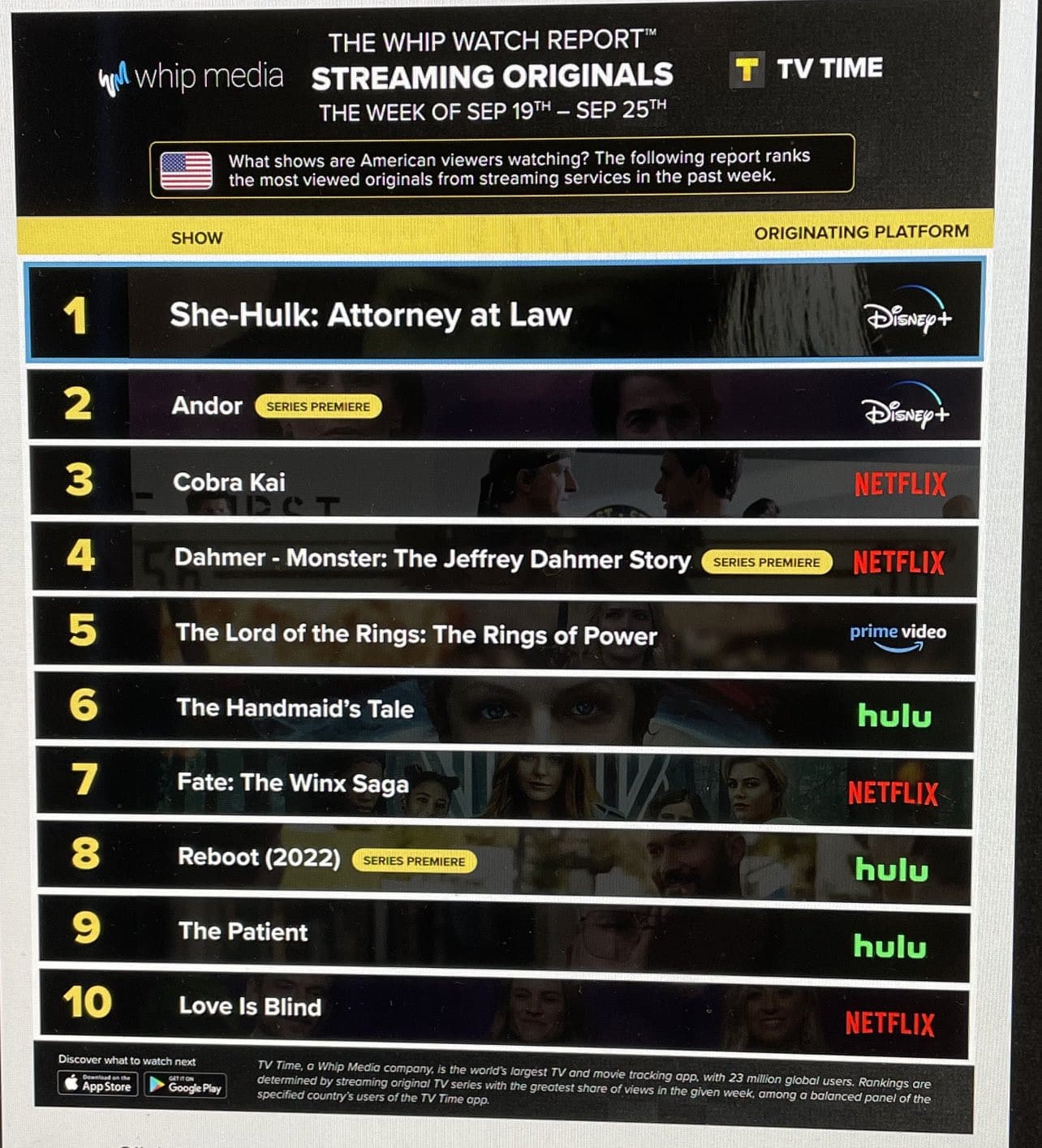 She-Hulk #1 ratings claims are complete BS
I actually didn't bother reporting on the She-Hulk #1 rating news because I knew it was complete BS and pure spin put out by She-Hulk and Jameela Jamil.
How did I know? Common sense.
Really, She-Hulk AND Andor beat out Cobra Kai AND Dhamer AND Rings of Power?
We're supposed to believe that?
Well, I guess some of the bozo Marvel fans did but the Samba TV numbers offered a different story as the series was only watched on the low end by Marvel fans.
Netflix and Amazon have something like two or three times the number of subscribers as Disney Plus, so the numbers don't add up with claims She-Hulk and Andor were at #1 and #2.
However, what the Whip Media and TV Time numbers may actually reveal is that they simply have a lot of people keeping track of She-Hulk and Andor over the likes of the other shows.
It doesn't at all mean more people are watching this or that show, it simply means the 21 million or so people that do use the app (I've never heard of it) favor Disney or at least favor keeping track of when She-Hulk and Andor air as opposed to the other shows.
That actually might mean people can't remember when She-Hulk and Andor actually air on Disney Plus as they need to keep track of it – right? – which suggests a lot.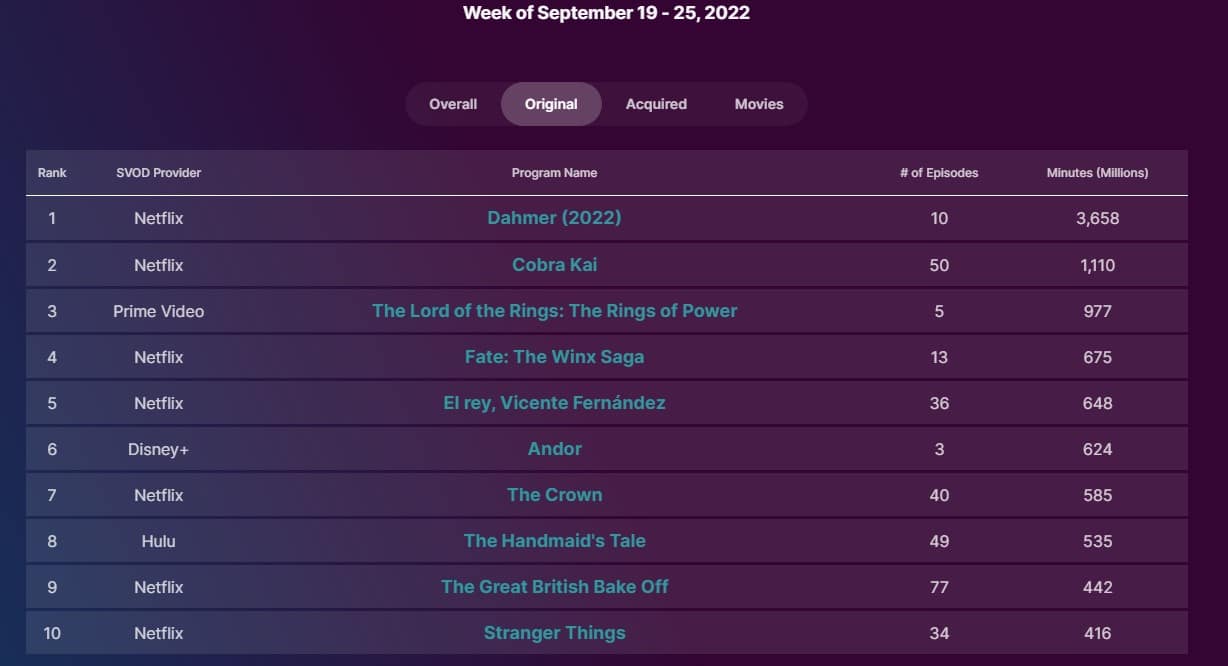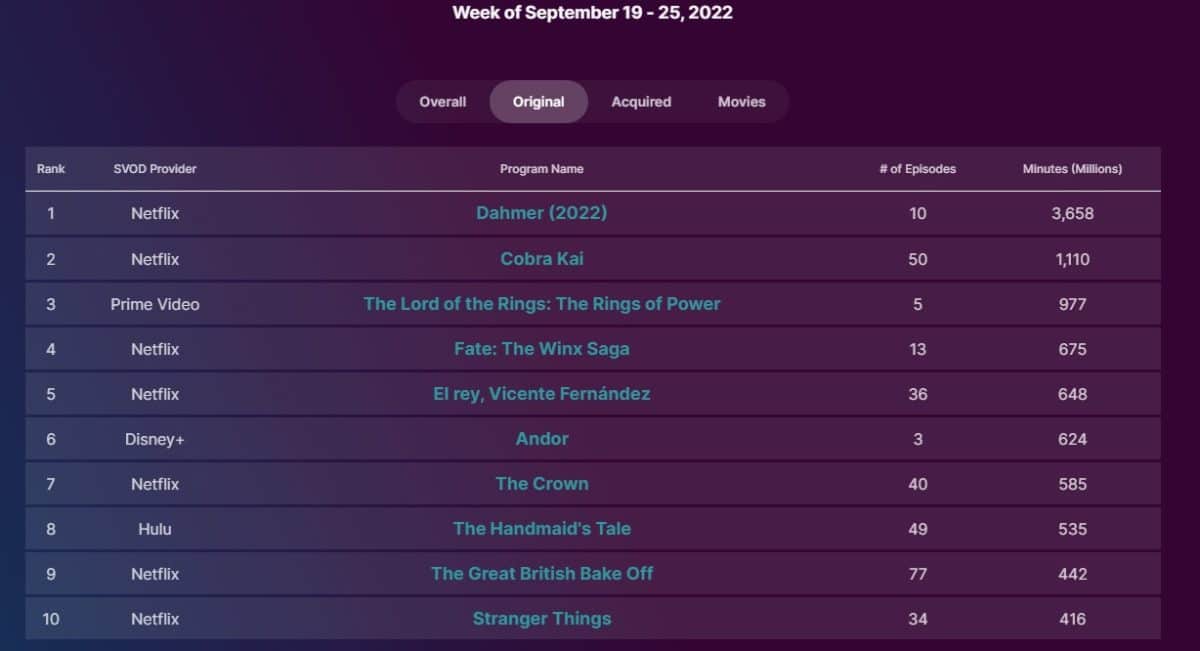 Nielsen tells an entirely different tune
Nielsen has now released the streaming ratings for the claims that She-Hulk (and Andor) was #1 for that week, Sept. 19-25, which tells an entirely different tune.
She-Hulk isn't even listed as part of the Nielsen "Originals" (pictured above) with SIX episodes released! SIX!
So that means those SIX episodes for the week of Sept. 19-25 weren't even watched over 416 million minutes!
It should also be said the Nielsen "Originals" list often contains the lowest amount of minutes viewed for a series, but again the SIX She-Hulk episodes don't even make the list!
Andor is there because Disney released three episodes, but if we take the average per episode, Andor, much like She-Hulk, wouldn't have made the top ten Nielsen "Originals" list (I go over the Andor ratings more in-depth here).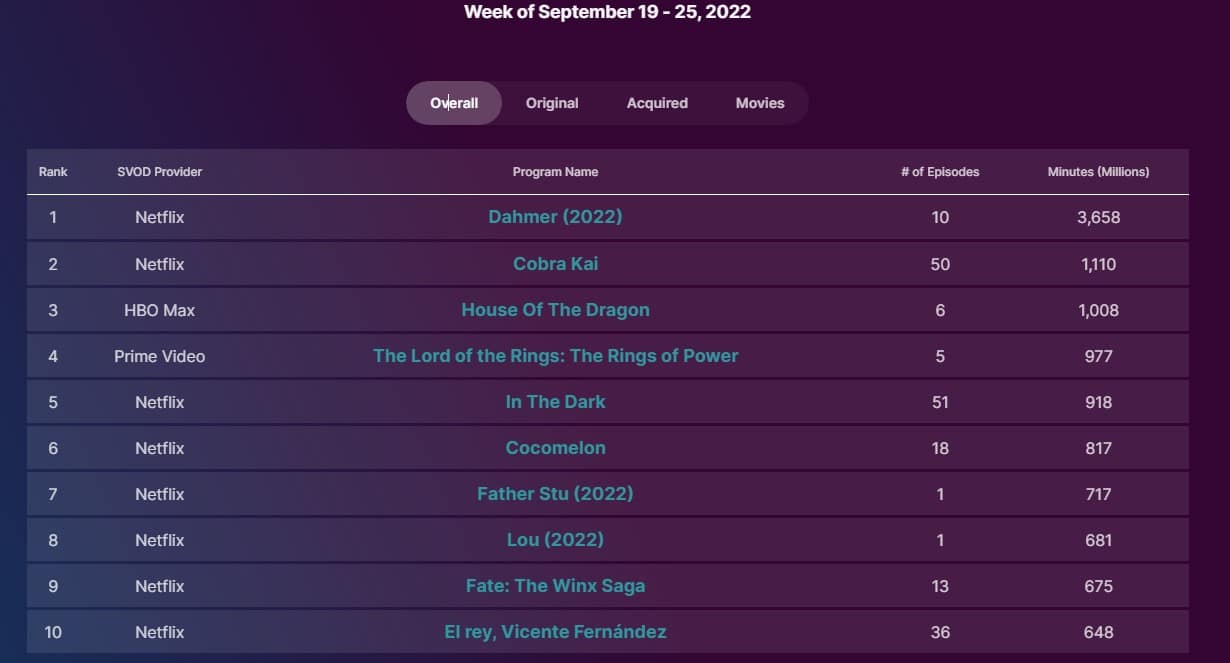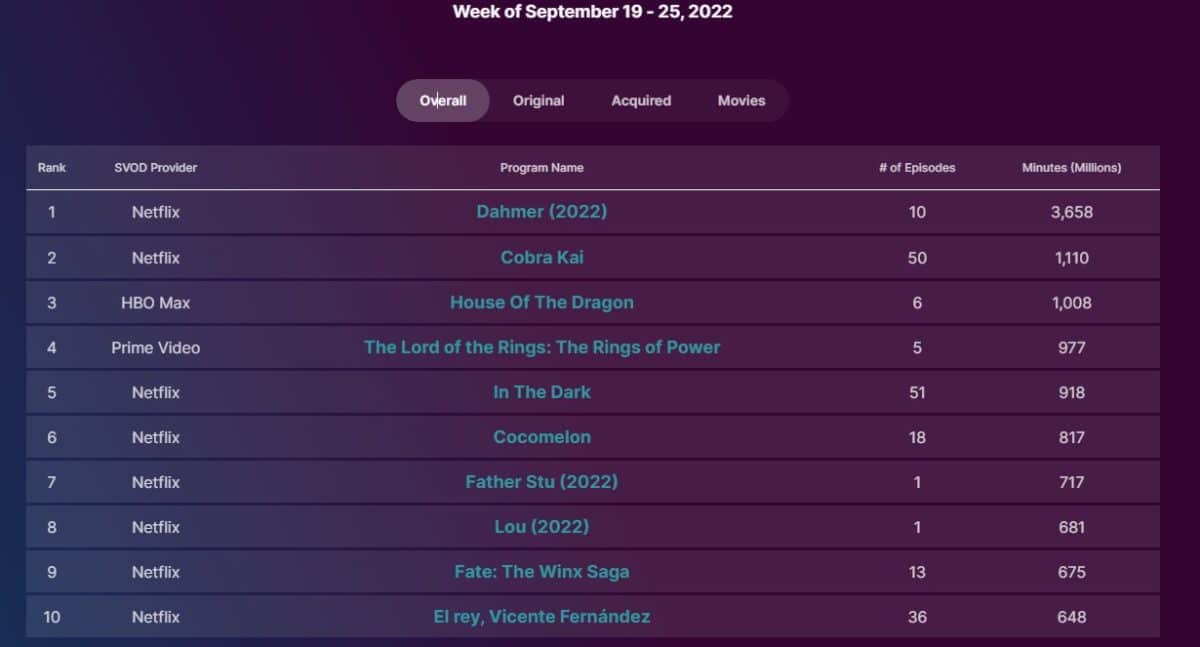 She-Hulk tops Dhamer, Cobra Kai, and Rings of Power?
On the Nielsen "Overall" charts, we also see that Dhamer is #1, Cobra Kai is #2, and Rings of Power is at #4.
Again, we're supposed to believe She-Hulk topped all those?
I can't help but laugh out loud at the notion.
So what happened is that, in probably a sign of being so desperate (my guess), the She-Hulk show and Jameela Jamil referenced some obscure app that apparently doesn't even measure viewership, and we see all the shill sites followed suit.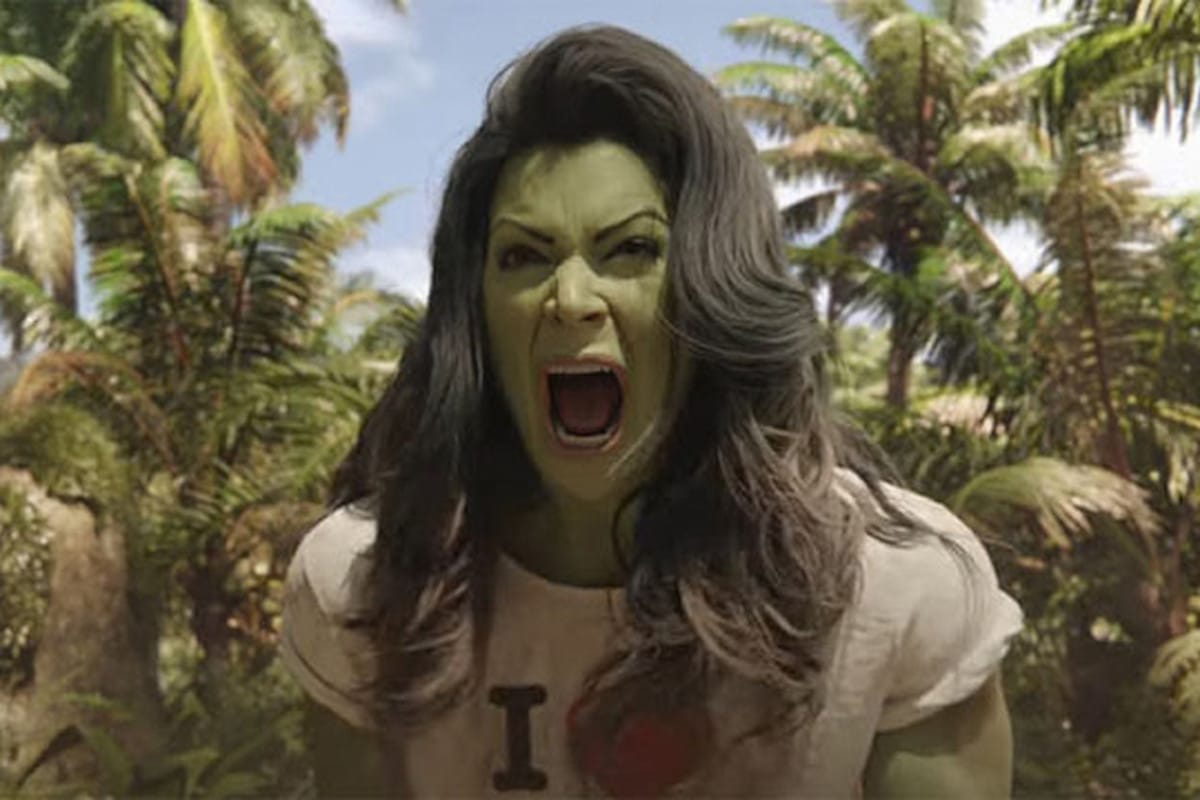 She-Hulk ratings are a lie
I have to credit Disney leaker WDW Pro for pointing this out as well as the comicswelove Twitter account and the Adam Post YouTube account.
"There's been a big lie going around. She-Hulk has never been #1," says Adam Post in the video.
WDW Pro goes even further on ThatParkPlace.com.
"Everything from Whip Media and from Jameela Jamil were complete lies. There was zero truth to them at all. And they almost certainly had to have known it," says the leaker.
WDW Pro continues, "Not only that, but Jessica Gao and all the rest of the She-Hulk crew almost certainly knew their show was a meteoric failure in the ratings. That's why they went after fans, that's why they used identity politics and cheap gender divisions to spit at those who didn't watch them. It's also why there isn't a second season, there won't be a second season and they threw Kevin Feige under the bus on the way out."
True to that, both Jameela Jamil and Tatiana Maslany seem to doubt that She-Hulk Season 2 is happening.