Disney is trending worldwide on Twitter as Florida Governor Ron DeSantis signed legislation on Monday that ends Disney's control over a special district covering its theme parks that it held for 55 years.
Currently, there are over 200k tweets about the signing of the law on Twitter.
"Allowing a corporation to control its own government is bad policy, especially when the corporation makes decisions that impact an entire region," said Governor Ron DeSantis in a press release. "This legislation ends Disney's self-governing status, makes Disney live under the same laws as everybody else, and ensures that Disney pays its debts and fair share of taxes."
Find details for the law below.
I signed legislation to end Disney's self-governing status, placed the area in state receivership, and appointed 5 members to a state control board.

Disney no longer has its own government, will live under the same laws as everyone else and pay its debts and fair share of taxes. pic.twitter.com/5JnZmEjSdv

— Ron DeSantis (@GovRonDeSantis) February 27, 2023
DeSantis previously blasted Disney for pushing woke agenda
Last year, Ron DeSantis previously blasted Disney for leaks following a series of videos that were leaked online from an "all-hands" meeting at Disney about the Florida Parental Rights in Education bill where videos showed Disney executives pushing a progressive LGBTQ agenda and a not-at-all-secret gay agenda.
"Why is the hill to die on having transgenderism injected into kindergarten classrooms or woke gender ideology injected into second-grade classrooms?" questioned the governor last March. "Why is that the hill to die on? Meanwhile, if we had done a bill that prohibited talking about the abuse of leaders in China, Disney would have supported that legislation because they don't want to say a word about that. So it's just an odd manifestation of their corporate values that they actually do Disney cruises to the nation of Dominica which criminalizes homosexuality, so they're fine doing that and lining their pockets. They are fine lining their pockets from the CCP and all the atrocities that go on there but it's those kindergartners in Florida that they really want to have transgenderism as part of their core curriculum in school."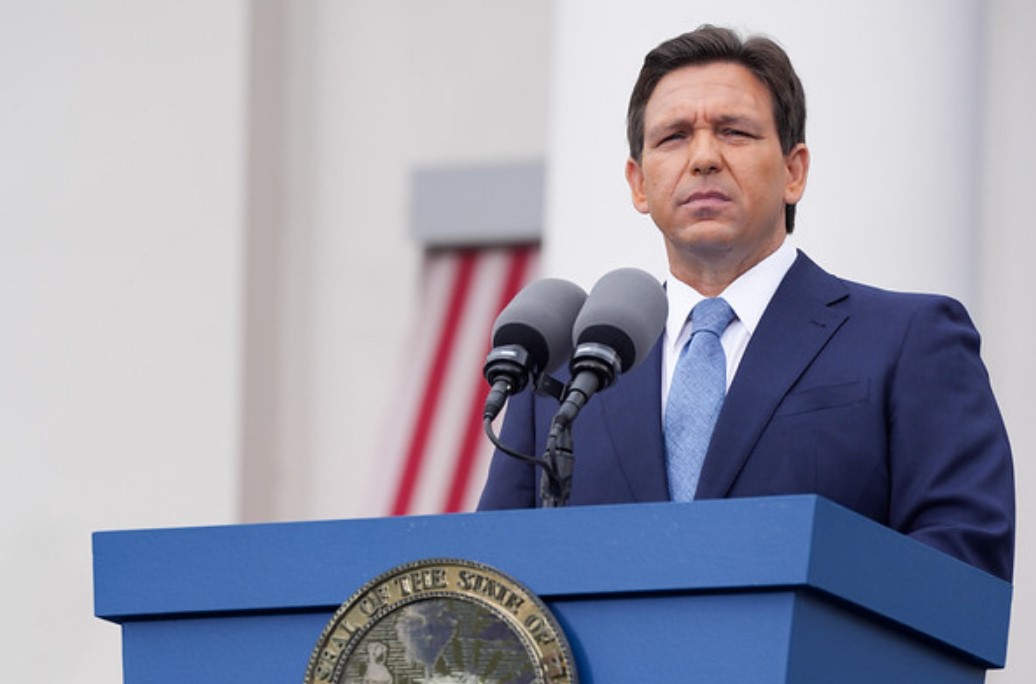 What is the new law about?
The details include Governor Ron DeSantis signed House Bill (HB) 9-B, Reedy Creek Improvement District, Orange, and Osceola Counties, to end self-governing status and special privileges provided to Walt Disney World through the Reedy Creek Improvement District and establish a new state-controlled district accountable to the people of Florida.
The bill provides legislative intent on the district's authority to raise revenue and pay outstanding bonds and other obligations without interruption.
HB 9-B ends Disney's self-governing status and imposes a five-member state control board that is appointed by the Governor and subject to Senate confirmation (see below for the nominees).
This legislation amends the Reedy Creek Improvement District charter which:
ENDS Disney's self-governing status.
ENDS Disney's exemption from the Florida Building Code and Florida Fire Prevention Code.
ENDS Disney's exemption from state regulatory reviews and approvals.
ENDS Disney's secrecy by ensuring transparency.
ENSURES that Disney will pay its fair share of taxes.
PREVENTS leftist local governments from using the situation to raise local taxes.
IMPOSES Florida law so that Disney is no longer given preferential treatment.
ENSURES that Disney's municipal debt will be paid by Disney, not Florida taxpayers.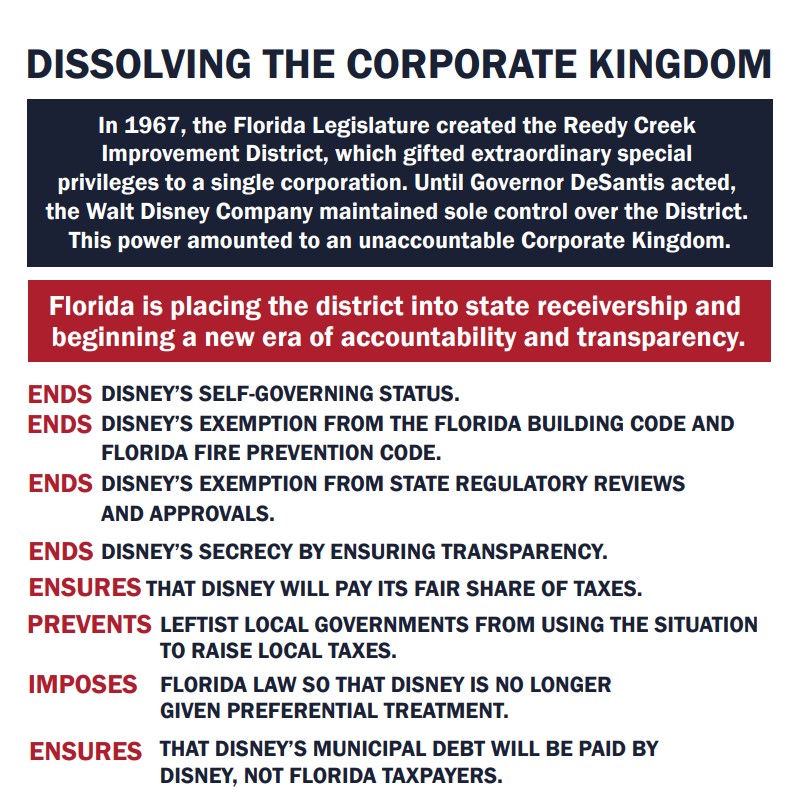 Who makes up the board?
The five-member board consists of Martin Garcia, Bridget Ziegler, Brian Aungst Jr., Michael A. Sasso, and Ron Peri appointed to the Central Florida Tourism Oversight District, with Mr. Garcia appointed chairman of the board.
Martin Garcia
Garcia, of Tampa, has practiced law and served as partner in two premier law firms. Additionally, Garcia owned and operated a successful private equity investment firm and served on the board of a NASDAQ and three New York Stock Exchange companies.
Bridget Ziegler
Ziegler, of Sarasota, serves on the Sarasota School Board and is the Director of School Board Programs at The Leadership Institute. Prior to her current role, Ziegler has over a decade of experience in commercial insurance working with two of the largest global risk and insurance brokerage firms.
Brian Aungst Jr.
Aungst,of Clearwater, is an attorney and shareholder at the law firm of Macfarlane Ferguson and McMullen, P.A. Aungst has previously served as the Chairman of the Pinellas County Commission Redistricting Committee and has a growing land use law practice where he has gotten approval for hotels, condominiums, affordable housing developments, and the redevelopment of the Clearwater Marine Aquarium.
Michael A. Sasso
Sasso, of Orlando, is the Managing Partner of Sasso and Sasso, P.A. His practice focuses on election law and complex business and construction litigation. Sasso was also appointed to the Ninth Circuit Judicial Nominating Commission, was subsequently elected its chair, and now serves on the Sixth District Court of Appeal Judicial Nominating Commission. He also serves as a commissioner of the Public Employees Relations Commission and as a trustee of Valencia State College.
Ron Peri
Peri, of Orlando, is the Chairman and CEO of The Gathering USA. Peri was also founder, Chairman, and CEO of the airline software company Radixx International, Inc. after serving as Vice President and CTO of AirTran Airways.
These appointments are subject to confirmation by the Florida Senate.