I told you it's an attack on Disney, the home of Marvel, Star Wars, Pixar, and more, and that is exactly what is going on.
A week to the day following the small number of people that participated in the Disney "walkout," a series of videos have been leaked online from an "all-hands" meeting at Disney about the Florida Parental Rights in Education bill, aka what the woke refer to as the "don't say gay bill" that was recently signed into law by Republican Gov. Ron DeSantis — but the thing is, the bill never mentions the word "gay" and is all about keeping sexual education involving "sexual orientation" and "gender identity" (ALL orientations and identities) away from young children and instead to leave it up to the parents.
The videos have been leaked online by investigative journalist Christopher F. Rufo on Twitter which shows a big-time progressive LGBTQ agenda being pushed at the meeting including stating teams at Disney have implemented an openly "gay agenda."
Disney execs push "not-at-all-secret gay agenda" and removal of traditional gender roles
The first video reveals executive producer Latoya Raveneau stating her team has implemented a "not-at-all-secret gay agenda" and is regularly "adding queerness" to children's programming.
A second video shows Disney corporate president Karey Burke stating that "as the mother [of] one transgender child and one pansexual child," she supports having "many, many, many LGBTQIA characters in our stories" and wants a minimum of 50 percent of characters to be LGBTQIA and racial minorities.
The third video shows Disney production coordinator Allen March saying his team is committed to "exploring queer stories" and has created a "tracker" to make sure they are creating enough "gender-nonconforming characters," "canonical trans characters," and "canonical bisexual characters."
The fourth video shows Disney diversity and inclusion manager Vivian Ware stating the company has eliminated all mentions of "ladies," "gentlemen," "boys," and "girls" in its theme parks in order to create "that magical moment" for children who do not identify with traditional gender roles.
Watch the videos below.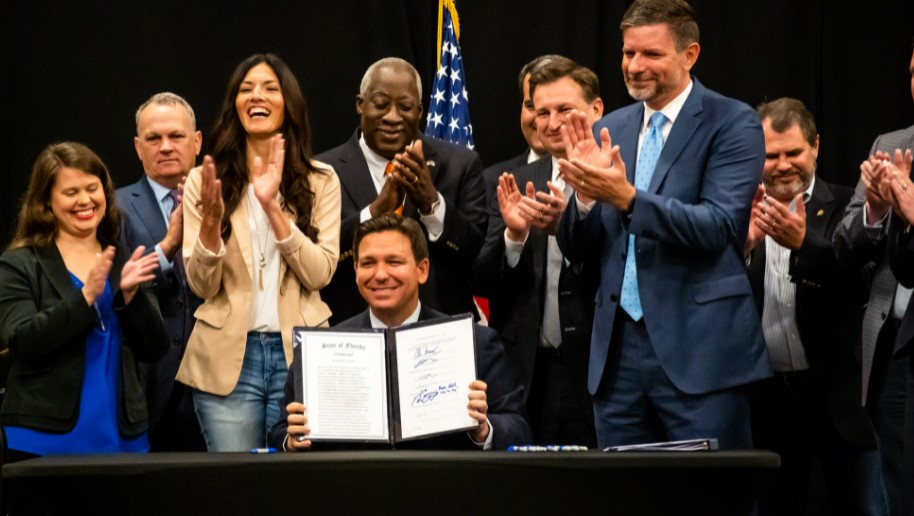 Florida Governor Ron DeSantis responds
Following the leak, Fox News caught up with Florida Governor Ron DeSantis.
"Why is the hill to die on having transgenderism injected into kindergarten classrooms or woke gender ideology injected into second-grade classrooms?" questions the governor. "Why is that the hill to die on? Meanwhile, if we had done a bill that prohibited talking about the abuse of leaders in China, Disney would have supported that legislation because they don't want to say a word about that. So it's just an odd manifestation of their corporate values that they actually do Disney cruises to the nation of Dominica which criminalizes homosexuality, so they're fine doing that and lining their pockets. They are fine lining their pockets from the CCP and all the atrocities that go on there but it's those kindergartners in Florida that they really want to have transgenderism as part of their core curriculum in school."
Watch more:
Disney leaked videos:
SCOOP: I've obtained video from inside Disney's all-hands meeting about the Florida parental rights bill, in which executive producer Latoya Raveneau says her team has implemented a "not-at-all-secret gay agenda" and is regularly "adding queerness" to children's programming. pic.twitter.com/eJnZMpKIXT

— Christopher F. Rufo ⚔️ (@realchrisrufo) March 29, 2022
SCOOP: Disney corporate president Karey Burke says, "as the mother [of] one transgender child and one pansexual child," she supports having "many, many, many LGBTQIA characters in our stories" and wants a minimum of 50 percent of characters to be LGBTQIA and racial minorities. pic.twitter.com/oFRUiuu9JG

— Christopher F. Rufo ⚔️ (@realchrisrufo) March 29, 2022
SCOOP: Disney production coordinator Allen March says his team is committed to "exploring queer stories" and has created a "tracker" to make sure they are creating enough "gender nonconforming characters," "canonical trans characters," and "canonical bisexual characters." pic.twitter.com/ddSzw4aqQv

— Christopher F. Rufo ⚔️ (@realchrisrufo) March 29, 2022
SCOOP: Disney diversity and inclusion manager Vivian Ware says the company has eliminated all mentions of "ladies," "gentlemen," "boys," and "girls" in its theme parks in order to create "that magical moment" for children who do not identify with traditional gender roles. pic.twitter.com/OWsGTUoeCA

— Christopher F. Rufo ⚔️ (@realchrisrufo) March 29, 2022
SCOOP: Disney's activism partner Nadine Smith of Equality Florida tells LGBTQ employees that @GovRonDeSantis and @ChristinaPushaw want to "erase you, "criminalize your existence," and "take your kids"—a wild conspiracy theory that Republicans want to kidnap gay people's children. pic.twitter.com/Ger3a2xekI

— Christopher F. Rufo ⚔️ (@realchrisrufo) March 29, 2022
(via Fox News)