A RoboCop prequel series is in development that will focus on the young Dick Jones, who in the original flick was Senior Vice President of the megacorporation Omni Consumer Products.
As it is a prequel, it won't feature RoboCop, but at least the good news is that the RoboCop Returns movie is still happening alongside the prequel series. More on that below.
Original writer Ed Neumeier fills in Movie Hole that the series follows the rise of Omni Consumer Products and Dick Jones, with the series compared to Gotham City, but set in Delta City.
"I'm working at MGM on it. It has all the cool stuff about RoboCop except no RoboCop," said Neumeier. "I'm working with these two writers, Dave Parkin and Rob Gibbs, who bought this idea to a TV producer friend of mine, who then brought it to me. The first time I heard it I knew it was a cool idea because I could see a lot of things you could do with it. It's such an interesting character."
Neumeier also added what the RoboCop prequel series will be about: "There's the idea of doing things about business and law enforcement in the city of Detroit a minute-and-a-half in the future, it would be a way to do all sorts of stories about business and tech, Silicon Valley, corporations, snakes in suits, cops, all that. It's a wonderful rich tapestry," he said. "So we've been talking about it and I think we have an interesting story. It's fun to work with a younger version of the Dick Jones we meet in RoboCop. He's an actualized corporate predator [in the move] but nobody necessarily starts out being the bad guy. So it's going to be about the evolution of Richard Jones to Dick Jones, the story of OCP and how the world moves into the future, how the corporate world behaves."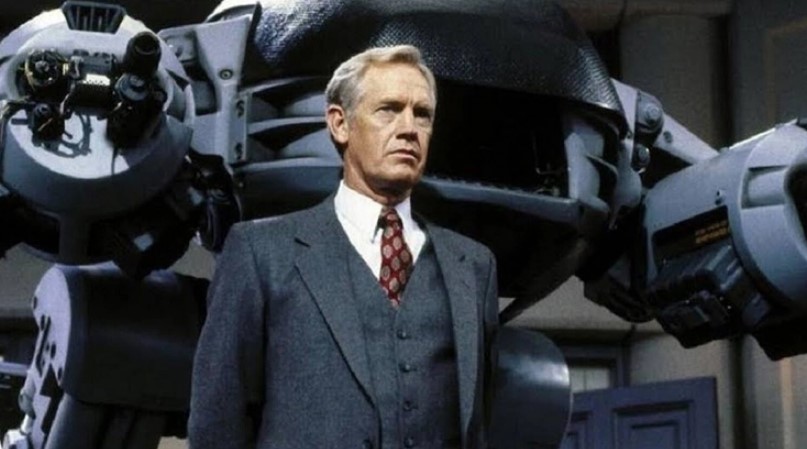 Ronny Cox played Dick Jones in the original RoboCop
Regarding the RoboCop Returns movie, recently saw Neill Blomkamp depart the project with Abe Forsythe (Little Monsters, Down Under, Mr & Mrs Murder, Laid) now on board to helm; Neumeier and co-original writer Michael Miner are writing the script.
When Blomkamp was attached, Blomkamp said he wanted original actor Peter Weller involved, so we'll have to see how things play out.
The new movie also is assumed to not have anything to do with the recent remake starring Joel Kinnaman.