With Robert Pattinson as the new Batman will come a new suit, which sees the 33-year-old actor offer up that it will be super cool.
In an interview, while promoting the release of his latest flick, The Lighthouse, Pattinson says the ideas that director Matt Reeves has awesome ideas for the Batsuit.
Via Yahoo:
For the record, Pattinson also claims he hasn't seen the final version of his new Batsuit, which is still hidden from public view in Warner's Batcave. "Matt has got a really awesome idea about it," he allows. "I think this thing is going to be very, very cool."
As Pattinson also previously revealed, he heard the news about getting cast as Batman while on the set of Christopher Nolan's new movie, Tenet, with Pattinson further revealing additional details about his talks with the director about Batman and the Batsuit:
He's fortunate to have received some costume advice from none other than Dark Knight trilogy architect, Christopher Nolan; Pattinson was shooting his role in the director's next movie, Tenet, when he officially became the latest Batman this past summer. "Chris told me a little bit about how to get the camo off my face — that amongst other things," he teases.
Last month also saw Pattinson offer about talking with Nolan about the new suit: "I was talking about things to do with the Batsuit. How to get more movements in it."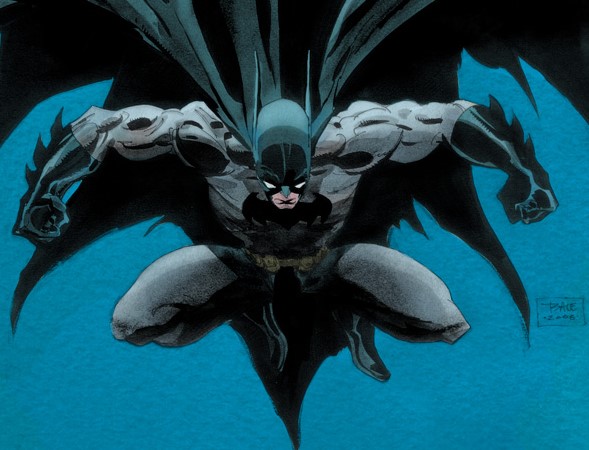 What will the Robert Pattinson Batman Batsuit look like?
I've been told Matt Reeves is in part adapting the DC Comics "The Long Halloween" storyline, which features a blue and grey suit with large ears, so maybe the Robert Pattinson Batsuit will be similar. If I have to guess, I am guessing it will be a slimmer and more fitted version than what Ben Affleck went with in the Zack Snyder films.
The Batman has a June 25, 2021 release and films at the start of next year, with the cast also including Jeffrey Wright as Commissioner Gordon, Zoe Kravtiz as Selina Kyle, aka Catwoman, Paul Dano as Riddler, with Penguin and additional characters yet to be cast.
Rumors offer the movie explores a detective case where people start dying in strange ways so Batman must go deep into the dark world of Gotham City to find the clues and solve the mystery/conspiracy connected to Gotham City's history and criminals.