It's claimed that a New Mutants spot that leaked online might be legit – or fake – as it says the movie will be released on Disney Plus on Sept. 4.
With The Falcon and the Winter Soldier indefinitely delayed and studios in desperate need of new content, New Mutants could very well be released on Disney Plus, as it doesn't look like movie theaters are going to open anytime soon.
Disney Plus basically only has The Mandalorian Season 2 in its foreseeable future, so with New Mutants finished and probably not looking like it would do all that well at the box office to begin with, why not release it to a wider audience that is paying for premium content?
New Mutants is going to have its own panel at this week's Comic-Con At Home online event, so maybe the announcement will come on Thursday:
The New Mutants, 2 p.m.: Director Josh Boone's long-(long-long-long-long-)delayed X-Men horror spin-off gets a panel with the filmmaker and stars Maisie Williams, Anya Taylor-Joy, Charlie Heaton, Blu Hunt, and Henry Zaga.
New Mutants has actually been rumored to be getting a streaming release for years, and recently in April saw the rumor that Disney was considering releasing the flick on Disney Plus.
The film does have an Aug. 28 release, but with Tenet just getting pushed back indefinitely, it seems as if New Mutants won't get released, at least in the United States. Disney could always choose to release the movie theatrically in various foreign markets where COVID restrictions aren't as strict and choose to release it in the U.S. at a later time or go the Disney Plus or video-on-demand route.
New Mutants "leaked" spot revealing Disney Plus release: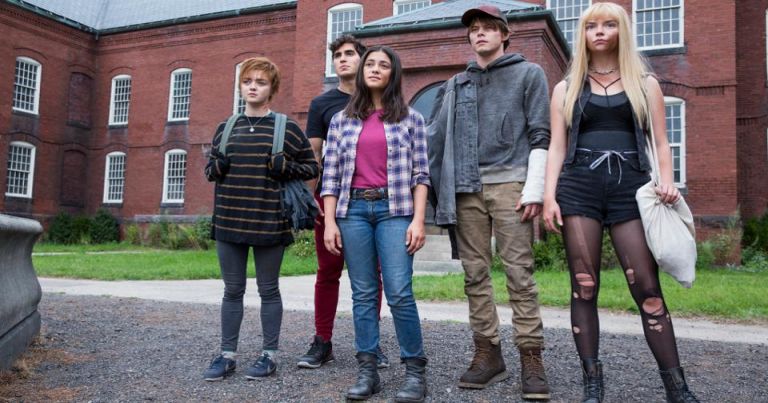 Will New Mutants ever get released?
Josh Boone directs and the film stars Maisie Williams as Rahne Sinclair / Wolfsbane, Anya Taylor-Joy as Illyana Rasputin / Magik, Blu Hunt as Danielle Moonstar, Charlie Heaton as Sam Guthrie, Henry Zaga as Roberto da Costa / Sunspot and Alice Braga as Dr. Cecilia Reyes.
Synopsis: An original horror thriller set in an isolated hospital where a group of young mutants is being held for psychiatric monitoring. When strange occurrences begin to take place, both their new mutant abilities and their friendships will be tested as they battle to try and make it out alive.