Thor: Love and Thunder just might be goofier than Ragnarok and possibly even James Gunn's Guardians of the Galaxy movies, as it appears New Asgard will become something akin to a goofy Disney attraction in the movie.
Redditors are already looking forward to seeing the goofy Taika Waitiiti Korg lead the tours, as an image of Thor: Love and Thunder merchandise of a New Asgard souvenir mug has landed online.
The mug shows in cringe fashion "Greetings From New Asgard" and "New Asgard Tours" and "New Asgard Hammers."
Thor: Love and Thunder New Asgard mug: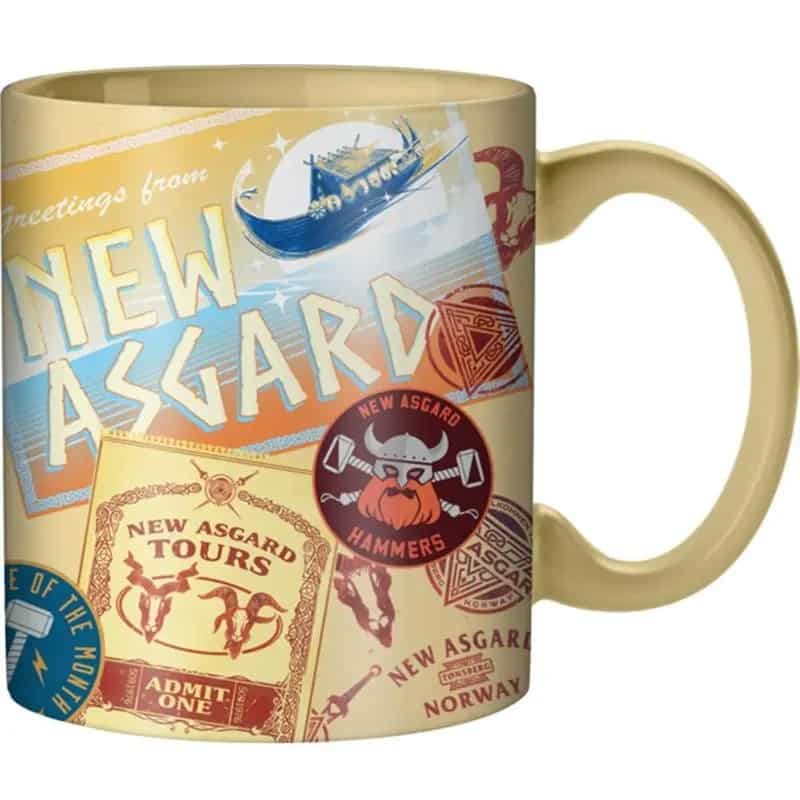 How goofy will Thor: Love and Thunder be?
So following the real Asgard having been destroyed, the remaining Asgardians, which include Thor and Valkyrie, come to Earth to live and form New Asgard where Thor left Valkyrie in charge as the King of Asgard, who goes by "King Valkyrie" in Love and Thunder – which is also featured in merchandise – where it's also known King Valkyrie will be looking for her/him/he/she/they/you/me/ze/name-only new queen in the movie.
So we have to assume that since the Asgardians need to work, they come up with the great idea to have their home as something of a theme park? Hey, at least it will be funny.
The LEGO Thor: Love and Thunder set (pictured below)) also shows more of the same as the "Goat Boat" shows off "Asgard Tours" with "King Valkryie."
On the flip side, maybe Keige and Marvel need to include the goofiness because Christian Bale's Gorr the God Butcher is so badass and serious, and because of the reactions to The Batman and Moon Knight, we know the Marvel zombie fans expect goofiness and cry when they don't get it, so Feige and Waititi included a fair amount of the goofy Thor in the flick? If that is the case, I'm okay with it.
Thor: Love and Thunder gets released July 8 and also stars Chris Hemsworth, Tess Thompson, and Natalie Portman as the Female Thor.
Thor: Love and Thunder New Asgard The Goat Boat and King Valkyrie: