The Mandalorian Season 2 finale is now available to watch on Disney Plus which is a doozy of an episode.
If you happen to read this before watching the episode, stop right now and go watch it! And also AVOID social media at all costs as spoilers are everywhere.
Below you can check out Twitter reactions for the episode, and we'll also go over the spoilers, which look to include The Mandalorian Season 3 and a certain someone.
The Mandalorian Season 2 finale also has a post-credit scene (details here), so be sure to watch through the end.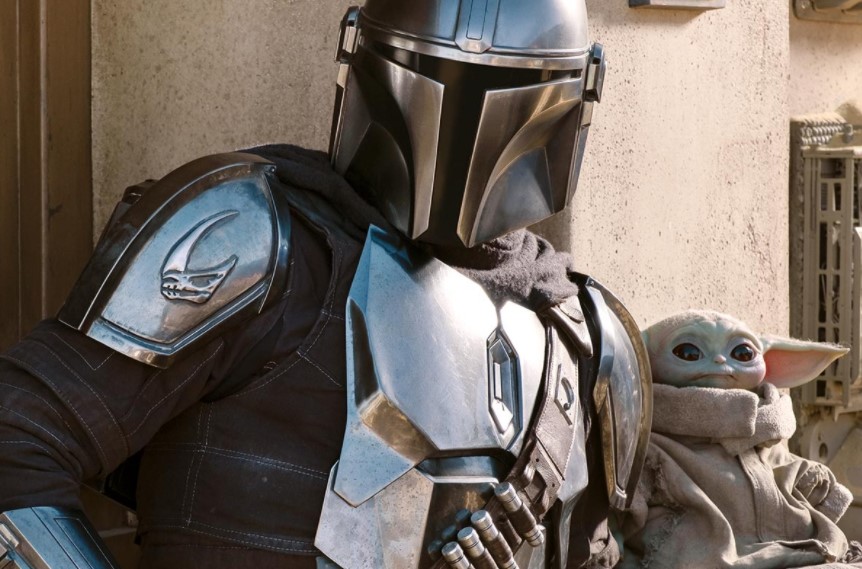 The Mandalorian Season 2 finale spoilers:
The episode titled, "The Rescue," directed by Ant-Man's Peyton Reed who also directed the Frog Lady episode, "The Passenger," features none other than the return of Luke Skywalker.
Luke Skywalker CGI
Before we dive in, they used CGI to portray the young Luke Skywalker, which I thought didn't look all that good.
It looked just "okay" as it was basically a deep fake, but what is going around the internet is that they didn't want to use a different actor to play the part because the ending would have been leaked and been spoiled. It's also rumored the main crew of the show wasn't around for that part of the filming to avoid leaks, so I really have no problem with the show going this route and using deep fake tech instead of something better to keep things a surprise.
Who knows? Maybe they will go back and fix the look of Luke Skywalker to make it better (Sebastian Stan, anyone?), similar to how they removed "Jeans Guy" from the episode Carl Weathers directed with "The Siege."
"The Rescue"
So the episode, per the title, which I think has a double meaning with bringing back Luke and "rescuing" the Star Wars franchise, features Mando, Boba Fett, Cara Dune, Fennec Shand, Bo-Katan, and Koska Reeves attempting to rescue Baby Yoda from Moff Gideon. They acquire an Imperial Shuttle and make it look like it's under attack from Boba Fett, issue a distress signal and end up landing inside Moff Gideon's Imperial Cruiser. Mando goes looking for Baby Yoda, with the four "Rangers of the New Republic" going to the bridge to commandeer the ship as Bo-Katan wants it to help her reclaim Mandalore.
Gideon issues a command to unleash a platoon of Dark Troopers where Mando stops them from coming into the ship by blowing them out into space. Mando confronts Moff Gideon who holds the Dark Saber to Baby Yoda. The two come to an understanding that Mando can have Baby Yoda while Gideon can go on his way, but Gideon doesn't keep his word and attacks Mando with the Dark Saber. Mando ends up winning and takes the Dark Saber, and Gideon as a prisoner to the bridge. As Mando attempts to hand over the Dark Saber to Bo-Katan, Gideon smiles and says the Dark Saber can only be won in combat. My take on that it has to do with a Mandalorian creed where the person wielding the Dark Saber must prove themself worthy through combat.
The Dark Troopers return from space as they are not human and are just droids (think the Iron Army from Iron Man 3). Mando and company barricade themselves inside the bridge, but the Dark Troopers are breaking the door down to get inside. An alarm goes off and an X-Wing lands inside the Imperial Cruise. Gina Carano's Cara Dune remarks it's just one X-Wing and we're all saved, which was pretty funny.
Mando and Baby Yoda watch the display as someone makes their way inside dressed in a black robe. It's a Jedi! But who?!
The Jedi cuts through the Dark Troopers as if they were nothing using a lightsaber and Force Push. It's a green lightsaber!
In a scene like right out of Rogue One, the Jedi tears the Dark Troopers apart in a super cool hallway scene and approaches the bridge.
Mando says to open the door and Luke steps inside revealing himself!
Mando asks if he is a Jedi to which Luke says he is; Luke tells Baby Yoda, "Come little one," but Baby Yoda doesn't want to go. "He is strong with The Force, but talent without training is nothing. I will give my life to protect the child, but he will not be safe until he masters his abilities," says Luke who tells Mando that Baby Yoda wants his permission. Mando picks up Baby Yoda and takes off his helmet where Baby Yoda touches his face. Now, this is an emotional scene for Mando because it's the first time that someone has touched his face since he was a little kid. Baby Yoda is still hesitant to go with Luke, but R2-D2 appears! R2-D2 beeps as the curious Baby Yoda walks closer, with Luke taking Baby Yoda away to train him in the ways of The Force. Mando looks on with tears in his eyes. End episode.
The Mandalorian Season 2 finale post-credit scene
Cut to The Mandalorian Season 2 finale post-credit scene where, similar to the start of Return of the Jedi, the post-credit scene starts off with someone killing the Gamorrean Guard to gain access, and that someone is Ming-Na Wen's Fennec Shand who uses a blaster where she is followed by none other than Boba Fett.
Sitting on Jabba The Hut's throne happens to be Bib Fortuna. "Boba. I thought you were dead," says Bib Fortuna with a nervous laugh. "I had heard many rumors." Boba Fett then blasts Bib Fortuna and sits on the throne with Fennec Shand at his side drinking a blue drink.
It's then revealed "The Book of Boba Fett. Coming December 2021," which since Disney recently announced The Mandalorian Season 3 will premier December 2021, "The Book of Boba Fett," seems to be The Mandalorian Season 3, at least part of it.
I'm guessing since Boba Fett took over Jabba's palace and throne that it means Boba Fett is now in charge of Jabba's criminal empire, as we can assume following Jabba's death in Return of the Jedi that Bib Fortuna took over. If that is the case, I'll say it's nice to see Boba Fett more in the "bad guy" role, as I prefer Boba Fett more as a villain than the "good guy" in The Mandalorian Season 2.
Thoughts on the episode: Star Wars saved
My thoughts on the episode and on the return of Luke Skywalker is that it was pretty epic and a long-time coming. This is the Luke we all wanted to see in the failed Disney Star Wars movies. If it isn't obvious that Disney completely bombed big time with their Star Wars movies, I don't know what is. Congrats to the fans. They deserved it and earned it. Jon Favreau and Dave Filoni have saved Star Wars.
I'll also say it was a great Christmas episode and a happy ending. Star Wars fans needed this.
Check out reactions below.
The Mandalorian Season 2 finale reactions:
Luke Skywalker Reveal! #TheMandalorian pic.twitter.com/rhBx3by9fR

— Know The Movies (@KnowTheMovies) December 18, 2020
cw // mando spoilers , mandalorian spoilers #mandalorian #LukeSkywalker #DarthVader
•
•
•
like father, like son pic.twitter.com/y5OGp2zAQK

— autumn *looking for ezra bridger* (@ezrabriidger) December 18, 2020
@Jon_Favreau and @dave_filoni save #StarWars!!! #TheMandalorian pic.twitter.com/cNYdO7ISD9

— Matt McGloin (@cosmicbooknews) December 18, 2020
#TheMandalorian #Ahsoka https://t.co/jRXfAYKHP0

— Matt McGloin (@cosmicbooknews) December 18, 2020
mando spoilers // #TheMandalorian

IM CRYING pic.twitter.com/s3lIklBH2i

— april ʬ⁸⁴ mando spoilers (@mandoslut) December 18, 2020
Darth Vader (Rogue One)
/
Luke Skywalker (The Mandalorian)#TheMandalorian pic.twitter.com/wXEtwUe9nj

— Luis Perez (@TyrantLuis) December 18, 2020
[CHAPTER 16 SPOILERS]

At this moment everyone knew who it was. — #TheMandalorian pic.twitter.com/oAPcKtDCGB

— peep (@TheGeekyPeep) December 18, 2020
CHAPTER 16 HAS ME MIND BLOWN AND BAWLING– how tf are we supposed to wait a year after that?! Amazing job to the #TheMandalorian team once again —- @PedroPascal1 pic.twitter.com/j1tkzNszqH

— Ava Garcia (@avagarcia707) December 18, 2020
#TheMandalorian spoilers //
.
.
.
.
.
.
.
it's crazy how fast the night changes pic.twitter.com/F38LmcOds1

— dan she/they • mando spoilers! (@dandjarin) December 18, 2020
THATS AN X-WING #TheMandalorian pic.twitter.com/aq834suxpx

— razzle dazzle (@randle_sm) December 18, 2020
cw// MANDO SPOILERS —

–
–
–
–
–
–
–

not being dramatic when i say this is easily one of the most beautiful scenes i've ever watched#TheMandalorian pic.twitter.com/qch6vNU8yx

— rach ♡ mando spoilers!! (@lovelydjarin) December 18, 2020
Lets just hope Grogu graduates Luke's training before Kylo's temper tantrum#TheMandalorian pic.twitter.com/wlNiF6Ugkb

— Cooper Foard — (@foard_with_an_a) December 18, 2020
I…

…I can't believe it.

Merry Christmas, Pablo Hidalgo.

Merry Christmas.#TheMandalorian

— ComicArtistPro Secrets (@EthanVanSciver) December 18, 2020
cw // mandalorian spoilers, #TheMandalorian

the child healed the mandalorians lonely heart pic.twitter.com/l6R71iOWYZ

— caitlin (@SITHLEIAS) December 18, 2020
What an amazing "feels so good" moment. I just cried. #TheMandalorian #LukeSkywalker @HamillHimself pic.twitter.com/VJ3QOXaR3A

— Passi (@FrknRngmonster) December 18, 2020