Today sees the release of Justice League Dark Blu-Ray, the R-rated animated movie from Warner Bros Home Entertainment starring Matt Ryan as Constantine, Jason O'Mara as Batman, Camilla Luddington as Zatanna, Nicholas Turturro as Deadman, Ray Chase as The Demon Etrigan, Roger Cross as Swamp Thing, Enrico Colantoni as Felix Faust, Jeremy Davies as Ritchie, with Rosario Dawson as Wonder Woman and Jerry O'Connell as Superman.
I attended the recent Justice League Dark world premiere in Beverly Hills where I got a chance to speak with the cast and view the movie. Regarding my thoughts on Justice League Dark, I have to say I thought it was really well done and a lot of fun. Since it's R-rated and is the "Justice League Dark," I was under the impression that it would be a dark and depressing take on the characters, but it was just the opposite. I would also say the movie is more in line with being a "hard" PG-13 than a straight-up R-rated flick. I'm guessing Justice League Dark received the R-rating due to the violence, as the movie did start off with very some serious action which set up the rest of the movie. I believe in the post-QnA that producer James Tucker also said they weren't trying to get an R-rating, so I think that shows in the movie. If you are a fan of Matt Ryan's Constantine, you should love this movie.
What follows is my interview with Matt Ryan about Constantine. Note: Some of the questions are taken from the audience Q&A and also from Jason Inman of DC All Access fame, the Jupiter Jet Comic and Geek History Lesson, and Ashley Robinson from Top Cow and Geek History Lesson.
What is the difference between playing Constantine in live-action versus the animated role?
Matt Ryan: What's really great is getting to flesh out his relationships with some of the characters that he has in the comic books, which we didn't get to do in the TV show like Zatanna, Deadman, Batman. All those characters which I didn't get the chance to interact with. So seeing those relationships and the history of those relationships bringing roles to kind of fruition was one of the major differences. Obviously doing as voice work is different. You don't have access to people to interact with. You also have a lot of freedom as well, kind of to play and you don't have as many time constraints as you do in live-action. I would say mostly the relationships and the context of which John is in this movie is different to what I've done before, and that was kind of the most exciting thing about it for me.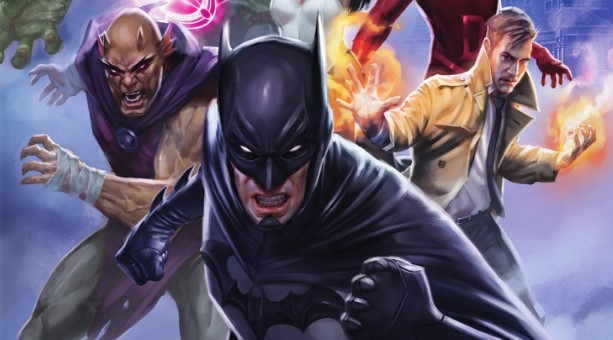 What does John Constantine think of Batman?
Matt Ryan: There is a great line where he calls them "suits" or something. He keeps on calling him "Batsy" in this movie. You know I think he respects him, but John is the type of guy where he's reluctantly pulled into this fray with these other people. They become a team. John is a loner. He is a straight-walker by himself, but ultimately he will do what's best for the greater good. His relationship with Batman is probably one of the funniest because Batman is obviously skeptical of magic, and John knows that magic exists. Their relationship and the band that they have together is one of the fun things of the movie.
With Justice League Dark being R-rated, how would you say it goes in a different direction?
Matt Ryan: I think the language. Yeah. We throw in some "wankers" in there. I was like, "Can we say this?" [They were like], "Yeah! Go for it!" I think most of it has to do with the language. You see him using magical powers differently to what we saw in the TV show, obviously, more like the New 52 powers that he has there, but that was kind of fun to play with. Lots of spells that I had to get my head around, which is always fun to do.
Did you do the spell motions as you voiced the lines?
Matt Ryan: Yeah. I was dancing all over that booth, man. They had to tie me down to chairs.
Was Justice League Dark a good warm-up for the upcoming animated Constantine CW Seed series?
Matt Ryan: Yeah. What's amazing about this character is it keeps on coming back to me, and I'm so grateful to all the fans who have stuck by the live-action show, and that's led to this, the episode of Arrow and now what's going to be the animated series on The CW [Seed]. Getting to explore him in this context was great, and to see what we are going to do with the animated series, that's really exciting. I've loads of ideas myself, and I can't wait until I get into the room with the guys to see what they come up with.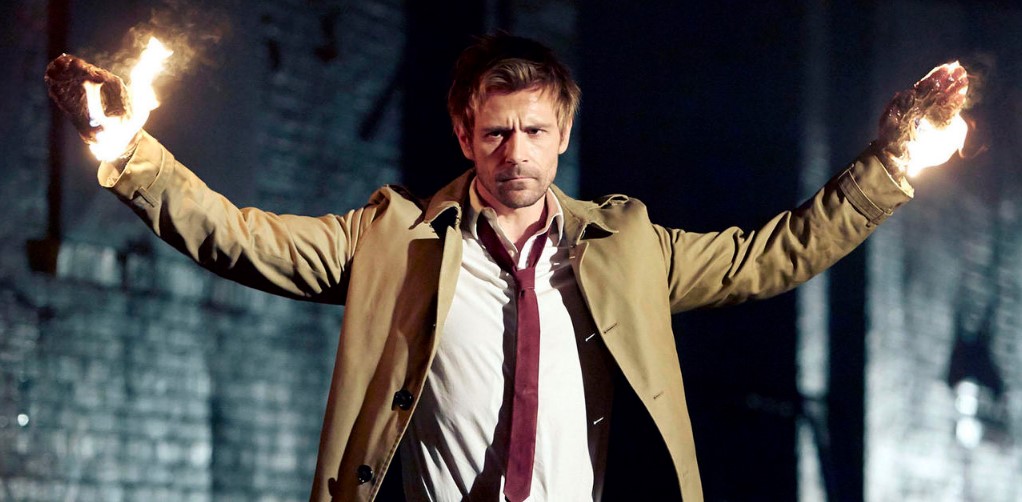 Is there any talk of getting back to live TV? We have to get you back on Arrow or even The Flash or Legends of Tomorrow.
Matt Ryan: Fortunately, since I finished doing Arrow last time, I've been really busy. I did a play in New York, and I just finished shooting a TV show in the UK [The Halcyon] where I play a 1940s American journalist who's based loosely on Edward R. Murrow. Very different, you know. Clean shaven, sit back sides. [Different dialect]. Yeah, exactly. So I've been really busy.
I don't know if [live-action] works out. I'm always up for reprising this character because I feel like there was some unfinished business with the TV show. I felt we were really getting somewhere in terms of the tone of it and the storylines we were exploring. So any other opportunity to explore him or flesh him out, I'm game for.
How about the Spectre for the Constantine animated series?
Matt Ryan: That's the other thing with the live-action as well, that is something we would have fleshed out. Depending on what we do with it, that's a character that would be great and also the relationship with Zed. All the characters that are already in there would be great, but we'll see where we go with it. There are so many great characters in that world.
Are you allowed to connect the new animated series to the NBC Constantine TV live-action series?
Matt Ryan: I have no idea.
Or maybe I do and I'm not telling you.
Was there any difficulty in doing Justice League Dark?
Matt Ryan: It's quite tough to get your mouth around all of those words, isn't it? [The spells] are very difficult things to do. Especially with the pace of which you have to say them some times and the attack you have to give them. They can be difficult, but also fun as well.
Thoughts on watching your own work?
Matt Ryan: I think I look much better on animation [laughter]. I always found something about your voice, like when you hear your voice on something you do, it's always your voice, you go, "Ohhh!" or something, no matter what accents you're playing, but always found that with lots of stuff. This was easier for some reason. Maybe it was because I was quite pleased with [this].
Did you do any prep work for the character for Justice League Dark?
Matt Ryan: For me it was kind of the dna of the character that I studied and played before bringing that to this medium and then exploring the character within and the relationships he had with the characters in this story. Most of that kind of work was done already. I got the script and looked at it and we were practically recording it. I was lucky enough to have read a lot of the character and lots of the Hellblazer comics, too, of having done the research and then having the character already in me then transpose it to this medium.
Reading any current DC comics?
I just started to read the new Hellblazer. I read about 160 of the original Hellblazer comics when we were doing the show. Now that we are doing the animated series of Constantine on The CW Seed, I am gojng to go back and read the other Hellblazers, the rest of the Hellblazers, and then the new Hellblazer, the 52s as well. Just kind of get back into that now that I will be working on it again.
"Justice League Dark" is now available digitally and on Blu-ray Deluxe Giftset, Blu-ray Combo Pack and DVD.
"Justice League Dark" synopsis:
When innocent civilians begin committing unthinkable crimes across Metropolis, Gotham City and beyond, Batman must call upon mystical counterparts to eradicate this demonic threat to the planet. Enter Justice League Dark, reluctantly led by the Hellblazer himself, John Constantine. Like Batman, Constantine is a cunning, often cynical loner who is the best at his chosen profession – but quickly realizes the sinister forces plaguing the planet will require help from other supernatural alliances. Forming a new "league" with sorceress Zatanna, otherworldly Deadman, and Jason Blood and his powerful alter ego Etrigan the Demon, this team of Dark Arts specialists must unravel the mystery of Earth's supernatural plague and contend with the rising, powerful villainous forces behind the siege – before it's too late for all of mankind.