It is being reported that Jonah Hill is no longer in talks for Matt Reeves' The Batman and won't be a part of the film.
Previously it was reported that Jonah Hill was in talks for a villain role in The Batman, possibly Penguin or Riddler, but now that isn't happening.
According to reports, talks broke down with Jonah Hill, so now Reeves and Warner Bros. are looking at new actors for the gig.
Seth Rogen is a name that has surfaced for Penguin, but it is said there is no current offer or talks that are underway.
A recent poll conducted on our Facebook page had fans overwhelmingly choosing Jonah Hill to play Penguin over Ridder in The Batman, as near 2000 fans responded with 83% choosing Penguin. That's now not happening.
Fans wanted Jonah Hill to play Penguin in The Batman: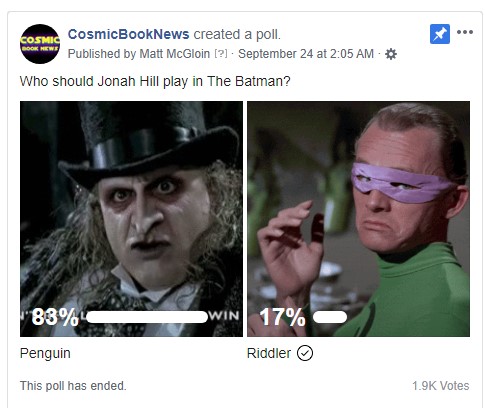 The Batman has a June 25, 2021 release date starring Robert Pattinson as the titular character, Jeffrey Wright as Jim Gordon, and Zoe Kravitz is playing Selina Kyle, aka Catwoman.
The rumored plot is said to be adapting the DC Comics storyline "The Long Halloween" with further rumors offering the film will be exploring a detective case where people start dying in strange ways so Batman must go deep into the dark world of Gotham City to find the clues and solve the mystery/conspiracy connected to Gotham City's history and criminals.
Additional villains said to be in the flick include Two Face, Mad Hatter, Firefly, Poison Ivy and more.
(via Deadline)